With the recent developments in Internet technology, a great surge was experienced in making video content. People from all across the world are putting efforts into creating different kinds of videos to gain recognition and a source of income. Some popular video trends are vlogging, in which people creatively share personal experiences and daily routines.
Many people use the platform given by YouTube to share podcasts and personal interviews with famous personalities. TikTok has rapidly become one of the famous social apps through which individuals are producing fantastic content and gaining a sustainable income. To compete with the current video trends, it's important that you not only work on your creative skills but also explore an excellent tool for video editing.
Disclosure: This article has been published in partnership with Wondershare.
Tips To Make Popular Videos

In this article, we will recommend a highly efficient tool known as Wondershare UniConverter to edit videos with great precision. Keep reading to learn more valuable tips related to the current video trends.
Making Soundless Videos
Some current trends include soundless videos in which only background music delivers the message without requiring a human voice. It's a new way of creating funny and entertaining videos just with the help of instrumental music. To make engaging soundless videos, you can use the Vocal Remover function of UniConverter, which isolates the instrumental music from vocals. With the help of an AI algorithm, the vocal remover works efficiently to separate the vocals from the music.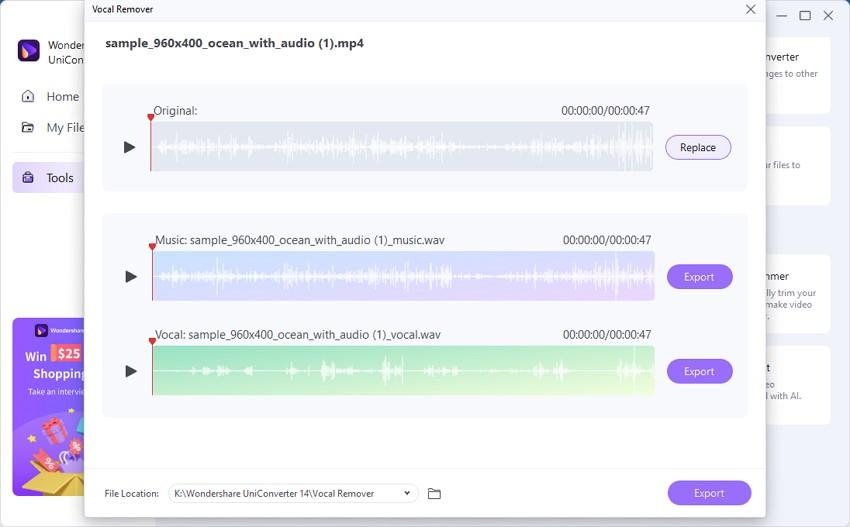 If your captured video contains unwanted background noise, it can ruin the watching experience for the viewers. To make an influencing impact, you must get rid of the flaws, such as background noises from the video. UniConverter has a built-in feature to remove background noise that can precisely remove echo, humming, and static noises from the background with a single tap. If your video contains noises from strangers in the background, the Noise Remover will function effectively to eradicate them.
If you intend to make tutorial or instructional videos, an aesthetic way to do so is by adding music and subtitles instead of an actual human voice. Record your video tutorial and add pleasing music to it using UniConverter. Along with that, create subtitles so that viewers can comprehend the guidelines easily. UniConverter gives you multiple options to add subtitles to the video, such as importing the subtitle file, manually adding the subtitles, or converting the text file into subtitles directly. You can choose the size, type, and font of subtitles according to your will through this tool flawlessly.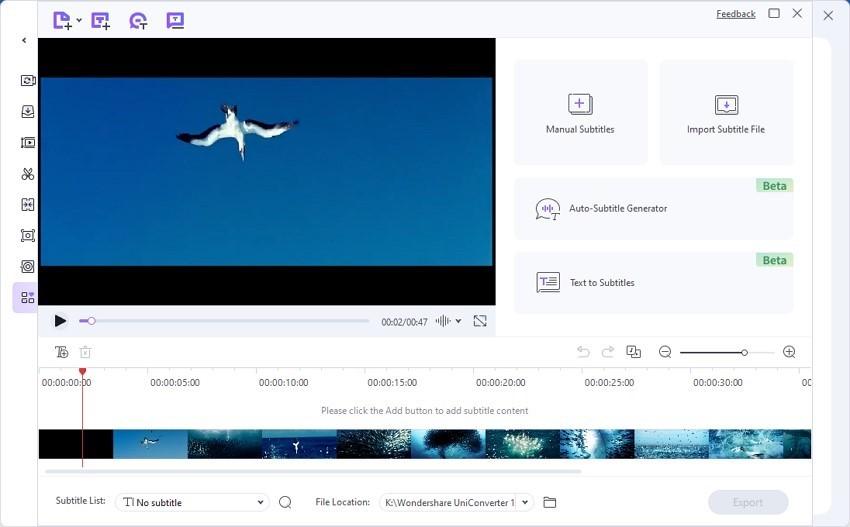 Making a Live Video
Working during a pandemic like Covid has increased the demand for virtual meetings through online platforms. To conduct seminars, business meetings, and presentations in an environment where physical presence is restricted, a screen recorder is a must-have feature. If you want to attend virtual sessions and presentations, you should use the feature of Screen Recorder to save every detail of the online meeting. Doing so allows you to open the screen recording and revise the important points anytime.
UniConverter offers an advanced screen recorder that can capture high-quality full-screen recordings. It has an option of "Application Recorder," through which users can screen record only a particular app selected by them. It also offers picture-in-picture recording that enables the users to capture their webcam and screen simultaneously while playing games or delivering presentations.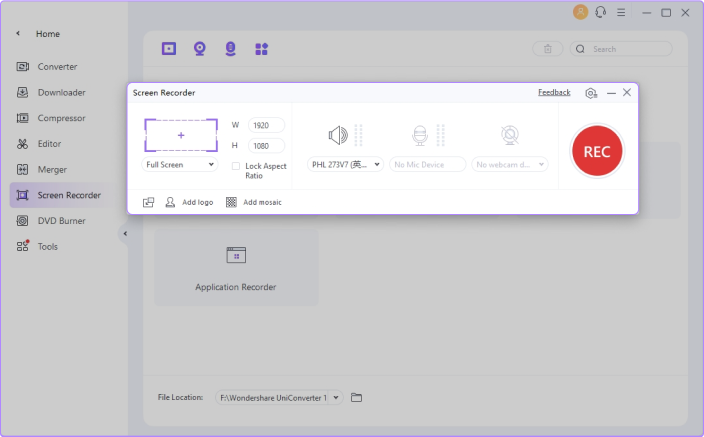 UniConverter also offers custom screen recording through which you can capture customized frames and any specific area of the screen. Moreover, you can capture webcam and audio recordings separately according to your requirement through this advanced platform. You can also add screen logos if you deliver a presentation about your brand to be more captivating and unique.
Create Engaging Short Videos
Do you want to make special short videos for social media platforms? To make suitable videos that can fulfill the requirements of social media platforms, you must know about the corresponding aspect ratios. If you don't have any idea about the required aspect ratio of any particular social app, you can use the Auto Crop feature of UniConverter to make your task easier. Just select any particular social app on the Auto Crop feature, and the tool will automatically set the appropriate frames instantly.
Moreover, you can conduct video conversion through UniConverter if you find any problem with your current video file format. This tool supports more than 1000 video file formats along with all significant web formats. You can convert your video according to web platforms like YouTube, Instagram, Facebook, and TikTok. It supports batch conversion so that you don't have to wait for a long time to complete this process.
To make your short videos more engaging and vibrant, you can professionally edit videos by adding trending effects and adjusting their settings. You can adjust the settings like brightness, contrast, saturation, and tone through UniConverter with great precision. You can also merge tons of video clips into a single video smoothly through this powerful software. Thus, you can explore your editing skills with UniConverter and can make them captivating instantly.
Manage Long Videos
If you record a long lecture or presentation, the file size of the video will automatically get bigger. The drawback of long videos is that they cannot be easily shared or exported at a fast processing speed. However, with the help of the compressing tool of UniConverter, you can reduce the video file sizes efficiently without harming the high quality. UniConverter provides you with lossless compression through which you can reduce the file size of high-resolution videos easily.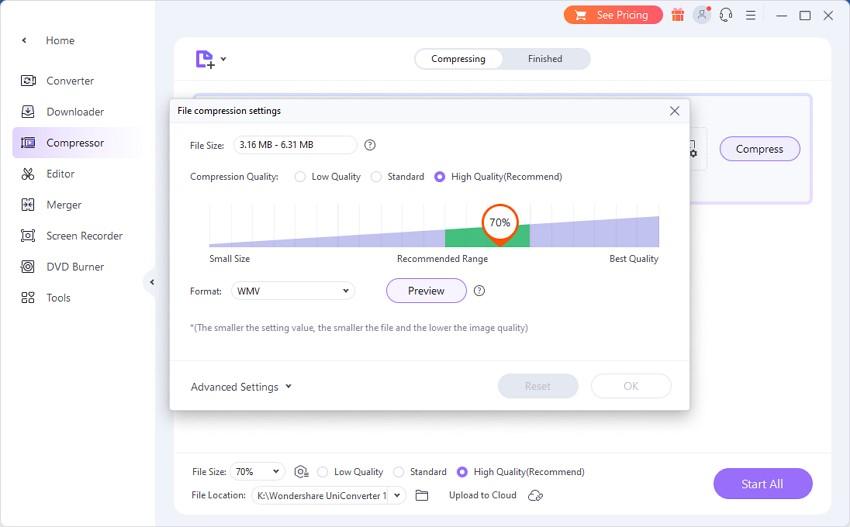 By using the compressor of UniConverter, you would be able to share long videos with people and can upload them quickly on cloud storage platforms. You can also play such videos on the media player of UniConverter to find any flaws in them. The built-in media player supports HD, 4K, 8K, and 1080p videos and allows the user to enjoy the watching experience.
Conclusion
Creating unique yet engaging videos is not a challenging job in this competitive time. To get popularity through your videos on the platforms like YouTube and TikTok, you must master great editing skills. For this, you would need an advanced tool like Wondershare UniConverter that can edit videos and offer features like vocal remover, video converter, and compressor. With the help of such video editing software, you can enhance your video content and highlight them on various platforms.