TuneUp Utilities 2013 – Review and Giveaway
TuneUp Utilities 2013 was recently released and we're delighted to hold a giveaway of the latest version of TuneUp, third time in a row since past few years. The avid Windows users out there must be aware of this software which is preferably one of the most powerful and full-featured tweaking utility, offering efficient solutions to clean, optimize, customize and troubleshoot various problems related to Windows OS.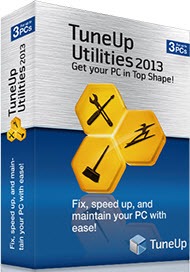 TuneUp Utilities 2013 is an award-winning PC optimization software that guarantees better performance and a clean PC when compared to its former versions. The 2013 version introduces advanced new features that allows you to clear system clogging files from more than 150 popular programs, remove residues from 25 browsers, detect and safely turn-off the most resource-hungry applications on your PC. Besides Windows 7, Vista and XP, it is compatible with the new Windows 8 OS.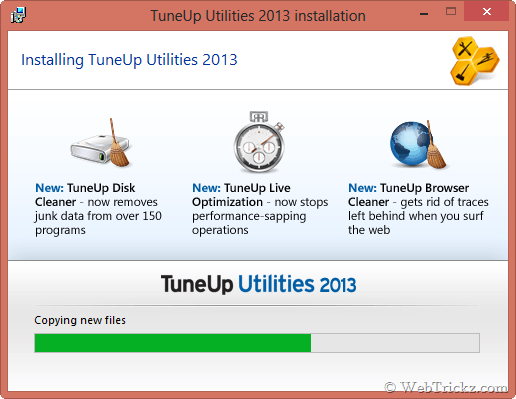 What's New in TuneUp Utilities 2013 –
TuneUp Disk Cleaner 2013 – The new disk cleaner has the ability to clean system clutter 6X more thoroughly than before. It scans and detects all the unnecessary system-clogging files and temporary data from over 150 programs, cleans remnants for 30 different Windows features including Media Player and Microsoft Installer. Such stuff combined includes: Temporary files, reports and logs, Prefetch files, Recycle Bin data, Old restore points, Windows Update backups, Temporary installations files, Caches, etc. What's handy here is that you can choose to clean up only the desired items by checking the necessary categories. This certainly makes your system faster and lets you regain gigabytes of lost storage.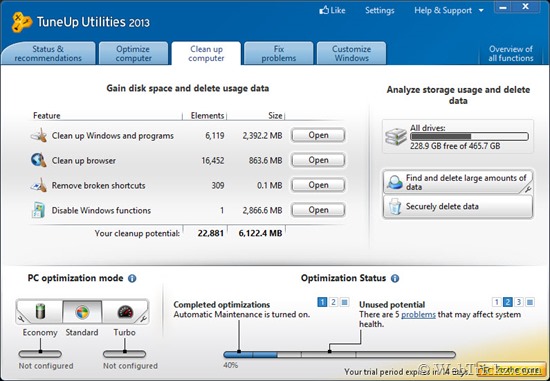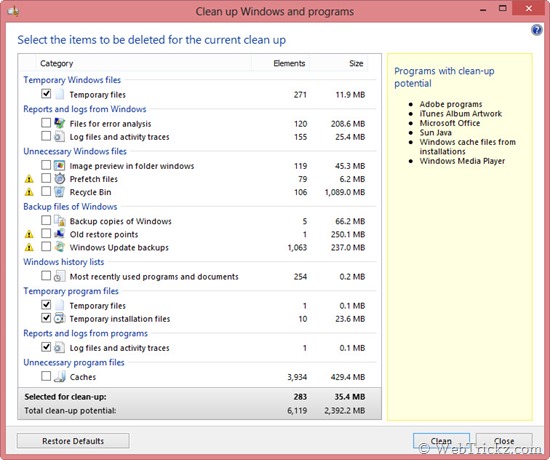 TuneUp Browser Cleaner 2013 – A browser clean-up tool to protect user privacy and fix browser problems by removing the desired browser related stuff such as Cookies, Cache, Internet History, Form data, Temporary files, and Plugins cookies as well. It is capable of removing traces from over 25 browsers including Internet Explorer, Google Chrome, Firefox, Opera, Safari. This also helps you free up disk space by deleting all the temporary browser data that gets accumulated over time.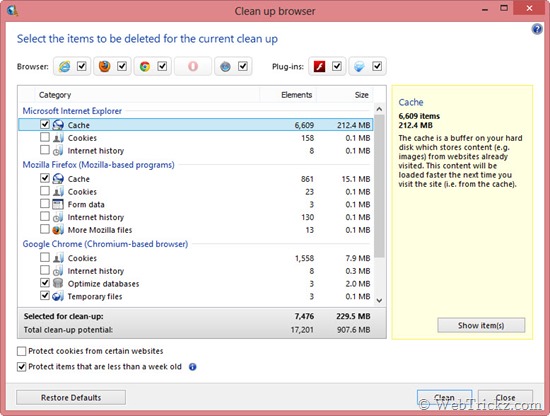 TuneUp Live Optimization 2.0 – The new improved Live-Optimization 2.0 offers a quick and efficient solution to identify resource-hungry applications and lets you disable those program. This helps in boosting the system performance instantly and prevent high CPU usage. It automatically and intelligently assigns a higher resource priority to active programs, thus giving them a performance boost and enabling the best optimized PC. Other background process consuming high resources are put on 'standby' to prevent the currently running programs from slowing down.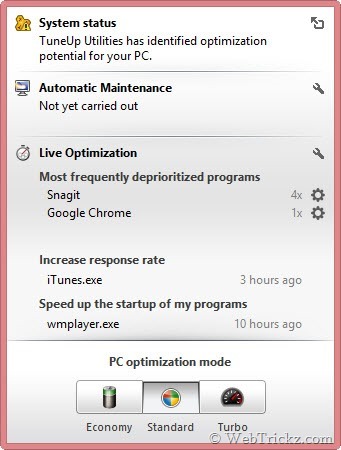 Those interested can visit here for 'Detailed Benchmark Results'.
A Brief look at other Key Features –
While installing TuneUp Utilities 2013 and selecting custom installation, we were surprised to see that the program being a shareware now includes AVG Security Toolbar as a sponsored product. So, to avoid such add-on apps it's recommended to select custom installation and make the preferred choice.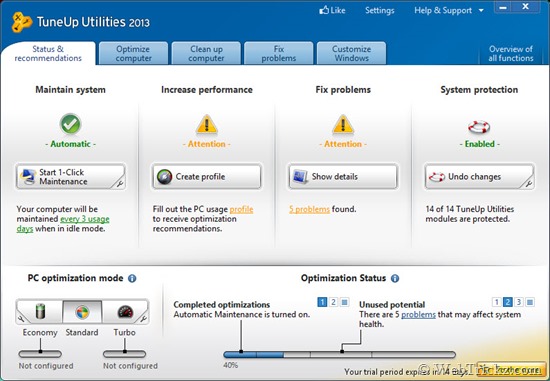 1-Click Maintenance – This is the most essential tool of TuneUp suite and probably the frequently used one too with primary objective to clean up, make PC faster and improve its performance. One click initiates the analysis and lists all the ongoing problems which can be fixed in a click or you can choose to fix the issues individually. There is an option in settings to specify which maintenance tasks should be carried out and even it can be fully automated using the enhanced Automatic Maintenance. This is the most easiest and quick way to fix registry issues, remove broken shortcuts, delete temporary files, defragment hard disk and registry, and more.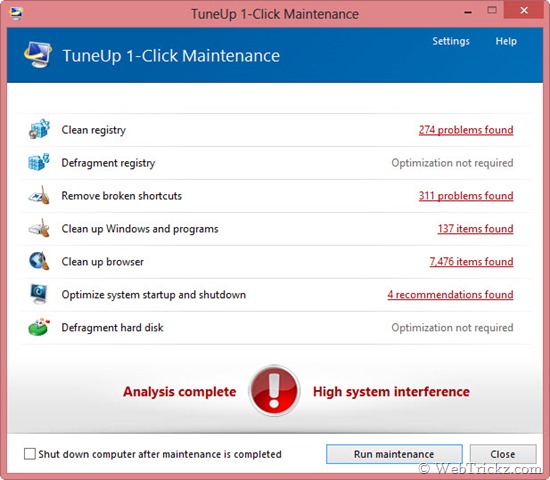 PC Optimization mode – Choose between Economy, Standard and Turbo mode.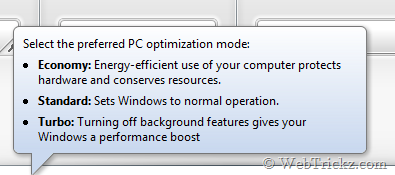 TuneUp Program Deactivator – Easily disable infrequently used programs in order to conserve system resources and turn your PC faster.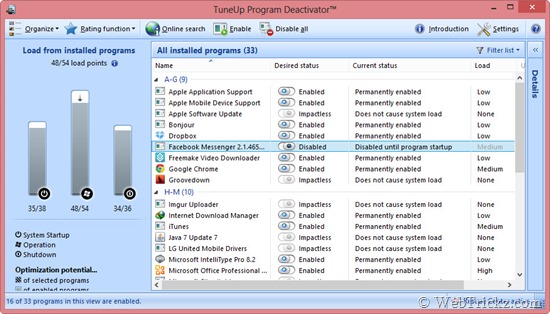 TuneUp Shredder – Securely delete files and folders from your computer.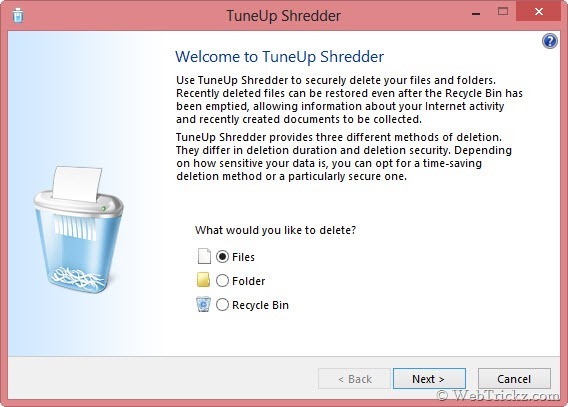 TuneUp Undelete – Restore deleted files*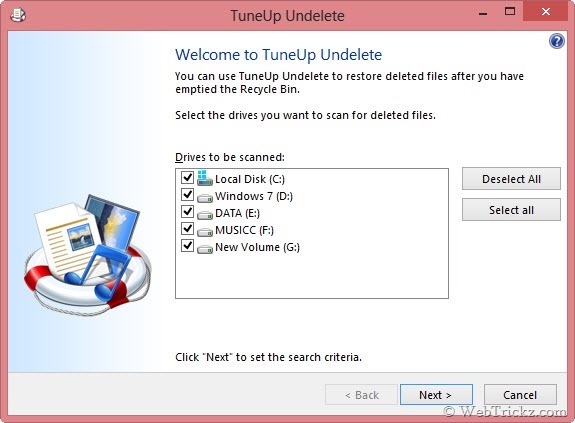 *Windows must not have overwritten the drive space that these files took up.
Personalize Windows – TuneUp System Control and TuneUp Styler offers interesting and smart options to modify Windows settings and change its appearance. TuneUp System Control packs more than 400 hidden Windows and program settings.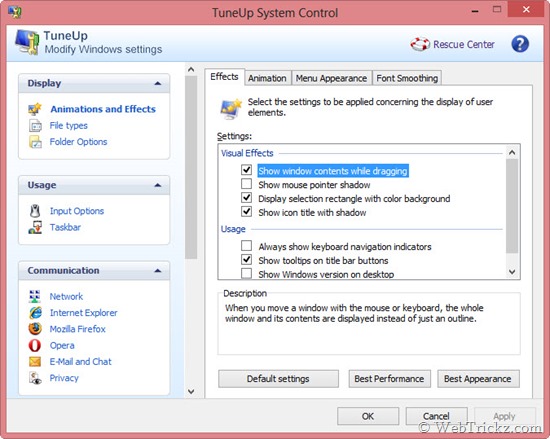 The suite serves access to over 30 tools – more speed, better stability, less problems.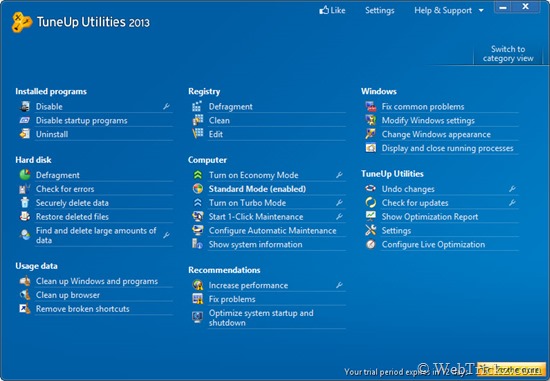 Fully compatible with Windows 8 – Adds various function shortcuts to Metro screen.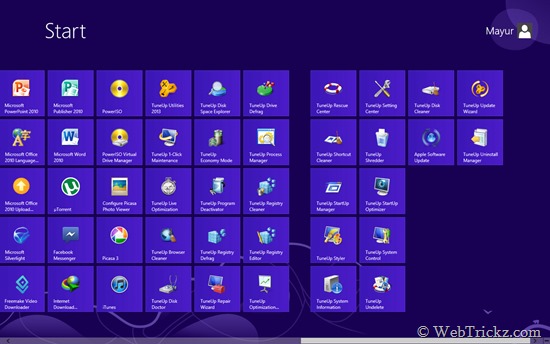 Tip – Pin the program shortcut to taskbar and right-click to access most of the frequently used TuneUp utilities.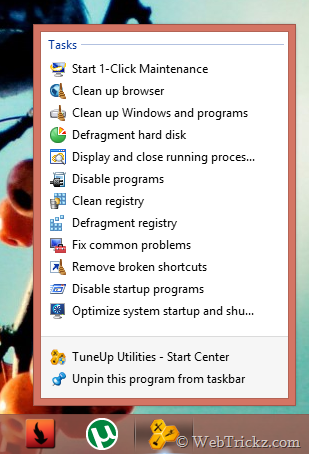 Try TuneUp Utilities 2013 – Download 15-days Fully functional Trial
TuneUp Utilities 2013  GIVEAWAY –
We're offering 5 Free genuine licenses of TuneUp Utilities 2013 which actually costs $49.95 each. The license has no expiration date.
To participate in contest, follow the rules below:
Tweet about this giveaway on twitter. Remember to leave a valuable comment below along with your tweet status link. (Use the Tweet button below to tweet).
OR
Share about this giveaway on Facebook and make a comment below along with your Facebook post link. (Use the 'Like' button below to share on FB).
Note: Making a comment below is necessary in both of the above rules.
5 Winners will be chosen from the comments section below and results will be announced on October 20th.
~ Thanks TuneUp Corporation for sponsoring this giveaway.
UPDATE – 5 Lucky Winners: vader7, ha14, Dave, Quoc Vuong, and Samit