The official 'Building Windows 8' MSDN Blog launched recently has shared information on some of the new and improved features, considered to be introduced in Windows 8. Microsoft is aiming to revise and improve the file management basics in Windows 8 that includes these common but most used features: Copy, Move, Rename, and Delete.
These core file management commands, collectively referred as "copy jobs", will offer a great experience in next build of Windows OS. The focus is to improve the experience of users who are involved in high-volume copying with Explorer, want more control, more insight into what's going on while copying, and a cleaner, more streamlined experience.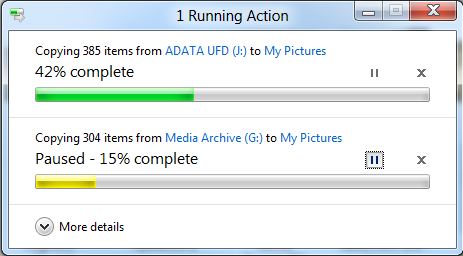 In Windows 8, we have three main goals for our improvements to the copy experience:

One place to manage all copy jobs: Create one unified experience for managing and monitoring ongoing copy operations.
Clear and concise: Remove distractions and give people the key information they need.
User in control: Put people in control of their copy operations.
Based on these goals, they've made four major improvements to the copy experience. Below is a short video demo of these improvements:
Check the official blog post for detailed info with screenshots.
Windows 8 also brings robust USB 3.0 support –
With throughput up to 10 times faster than USB 2.0 and improved power management that results in longer battery life, USB 3.0 introduces compelling reasons to improve the world's most popular PC interface.
Video – A preview of USB 3.0 in Windows 8
Read the official blog post for detailed info.
We hope MS would continue to share more interesting stuff about Windows 8. 🙂