Google+ is a great platform to share interesting content and if you run a site or blog, then you can expect good traffic from Google Plus by sharing useful stuff. Google has finally added the much awaited feature that most webmasters have been waiting for. People or visitors can now directly share links to their Google+ profile from a website which has a +1 button added to it, just like Facebook and Twitter social buttons.
Share Content on Google+ directly from a Website or Blog –
If a reader finds an article useful or impressive on a certain website, then he/she would now be able to share it directly to Google+ without the need to manually copy-paste the post link and share it. To share, just click on the +1 button on a webpage, tapping the "Share on Google+" option will list the page title, page description and a linked image. You can choose to add a comment and share the post with your desired circles only.

Preview – Share on Google+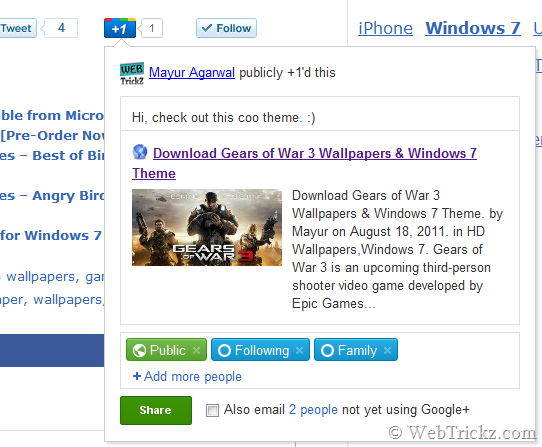 This is really a good move by Google and certainly a boon for webmasters and bloggers as the readers can now share their work on Google+ and it will act as a valuable new source of traffic and exposure.
Adding +1 Share button to Blog or Site – There is no specialised share button, it's the same old button, just the script is changed at backend. If you already have a +1 button added to your site, then you don't need to do anything. However, you can consider adding Snippets to your site if +1 button is not able to attain them properly.
+Snippets
The +1 button opens up your site to a valuable new source of traffic with sharing on Google+. +Snippets let you put your best face forward by customizing exactly what appears when your content is shared.
Video – New +1 Button Features: Sharing on Google+ and +Snippets
Note: Both sharing from +1 and inline annotations are rolling out fully over the next few days. To test these improvements right now, join our Platform Preview group.
Try clicking on the +1 button below and see if you can Share this post. 🙂
via [Official Google Blog]