There are instances when you receive password-protected PDFs for documents such as bank account statements, legal forms, etc. which have a user password set to prevent anyone else from accessing the file. Though, one can easily open the locked PDF file if he/she knows its password but it gets quite uneasy to enter the password each time you need to open the PDF. There is a simple tool to get rid of this annoyance.
BeCyPDFMetaEdit is a free and handy utility for Windows that lets you easily remove the password from PDF files without changing anything else. It also offers several other features, like you can add a password to your PDF files thus to protect and prevent them from unauthorized access. There are options to edit the Metadata of PDF file, set viewer preferences (page layout, page mode), bookmarks, security and more.
To Remove Password from a PDF, follow the steps below:
Note: To remove the PDF password, you must know the user password.
1. Launch the program and it will let you browse the location of PDF file.
2. Before selecting the file, select the "Complete Rewrite" option from the Open window.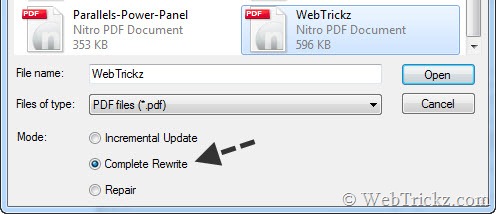 3. Then open the file and tap on Security tab. Set "Security System" to 'no encryption' and click on Save button.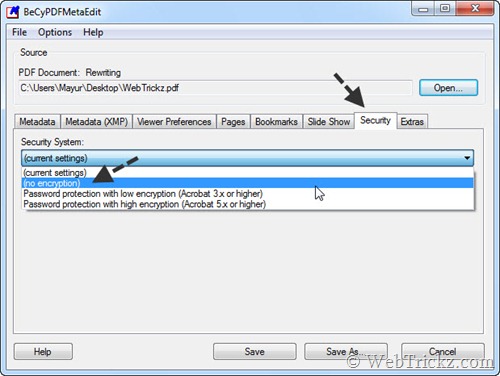 Voila! You PDF will no more require a password to open.
To Password-Protect a PDF, move to the Security tab and select "Security System" as 'Password protection with low or high encryption'.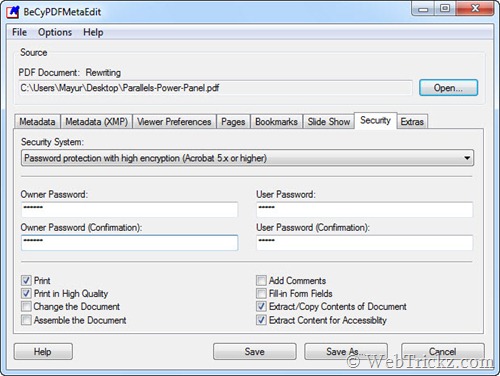 Some points to consider:
1. If you set only the User Password, then a valid password is required to open the file.
2. If you set only the Owner Password, then everyone would be able to open and view the PDF file but they wont be able to Edit it, if you've set some security restrictions. Using this you can restrict a PDF from editing, selecting text, printing and changing PDF properties such as form fields, etc. by un-checking their entries.
3. If you've set Both the user and owner password for a PDF – In this case, entering the user password will let you only view the password-protected PDF. But if you open the same file with owner password then you can edit it as well.
Download BeCyPDFMetaEdit  [Portable version also available]
Thanks Labnol
Also See: Free Tool to Remove PDF Restrictions & PDF Security