Easy way to Check Airtel Broadband Data Usage Online
Are you an Airtel Broadband customer looking to check your Internet usage? Then here's a really simple way to quickly find the Airtel broadband data usage for your account. Smartbytes, a service recently introduced by Airtel allows broadband users to buy additional data packages to Retain High Speed Bandwidth after crossing FUP limit and acts as your internet usage manager as well.
To view Airtel Internet data usage, visit www.airtel.in/smartbyte-s/page.html from your Airtel broadband connection. The webpage will instantly show the internet usage details of your account for the current bill cycle without requiring any type of registration or login. The page lists your DSL ID (phone no.), allocated high speed data transfer limit as per your plan, remaining high-speed data transfer quota (non-FUP), and days left in your current billing cycle (calculated month wise). Implement some simple maths to know the data consumed by deducting GBs left from the high speed limit.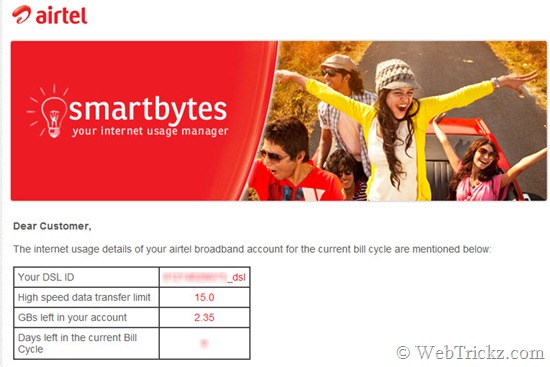 Using the same webpage, you can also opt for airtel smartbytes deals by purchasing additional high speed quota, in case your high speed data limit is over and you don't desire to continue browsing on low-bandwidth (i.e. 256kbps speed). This is certainly a nice move by Airtel to let users check their broadband usage in just a single click!
Note: You can even check data usage of other Airtel users if you've access to their network. This is something that Airtel needs to fix by adding some sort of protection.