Airtel broadband users have an easy option to check the Internet usage for their account using the 'Smartbytes' service. For that, you simply need to visit the smartbytes website from the same Airtel broadband connection. Now, there is a handy app "Airtel Smartbytes" for Android that allows Airtel users to check the data usage right from their Android device in just a single click! The app is developed by Anon and is in no way affiliated with Airtel.
Airtel Smartbytes is a free Android app to check your Airtel broadband usage over Wi-Fi directly on your device. The app fetches the data from the official Smartbytes website and displays it in a nice UI with additional information. It shows details of any Airtel connection to which your phone is connected over Wi-Fi and is NOT meant for checking 2G/3G usage.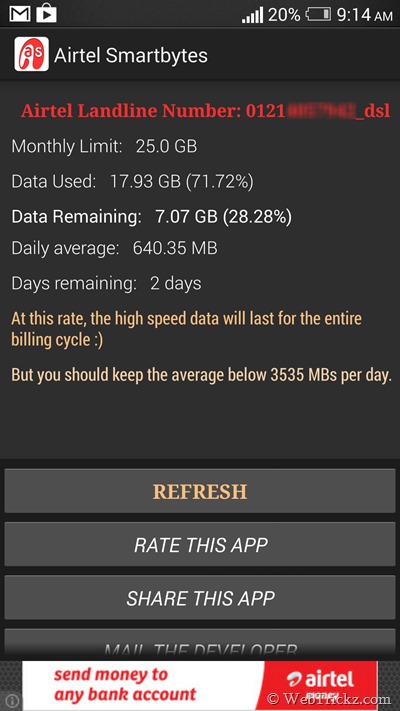 Features:
Shows the allocated high-speed data transfer quota (non-FUP)
Show high-speed data used in current bill cycle
Shows remaining high-speed data and days in current billing cycle
Shows daily average data consumption and recommended average per day
Displays the Airtel Landline number or DSL ID
It's a nice app to check the statistics without any extra work. If you don't wish to use the app, then rather create a browser shortcut to Smartbytes site on your phone's homescreen.
Download Airtel Smartbytes [Google Play]
Tip via @01abhishekjain