Similar to Apple iTunes, Google hasn't released any official application to manage an Android device from the comfort of your desktop. Android is certainly one of the biggest Mobile OS today and hence a majority of Android users are looking for essential programs to manage their Android phone or tablet from their computer. Even though there are some free tools to manage an Android phone on Windows PC but they only offer limited functionality.
While those using a MAC have the only option to use Android File Transfer, an official app to transfer files between a Mac and Android but with limited options and a non-user-friendly interface. Today, we're sharing a useful and one of the best Android phone managers that makes it a lot easier to manage your Android device, both on Windows and Mac.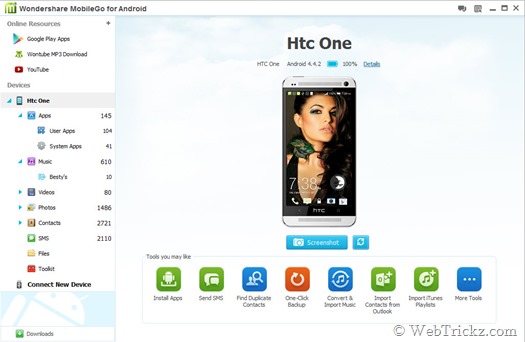 Wondershare MobileGo for Android is a smart and full-featured Android manager software for Windows and Mac to easily manage your Android smartphone and tablet on PC. To clear the misconception, this is not an Android app but a desktop application to manage, backup, and organize your digital content. What's noteworthy about MobileGo is that it's extremely easy to use with a user-friendly interface, such that even an inexperienced PC user can use it very well. It shows entire stuff from your phone in a cool and hierarchical form.
Why Backup Data? A memory card is a very unpredictable thing and thus one must take precautions of their important data such as documents, contacts, messages, and priceless photos. Hence, instead of relying on the phone's storage or SD card, you must transfer all the important stuff to a PC's hard drive, so that you can recover it anytime in case of a mishap.
Wondershare MobileGo for Android will help you in this regard. Users can connect their device over Wi-Fi or use a USB cable to transfer content to and from their Android device. You aren't just able to transfer common files like images, videos, and audio files but you can also import or export technical stuff including SMS, contacts, playlists, and even Android apps and games (APK) with data. One can instantly install apps on their phone via APK file in just one click and you can even batch uninstall multiple apps, including the preinstalled ones (requires root). In case your device is running out of internal memory, then you can move apps to an SD card to free up the space and speed up your phone.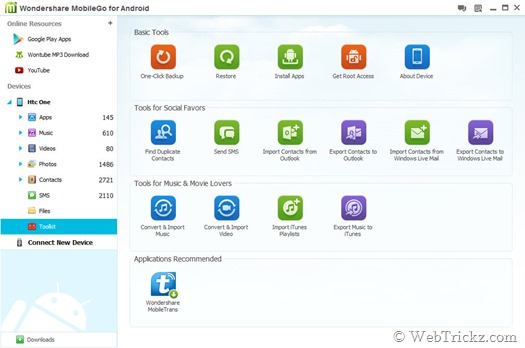 There is another impressive and rare feature that MobileGo offers. You can effortlessly transfer an iTunes playlist to Android devices and export music to your iTunes library. It has a very handy function through which you can group text, send/ receive messages, and manage phone calls directly from your computer.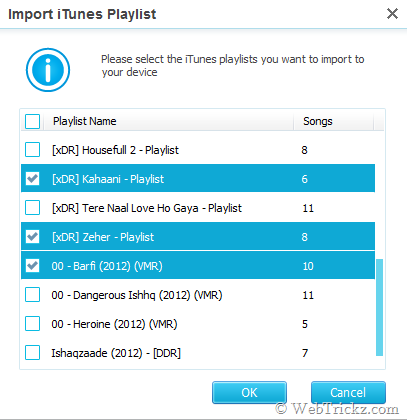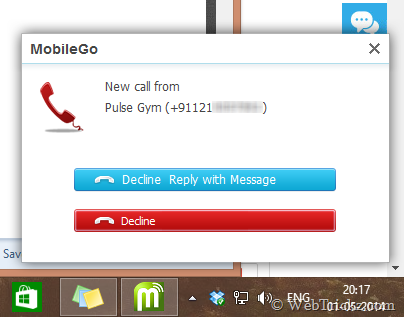 If you are thinking to spend money on buying video conversion software to convert videos for your Android phone then you don't need to. That's because this software has a built-in video converter that can convert videos between standard video formats and can extract audio from your desired video file as well. It performs the conversion task in the background and adds the file directly if it is already in MP3 format or if a video is in Android-supported format.
MobileGo for Android Key Features –
One-click Backup tool to backup and restore phone data on PC
Online Resources – 1 click to download apps and videos from Google Play, Wontube, etc.
Backup SMS threads as .xml file or .txt file on the computer with proper timestamp
Desktop Notification for SMS, Incoming calls, device battery status
Find Duplicate Contacts – Search and merge all the duplicate contacts
Transfer contacts, Add new contacts and Edit current contacts on the computer
Send SMS conveniently using your computer
Import and Export contacts from Outlook, Windows Live Mail, Windows Address Book, vCard file and Outlook Express
Convert and Import Music – Convert any video or audio file to MP3 and transfer it to the device
Convert and Import Video – Transfer videos to the device after converting to optimized format
Import iTunes Playlists – Transfer iTunes music and specific playlists to the device
Export Music to iTunes – Transfer music and playlist from device to iTunes library
Explore the entire phone and SD card directory and sub-directories with ease
Check Device Info – Serial no., IMEI no., bootloader and baseband version, etc.
Check out MobileGo Gallery –
Support – You won't experience any compatibility issues as it supports Android 2.0 to Android 4.4 and nearly all mainstream smartphones and tablets. Supports the latest Microsoft Windows OS such as Windows 8.1/8, XP/Vista/7, and all Mac OS X versions as well.
Verdict – Though it is a paid software ($39.95), it's powerful and really useful for non-technical users who are serious about their device data, especially those using Mac.