Nandroid Browser is an amazing and must-have app for Android users interested in rooting and flashing custom ROMs. If you're involved in such technical practice then you must be aware of nandroid backups as well. Nandroid Backup involves making a complete backup of your entire Android phone which includes your current ROM, apps, settings, and other data stored on internal storage. (This doesn't include any data located on your SD card). To take a nandroid backup, it's firstly necessary to root the device and install custom recovery like ClockworkMod Recovery. Afterward, simply take a backup of your phone and restore it back from within the recovery mode.
Nandroid Browser is a free app for Android that serves a simple but useful purpose. It allows you to easily browse your nandroid backups and extract individual files right on your phone, which rather would require an uneasy task. With the Nandroid browser, one can simply explore the nandroid backup (if stored on sd card), browse through the several .img files and extract single APK files from it. On tapping the individual files, it lets you save them anywhere, open them or send single apps and files from your nandroid backups to your Dropbox account, email, etc.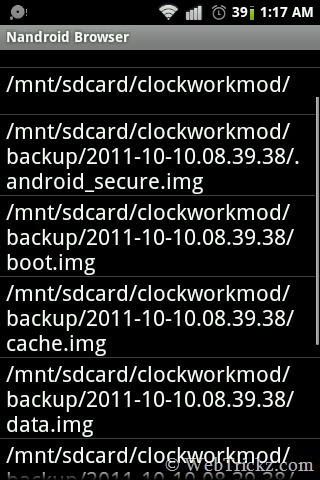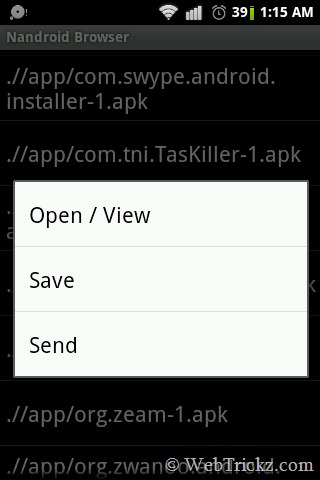 Currently supports nandroid backups stored as yaffs2 images (.img) as wells as ext4 images (.ext4.tar).
Should work with ClockWorkMod (CWM) backups and many others that use standard nandroid.
Download Here [Android Market]