Downloaded a movie from the Internet using Torrents and on playing it, you get disappointed seeing the movie has no sound? Well, that's not particularly a case with you but a common issue with most ripped movies downloaded online.
The issue usually occurs in movies (mainly dual-audio) having audio codec as AC3 (A52) and channels as 3F2R/LFE (3 Front, 2 Rear, plus low frequency), which is 5.1 surround sound. Hence, you might not be able to hear any audio in case the AC3 codec or relevant codec pack is not installed or if your system doesn't support 6-channel surround sound audio output.
How to fix no sound issue on downloaded movies
Well, there is an easy way to enable the audio on movies downloaded from torrents. We will discuss the easiest way instead of asking you to install codecs as they've less chance of working. You need to use the VLC player to play movies, which is certainly the best multimedia player with support for most codecs such as MPEG-2, DivX, H.264, MKV, etc.
In VLC Player, open the video file. Then right-click on the video, go to Audio > Audio Device and change it from 5.1 to 'Stereo' (Mono and 2 Front 2 Rear should also work). Now you'll be able to listen to the vocals too, presuming background music could be heard before.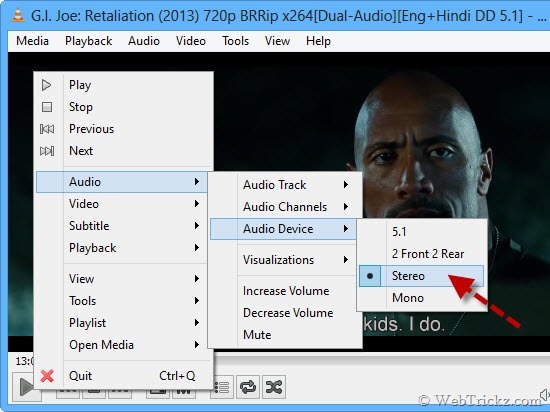 To switch between audio devices quickly, use the keyboard hotkey Shift + A in VLC.
The only downside of this way is that you need to make the change next time again in VLC.
Alternate Method
I recommend this method if your computer doesn't have a 5.1 surround sound. Here you need to open the 'Audio Manager' software and change the speaker configuration (output) to Stereo. This way you won't have to manually make any changes in VLC and your movies will have stereo audio right away.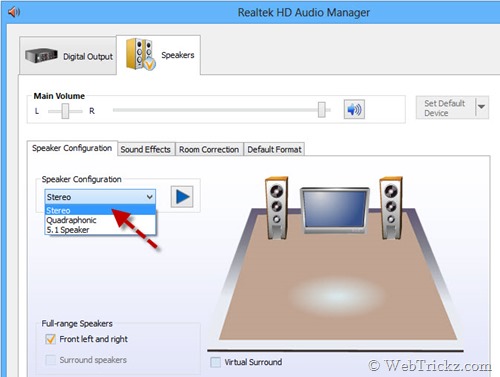 Hope you found this post useful. 🙂