This is one big giveaway, which I wanted to organize for a long time for my readers but couldn't find any sponsors. So, this is NOT a sponsored giveaway and we have paid for all the Kaspersky licenses offered here.

I won't be describing Kaspersky AntiVirus and Kaspersky Internet Security but can assure you that, both are one of the best security software available in the market today.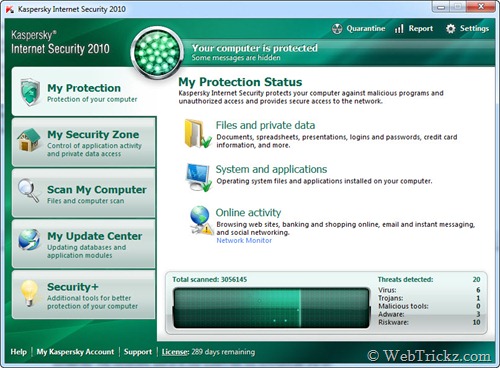 We're giving away a total of 10 Free genuine licenses which can be used to activate both Kaspersky Antivirus 2010 or Kaspersky Internet Security 2010 for 365 days. Follow the simple rules below to participate in the contest.
Rules to Win Free Kaspersky Licenses–
Subscribe to our RSS Feeds via Email, and leave a comment below. Make sure to verify your email subscription after subscribing. Also, comment using the same email which you used for subscribing.
OR
Tweet about this giveaway on Twitter. Remember to leave a valuable comment below along with your valid email address and tweet status link. Tweet the message below or use this direct link to tweet.
OR
Join us as a Fan at WebTrickz's Facebook page and leave a comment below telling us why you need this license.
Giveaway – Win FREE 1 year license of Kaspersky AntiVirus and Kaspersky Internet Security 2010 http://bit.ly/diYnlM via @mayurjango
10 Lucky Winners will be chosen randomly and results will be announced on March 18
Note: Making a comment below is necessary for all the rules. Please Don't Spam!!
Update – The licenses offered are for Kaspersky Internet Security 2010 only and will not work with Kaspersky AntiVirus. I apologize for giving out incorrect info.
However, you can use KIS 2010 which is more powerful than KAV. Also, I've decided to announce the winners soon instead of March 18.
Update – Giveaway Ended. There were a total of 165 approved entries.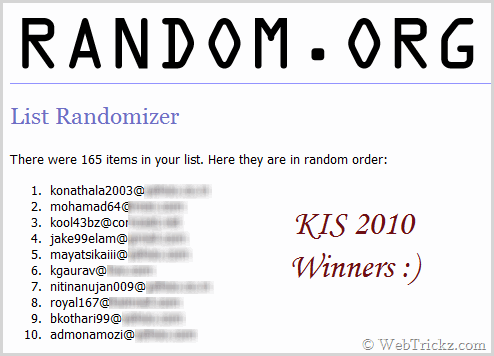 10 Lucky Winners of Kaspersky Internet Security 2010 License:
bala subrahmanyam, John Mike, arnold, Jake, mayat, kgaurav, nitin, NareN, bhavik kothari, amozai
Winners will soon receive an email containing the activation details. Thanks to all the participants for joining this contest. 😀