Recently, I bought new Creative 4.1 speakers (Inspire M4500). After connecting them, I noticed that only 2 speakers were working and rest were silent.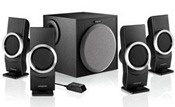 That's because creative sound system for PC's needs a onboard 7.1 audio card or a creative soundcard to work.
So, I'll tell you how to connect your creative 4.1 speaker system to your PC. There are 2 ways to make all your speakers work: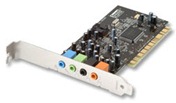 1. You can buy a Creative Sound Blaster 5.1 Sound Card and enjoy your music at best experience. The sound card itself will cost you around Rs.1000 ($25) which is another extra expense over speakers.
2. This is the simplest and cheapest way to make all your 4 speakers work. You only need to get a 3.5mm Stereo Y 

Adapter 1 Plug To 2 Jacks which splits one 3.5 mm jack into two.
Connect the two pins (black & green) of your speaker to the female point of connector and the male pin of connector to Line Out port (green) of your motherboard.
Now you'll notice all your speakers producing the same sound. This small connector will cost Rs.15 or $1 only. Buy it here
Also remember to check the audio settings in your control panel. This trick will work with almost all 4.1 speakers which requires a dedicated sound card to function.
Hope, you'll find this trick helpful and easy 😀