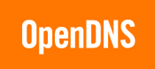 OpenDNS is the most popular and reputed service which provides a safe, fast, smart, and reliable Internet @ no cost. Besides these features, it also includes other major and advanced techniques.
OpenDNS provides maximum security, Parental controls, and Phishing Protection. It's the best solution for parents looking to protect their kids from inappropriate Web content.
Its Web Content Filtering divides the Internet into more than 50 categories. This way you can easily block web content like all adult sites, illegal activity, social networking sites, video sharing sites, P2P, Gambling, Sexuality, Adware, Phishing, and much more.
There are 6 modes to choose from: High, Moderate, Low, Minimal, None and Custom.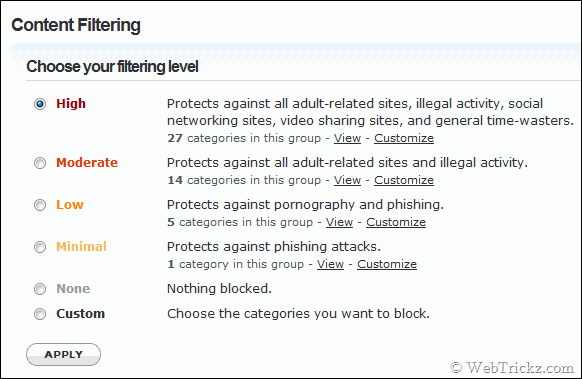 You can also use the 'Custom' option to block any required content. Just Choose the categories you want to block and Apply.
Manage individual domains lets you block any domain, just add the domain and select the 'Always Block' option.

How To Setup and use OpenDNS to Block Web Content:
1. Create an OpenDNS account that is 100% Free.
2. Now go to the OpenDNS dashboard and open the 'Networks' option.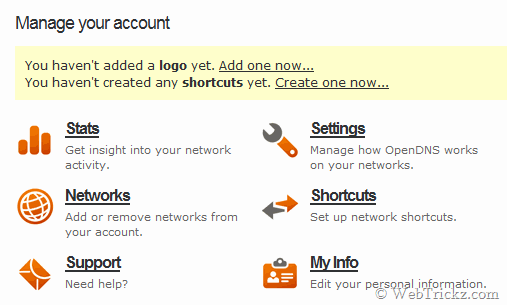 3. Then Add a network using your IP address. The IP can be seen at top of the OpenDNS page. A small software, Open DNS Updater is needed to be installed to keep your preferences and IP address updated. Available for Windows and Mac OS X.

4. That's it. Now open your network settings and choose from any of the 6 content filtering modes listed above. You can change these settings anytime from the Open DNS dashboard.
Result – Now whenever you open any adult content/site or make searches related to it, a dialog will be presented as shown below 😀

Disable OpenDNS –
If you want to disable Open DNS temporarily, just open 'OpenDNS updater' > Preferences > uncheck 'Use OpenDNS on this computer' and click Ok.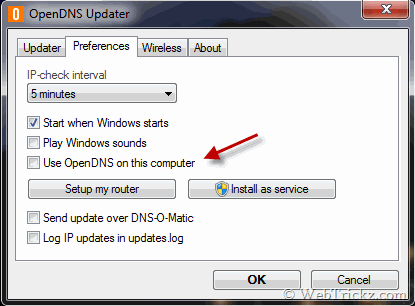 OpenDNS can be used to protect your home, small or medium size-business, or an Enterprise network for Free.
Hope you'll find this post useful. Do share your views with us below.