Xiaomi Redmi 1S comes pre-loaded with MIUI that itself is a great ROM, packed with impressive features and customization options. However, if your experience with MIUI on Redmi 1S isn't satisfactory then you might be looking to install a custom ROM for enhanced performance. In order to flash a custom ROM on Android phones, you need to first install a custom recovery such as ClockworkMod Recovery (CWM) or Team Win Recovery Project (TWRP). Though both these recoveries are very popular, currently CWM for Redmi 1S isn't complete and lacks many features, such as you can't select .zip files to install from internal storage. Luckily, the amazing TWRP recovery is officially available for Redmi 1S, which is certainly the most stable and full-featured recovery for Redmi 1S with support for the Touch interactive menu.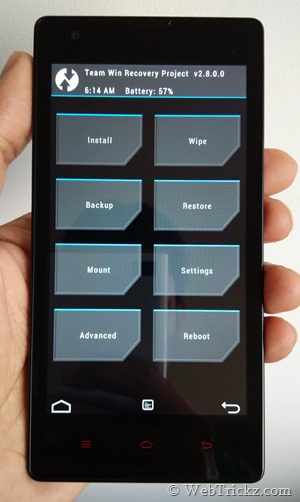 TWRP 2.8.0.0 for Redmi 1S includes touch interface, full SELinux (4.3+) support, Backup encrypt function, fully functional USB On-The-Go (OTG), and MTP support since 2.8.0.X. It's advisable to install TWRP over CWM if you're interested in several additional options it offers.
Installing TWRP Touch Recovery on Redmi 1S –
1. Download TWRP Recovery 2.8.4.0 for Redmi 1S WCDMA. [Forum Thread]
2. Rename the file "TWRP_2.8.4.0.zip" to "update.zip".
3. Transfer the update.zip file to the root directory of your phone's internal storage.
4. Go to the Updater app, press the menu button, and then click "Reboot to Recovery mode". Alternatively, power off the phone and then press the "Power + volume up" button simultaneously to boot into recovery mode.
5. When the phone boots into Mi recovery, select English and choose 'Install update.zip to System'. Select Yes to confirm.
6. When the update is installed, go back and select Reboot. That's it!
Next time you reboot into recovery, you will find TWRP recovery v2.8. 🙂
~ We've tried this on Redmi 1S WCDMA running MIUI v5 (build JHCMIBH45.0).