Hot-linking occurs when someone directly uses a link to an image that is stored on your site server, instead of saving and uploading the image to his own website server. This is referred to as bandwidth theft because the person is utilizing the bandwidth for which you're paying and causes extra load on your server which can degrade its performance.
This is usually the case with Spam Blogs who blindly copy your content and link directly to your site images. Let's say you published an informative article, then there is a good chance that it might get scrapped by numerous content scrappers as was happened in my case. To prevent this, you must Enable Hotlink Protection for your blog or website and stop everyone else from hotlinking your site images and videos.
How to Stop Hotlinking using cPanel –
We're sharing the easiest method to do this task, provided your site has cPanel and you have access to it. Follow the steps below:
1. Login to cPanel.
2. Select "HotLink Protection" from Security window in cPanel.

3. Click on the 'Enable' button to enable hotlink protection.
4. Now enter the desired URLs/website to whom you want to allow access. Make sure to enter your site domain here as well as the list of feed readers like Feedburner, Google Reader, Bloglines, etc. so they don't display the redirect image on your site and feeds.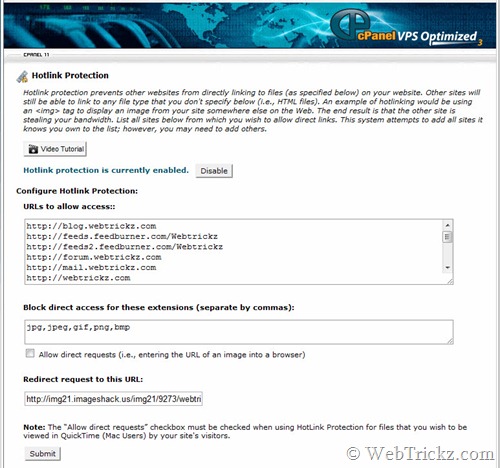 ADD all the domains listed in image below (replace webtrickz.com with your domain).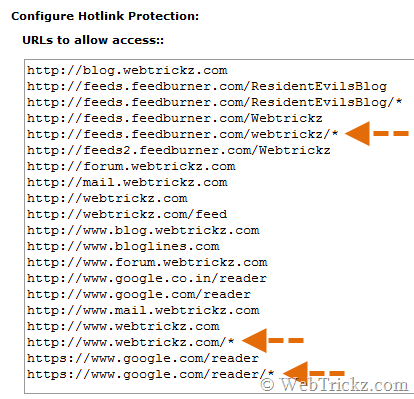 5. Specify the file extensions you wish to block. (Default are jpg, jpeg, gif, png, bmp)
6. Input the URL of any image (should NOT be hosted on your site) which you like to serve as the Redirect image on sites who have hotlinked your images. Below is an example of our redirect image hosted on Imageshack.

Then click 'Submit' and you're done. Now visit any site who is directly linking to your site images. They must show the redirect image. In my case above image is shown, visit (goo.gl/2SmKN , goo.gl/j6cSK) to see the live demo 🙂
"Do check your website and feeds properly after making this change to make sure everything is working the right way."
Thanks +Dhawal Damania and +Amit Banerjee for the hat tip!