The Google Docs Viewer allows you to quickly view many file types online, including PDFs, Microsoft Office files, and many image file types. Earlier, it was not possible to preview the contents of ZIP and RAR files online and you had to download the complete archive first to your computer. Fortunately, Google DOCS has now added support to view contents of a ZIP/RAR file online received as attachments in Gmail.
Furthermore, there is an easy way to explore the contents of any ZIP and RAR file online using Google Docs itself. This comes handy when you need to download only desired individual files from a ZIP/RAR file, instead of downloading the full archive.
To do so, visit, add the URL of Zip file to the end of docs link and then hit Enter. Docs will show a preview of all files in that Zip archive.
Example: https://docs.google.com/viewer?url=http://www.deviantart.com/download/220725520/_122_by_bo0xvn-d3newwg.zip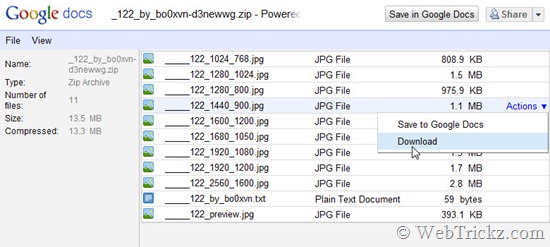 Download any desired file from the archive content list by clicking 'Actions' and choose the Download option. You'll be able to View items supported by Google Docs Viewer, Print (PDF) and Save them to Google Docs. Docs also let you view ZIP and RAR archives that are embedded inside other archives. It shows the file type and its size too!
To make it easier, you can use a nice extension for Chrome "Open ZIP and RAR With GDocs" created by our friend Arpit Kumar. The extension lists an option to open the file with Google Docs when you right-click .zip or .rar files inside Chrome browser.