LG India has finally started rolling out Android 2.3 Gingerbread update for LG Optimus One. You can upgrade your P500 from Froyo to Gingerbread in India using LG Mobile Support Tool but many users are reporting that no new update is available when checking for it via LG PC Suite. That's because LG seems to have pulled the update or their update server is down due to excessive load. However, if you cant wait anymore than you can choose to install the Stock V20b update for India on LG P500 using the KDZ update software. Check our step-by-step guide after the jump.
Requirements:
Download LG P500 Official Gingerbread India Update V20B_00.KDZ
Download LG P500 USB Driver
A USB cable and a fully charged phone
Before proceeding, BACKUP Phone data such as contacts, messages, photos, etc. because the internal storage gets wiped and you will loose all your data.
>> It is advisable to Reset the phone before upgrading which can result in better performance. To do so, open Settings > Privacy and select 'Factory data reset' option.
Follow the below procedure to update LG P500 firmware using KDZ updater –
1. Install the LG P500 USB drivers on your PC. Note: Do NOT connect the phone to PC while drivers are installing. Alternatively, you can install the drivers using LG Mobile update tool. To do so, check the Step 1 and 2 mentioned here.
Important: If you've installed LG PC Suite before, then open the 'Device Manager' and Disable LGE Virtual Modem.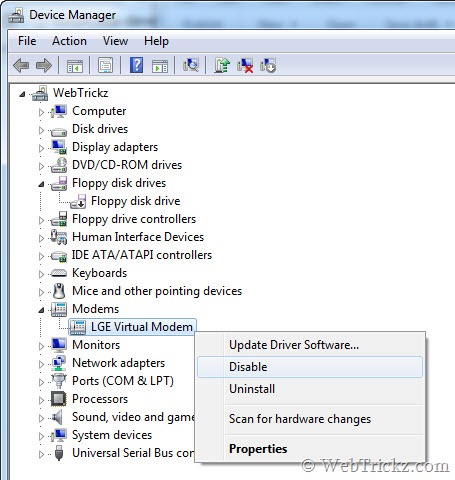 2. Extract the file KDZ_FW_UPD_EN.7z to a folder on desktop. You can change the file extension from .7z to .rar to open it with WinRar.
3. Open the KDZ folder and run msxml.msi.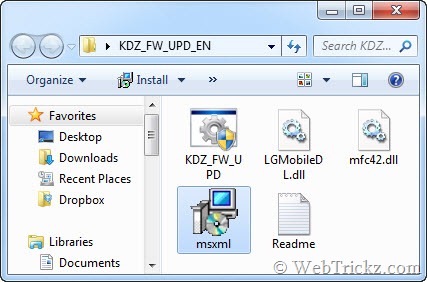 4. Enable 'USB Debugging' on Phone. To enable, go to Menu > Settings > Applications > Development and tick mark the USB debugging checkbox.
5. Then Connect your phone to PC with USB cable. (DON'T turn on USB storage)
6. Run KDZ_FW_UPD.exe from the folder you extracted before. (Run as Administrator)
Select the TYPE as 3GQCT and Phone Mode as DIAG. For 'KDZ file' entry, browse to the update file directory and select V20B_00.kdz.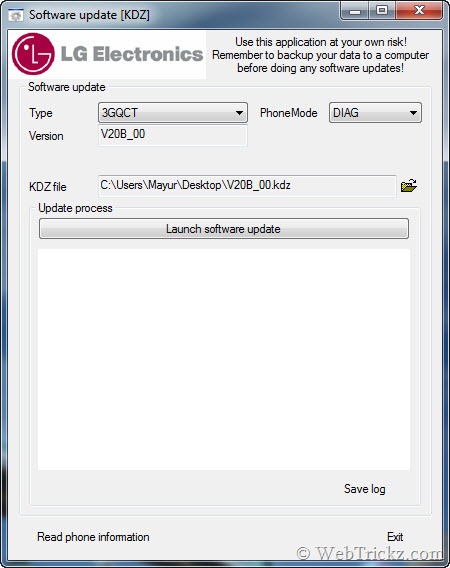 7. Press the 'Launch software update' button. The flashing will start and you will see an 'Emergency mode' screen on your phone. Wait for 5-10 minutes until the process gets finished. Don't touch your phone or disturb the KDZ updater at this moment.
When process gets completed, the phone will reboot automatically, then disconnect it from PC. (If phone doesn't reboots itself then switch it ON manually only after noticing the ==FINISHED== confirmation in KDZ software update window on your PC).
Voila! Upon restarting, your phone should be running up Android 2.3 Gingerbread OS. Visit 'About Phone' in Settings to confirm. 🙂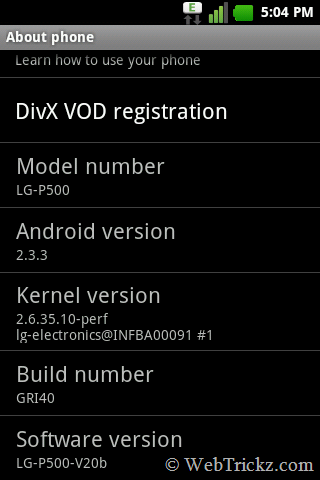 Also See: Guide to Install Android 2.3.4 Gingerbread Custom ROM on LG Optimus One
Source: XDA Forum