How to Update LG Optimus one P500 to Gingerbread anywhere in the World –
Android 2.3 aka Gingerbread is the latest version of Android currently available for smartphones powered by Android. LG Optimus One P500 comes pre-installed with Android 2.2 and LG officially announced sometime back that the Gingerbread update for Optimus One will be available by May end in India but until now there are no signs of its launch. Thus, most users who got the device assuming it would get Android 2.3 aren't much happy.

So, we're here to share a detailed tutorial that describes "How to manually update LG P500 to a custom Gingerbread ROM (void. #forever)". This ROM developed by XDA member 'Noejn' is based on CyanogenMod 7 (CM7) who earlier released Megatron, Prime, and Devoid Rom based on 2.2 which are the most stable and best ROMs on 2.2. The void. #forever ROM (latest ver. r1.6.15) released a week ago is amazing and stable too.
Why Use Custom ROM? – Certainly, it's not easy for everyone to install a custom ROM because it's a complex task and might break your device if not done properly. But using a custom ROM has several pros like you're free to customize it, plus they don't have any pre-loaded apps. Custom ROMs tend to increase the speed at least by twice (check the benchmarks at XDA to compare with other devices after modding). Plus they've MANY other minor tweaks, which makes your smartphone really smart.
Disclaimer: Please try this guide at your own risk. We will not be responsible in case you brick the device or its warranty gets void.
Note: Don't install this custom ROM if you're running Official Gingerbread V20b ROM or you will see No Network. That's because GB Stock ROM has a new baseband that is not supported by void ROM. To install void ROM, you first need to restore the Stock 2.2 ROM. To restore, download the official Android 2.2.2 V10e ROM. Then follow the steps given in this guide to downgrade the firmware using KDZ updater.
Prerequisite: Optimus one (Charged), USB cable, a computer and adequate time. Download the below files to your desktop.
Download File 1: void-forever_0_2.zip (62.9MB)
Download File 2: void-forever-addon.zip (4.76MB)
Download File 3: voidAddonsPack.zip (16.2MB)
Download File 4: stock.zip (2.09MB)
Before proceeding, make sure to BACKUP entire phone data like contacts, messages, photos, etc. Also, copy the full contents of your SDcard to a folder on your PC because it will also be formatted. You may want to note the names of installed Apps as they will also be lost. This is similar to formatting Windows. 🙂
Procedure – Step by Step Instructions to install Custom Gingerbread ROM on LG Optimus One P500
Modding involves 3 main processes:
1. Rooting
2. Setting Custom recovery
3. Flashing
>> Make sure that you follow each and every step very carefully to achieve success.
Step 1: ROOT Optimus One
Note: Make sure to kill all the running apps and processes using Taskiller before hitting the Root button. Furthermore, connect the phone to the computer via USB cable and enable USB debugging mode (Settings > Applications > Development) before rooting. Upon successful rooting, you will notice a new app called "Superuser" in the menu.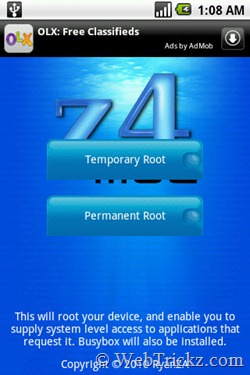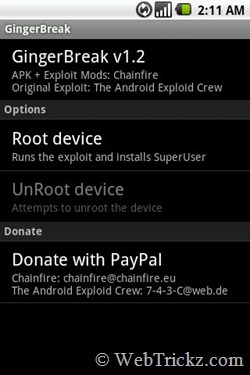 z4root offers an easy and quick way to root most of the devices. Download and install it, then select the "Permanent Root" button. The screen will go white, wait until the phone gets rebooted. Offers unroot option.
If you updated your Optimus to the latest firmware V10E as I did, then you have to use the other alternative "GingerBreak". [Download Here, v1.2]
>> Check Step 2 on Page 2