LG officially launched their 2016 flagship 'the G5' in India yesterday and we were at the launch event. Coming at a price of 52,990 INR the G5 is in no way trying to come down in its pricing. LG claims this to be a device coming off with lots of innovation and design, in addition to lots of chopping its done on its rather thick and heavy software that was highly frowned upon. We got to play with the device close to an hour and happy to bring you our initial impressions of the G5.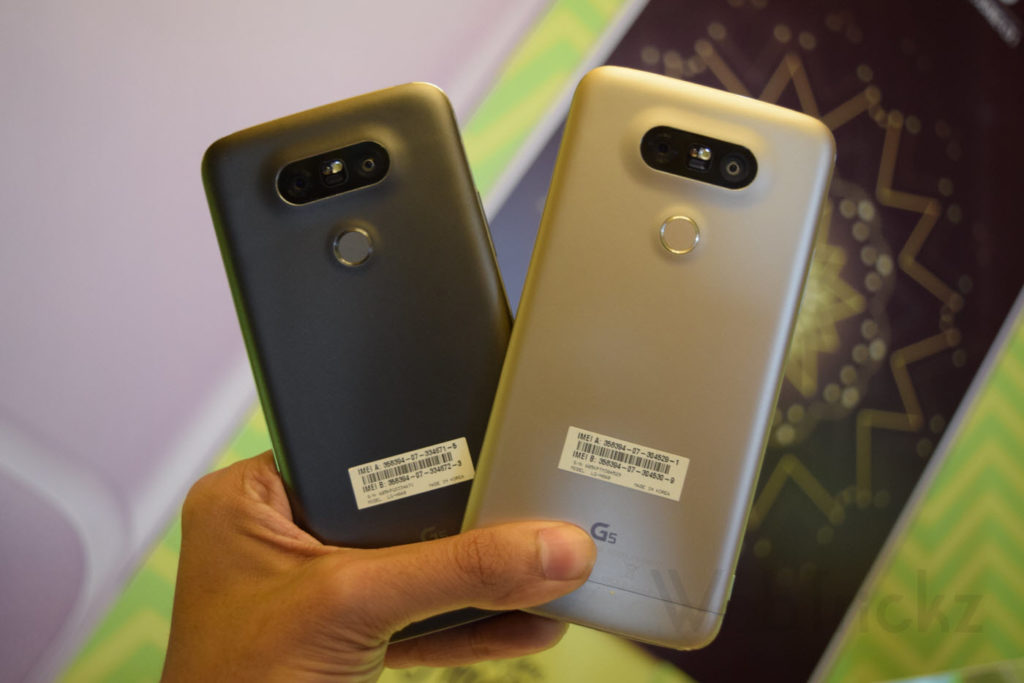 The Look and Feel:
When it comes to design decisions LG has shown us that it can get bold, especially when they moved the volume rockers and the power button to the back of the phone and breaking all conventions. Not many of us were fans of this but just lived with it anyway, thanks to the other features that the LG flagships offered that were almost flawless. With the G5, LG again makes some bold moves and you will see why as we take you thru the design.
The LG G5 has a rather awkward look to it especially when you look at the back of the phone. That duo of camera and the fingerprint scanner. Bold move # 1 can be seen here in moving the volume and power rockers to the sides to ensure the back is not too cluttered and we cant tell you how glad we are to see this happen! We must confess that when you see the phone in person, a portion of that awkwardness dies down. Bold move # 2 is making those edges curved, moving off those iconic sharp edges from the G4 that actually gave it some stunning looks with the leather backs. The screen on the edges is curved as if the glass and the unibody metal melted into each other. Which next leads us to the screen where the bold move # 3 is seen – the screen is now 5.3″ and not 5.5″, something that is really very rare to see – screen size going down with a successor. But the screen is nothing short of delivering a delight with IPS QHD display packing a good number of pixels. While at the display, the "Always On" feature comes in (yes, we've seen this in the Galaxy S7 series!) and is simpler compared to the one on S7. LG claims this uses less than 5% battery per 24 hours and goes off when in pocket or bag. This will be such a useful feature.
The G5 fits well into the palms and is very much a single handed usable phone! All this is good but the phone lacks the "shine" that one expects to come with the flagships. G4 had metal shining out and that leather back to throw in some poshness. G5 is all about being a nerd with a unibody metal that costs a lot to build but has a slippery, matt-ish finish. Not for everyone but if one paid attention to the reasons they'd be able to appreciate why LG has done what its done.
Hardware goes powerful and the Software goes light:
No surprises that the G5 comes with the latest hardware – Snapdragon 820 SoC and 4GB of RAM with 32GB of internal memory and an expandable option via micro SD slot (pat on the back for LG for this). An Adreno 530 GPU will ensure the processor get all the power it needs to do all the heavy lifting. Only thing that goes down is the battery – 2800mAh battery that is 200mAh lower than last year's G4 but this time Quick Charge 3.0 that can take the phone 0-80% in just 35 minutes. One bummer though, just like Nexus 6P is there is no option for wireless charging (yes, we have our Galaxy S7 smirking away while we say this)
LG's UI has always been frowned upon for being a laggard, thanks for the plethora of customizations and options. Finally LG has given a lot of chopping to the UI. Toggle menu goes lighter with just couple of colors but the settings menu still retains the old tabbed structure. Bold move # 4 comes in the form of getting rid of the app drawer but there is indeed a way to bring it up via the settings. But still, this is a bold step! Not many are fans of what all the chinese OEMs like Xiaomi, Gionee, Meizu et all do with no app drawers and are usually seen as iOS knock offs.
Overall, in the time that we got to play with the G5 its way smoother than what we felt on G2 and G4. Though its very early to say how the software plays over a period of time, our initial impressions are positive.
Nerdy looking camera delivers delight:
That camera duo is a 16MP one and a 8MP wide angel camera with laser autofocus and dual tone LED. It kinda creates a subtle bump on the back of the phone along with the fingerprint scanner but thankfully the phone wont rattle or wobble too much to irritate you while you rest it on a surface. As usual the camera interface is rich in features and that highly popular manual mode is more powerful now. Launching of the camera app was faster compared to G4 and the processing time especially in indoors and low light was way way faster than G4. The two cameras work in tandom to intelligently put together what they see individually into a single picture based on the contents of the frame and the condition where its shot. But we couldn't stop comparing it with the S7 Edge we hold with us and the S7 beats the G5 hands down when it comes to focusing speed and video capturing. The front shooter does a decent job as well.
A step into module-atiry:
Google's modular phones may still take a while to come out but LG takes another step here – bold move # 5! Going modular but with a baby step. Hold the button and pull the bottom portion of the phone and the battery along with it will pop out. If you've ever used a gun with those magazines you'd love this move. Change batteries like the BOND! And if you wanted to go crazy you can get an additional camera module 'LG Cam Plus' that brings in 1800mAh more, slap it in and shoot like a pro. Not just this, LG calls its "friends" and it has a list of add-ons including the 360 degree camera that can be used with the G5. While this might sound really trivial it takes a lot to make these moves especially with one's flagship device. It may not be a super hit but we cannot stop appreciating what LG is trying to do here.
Initial Impressions:
You might have guessed by now from what we've said so far – we love the G5. But would this be good enough to beat one of the best Android phones every made *cough*cough* the Samsung Galaxy S7 (and series)? Well its not an easy answer. Its not just about the specifications war or glossy sexy looks. The LG G5 is beyond this and the kind of crowd who'd go for this may be down to a niche which could be LG's biggest risk. Perhaps the LG G6 next year may bring more modular options with it but for now, it will be a tough task for the G5 that lacks those sexy looks when compared to S7s and HTCs but the G5 most likely like its predecessor the G4 would have very less flaws. The camera with wide angle option is a stunner in our opinion. Of course the software was a laggard but now we see some massive improvements. But at 52,990 INR the question is are you ready to jump into the G5 against the Samsung S7 or wait up for the upcoming OnePlus 3 or try out the HTC 10? Let us know while we try to ride the G5 more and bring you a detailed review.