We've shared various transformation packs for Windows in the past that bring a whole new look and interface to the OS. Now if you're willing to experience the elegant and simplistic design of Mac OS X Lion on your Windows desktop, then you can easily get it without applying any serious customization hacks manually. Fortunately, the talented folks over at Windows X's Live have released the Lion Transformation Pack 1.0. The pack can be downloaded for Free and surprisingly it supports Windows XP this time.

Lion Transformation Pack is one of the best transformation packs, meant for users of Windows XP, Vista, and Windows 7 to transform the look of their Windows interface to the style and appearance of OS X Lion. Certainly, it's not a simple theme or a visual style but a complete and full-featured customization pack that can transform your Windows entirely to Mac OS X Lion, including Lion Login Screen, Themes, Icons, Dock, Wallpapers, Sounds, User Pictures, Spaces, Expose, Finderbar and more. A UX Pack edition is also available for people who find modifying system files a little scary and prefer to try out a zero-risk version. The UX Pack is meant for Windows 7 only.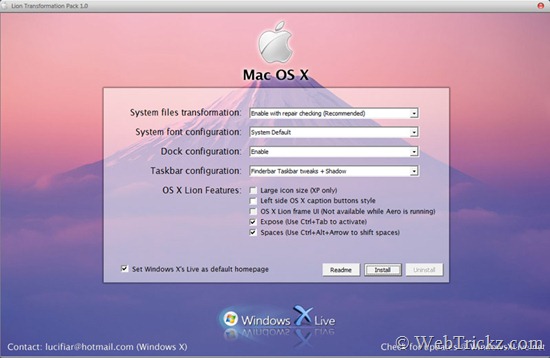 Features –
– Seamless installation and uninstallation giving users safe transformation
– Easily configurable in a single click with intelligence Metro UI design
– Designed for all editions of Windows XP/Vista/7 including Server Editions
– Genuine OS X Lion system resources
– Smart system files updating with auto-repair and Windows Update friendly
– UxStyle memory patching
– Lion Frame UI including Aero/Mac features for XP and non-Aero system
– OS X Lion themes, wallpapers, user pictures, and logon screen
– OS X Dock emulation with pre-configured docklets optimized for stability/performance
– Expose and Spaces with shortcut keys configured
Note: Make sure to uninstall Snow Transformation Pack with UAC turned off before installing this one. It's recommended to create a system restore point before installing this transformation pack. That could come in handy in case anything goes wrong.
– Download Lion Transformation Pack 1.0 (for XP/Vista/7)
– Download Lion UX Pack 1.0 (for Win7 only)