Thousands of malware are emerging every day. Hence, you need a strong shield to protect your valuable data. There are different security suites available, and everyone claims to offer the most durable protection.
However, no security suite or antimalware is sufficient nowadays. You also need to take precautions as well as have good security software on your PC. Only then you could protect your system from malware.
Today, we're testing an anti-malware suite "MalwareFox" that claims to be an expert in this field. Around 4500 users install MalwareFox per day, and it has blocked more than 152K infections. Without further ado, let's dive into its detailed review.
Ease of Installation
MalwareFox is easy to install and its setup file is around 7MB that you can download in a few seconds. The program takes just 17MB of storage space after installation. Once the installation is complete, MalwareFox will download the latest version and update the signature from its database, which is an essential part.
User Interface
MalwareFox has the simplest user interface. The main window shows you the status of Real-Time protection, System Status, Licence Info, Last Scan, and Last Update Check. So you don't need to click on multiple buttons to know when your PC was scanned and when the license is going to expire.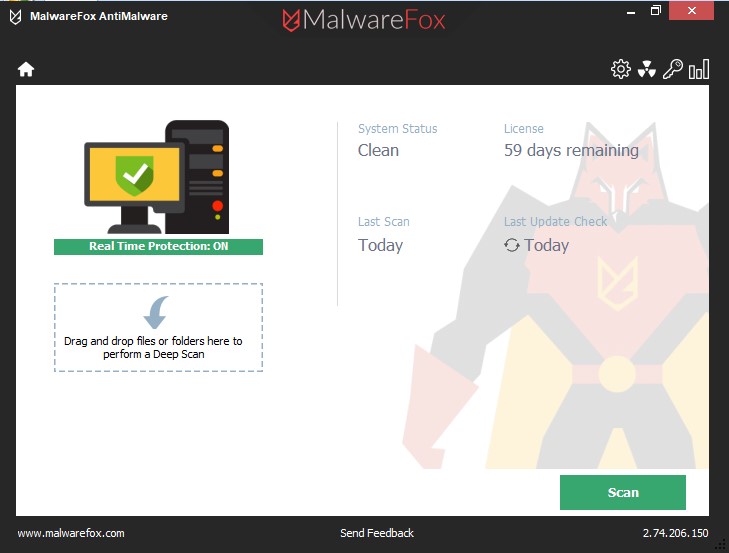 It also has a drag and drop area, where you can drop files and folders to perform a custom scan. This option is helpful in case you are suspicious of a particular file. Just drag and drop it onto the area to start the deep scan. Hassle-free; there is no need to browse and locate the data in the file explorer.
On the home window, there are four buttons that lead you to different areas of the program. It has options to access the Settings, Quarantine, License, and Reports section.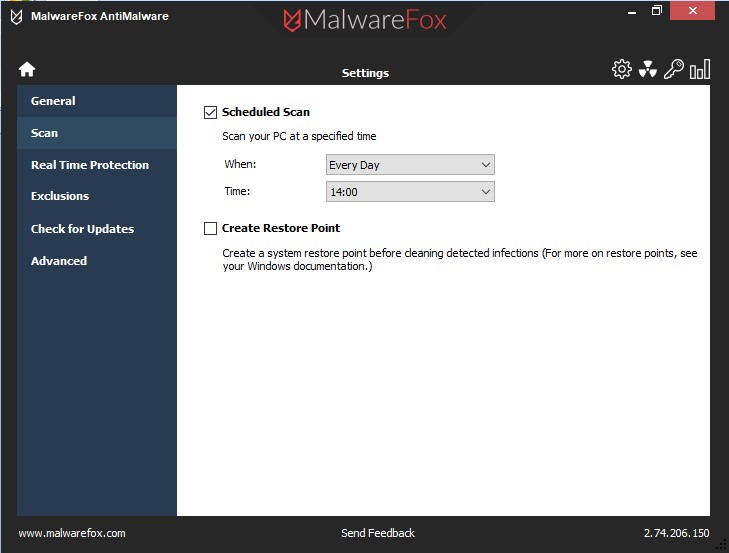 From the Setting section, you can tweak some options like turn on or off real-time protection, scheduling the scan, and adding the exclusions.
Features
Features wise MalwareFox isn't going to surprise you. It doesn't have those magic features which claim to protect the things that are not even in danger. It has minimal yet essential elements that antimalware should have. There are three options to scan for malware – Full Scan, Custom Scan, and Scheduled Scan.
The Full Scan checks every part of your storage for threats. The Custom Scan lets you quickly check a suspicious file or folder by dropping it on the home screen of MalwareFox. While the Scheduled Scan automatically performs the full scan at a particular time. You can schedule the scan at system startup, every day, or on weekly basis on a specific day like every Saturday or Sunday.
Real-Time Protection is an essential feature of this or any other antimalware. The security suite needs to stop the threat when they attack, not when the malware infiltrates your system and then you perform the scan to clean the infection. If there is no real-time protection, you might be able to clean the malware, but you won't be able to recover the lost data.
MalwareFox efficiently stops the threats which try to infiltrate your PC. It prevents malware even before they start damaging your valuable data.
Protection Capabilities
MalwareFox works on dual protection shield. It uses the heuristic approach to detect threats. The anti-viruses used to work on signature-based detection mechanism.
The problem with this mechanism is that it can't detect the malware that is new and their signature isn't in the database. The process of updating the signatures in the database takes time. Moreover, nowadays thousands of new malware are emerging in a single day.
These unknown and new computer threats are called zero-day exploits. Catching a zero-day malware with the signature matching method isn't sufficient. That's the reason MalwareFox uses behavioral analysis to detect these threats.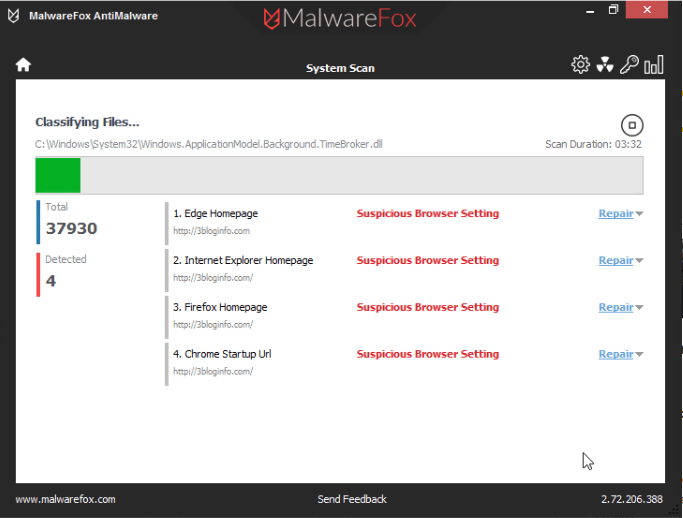 MalwareFox analyses the behavior of every program, and if their actions are like malware, then it blocks that program right away. It uses this method to catch the zero-day threats whereas signature-based detection is used for known malware.
Impact on Performance
MalwareFox's impact on your system resources is light as a feather. You can turn on its full scan and can do your other work without any problem. We're using it on our Windows 10 laptop with an i3 processor and 4GB of memory. Surprisingly, it doesn't slow down our 5-year-old machine.
Check the resource usage while MalwareFox is in an idle stage with Real-Time Protection enabled.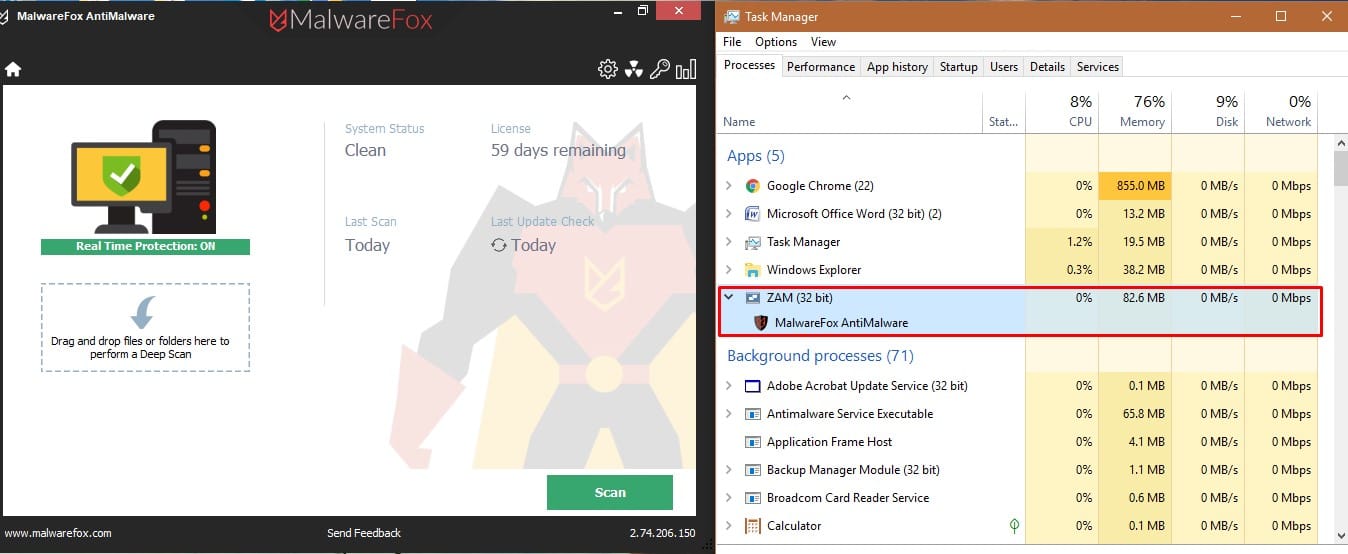 It is taking the least of the system resources, that's just 83 MB of memory.
Below is the resource consumption during the full scan mode.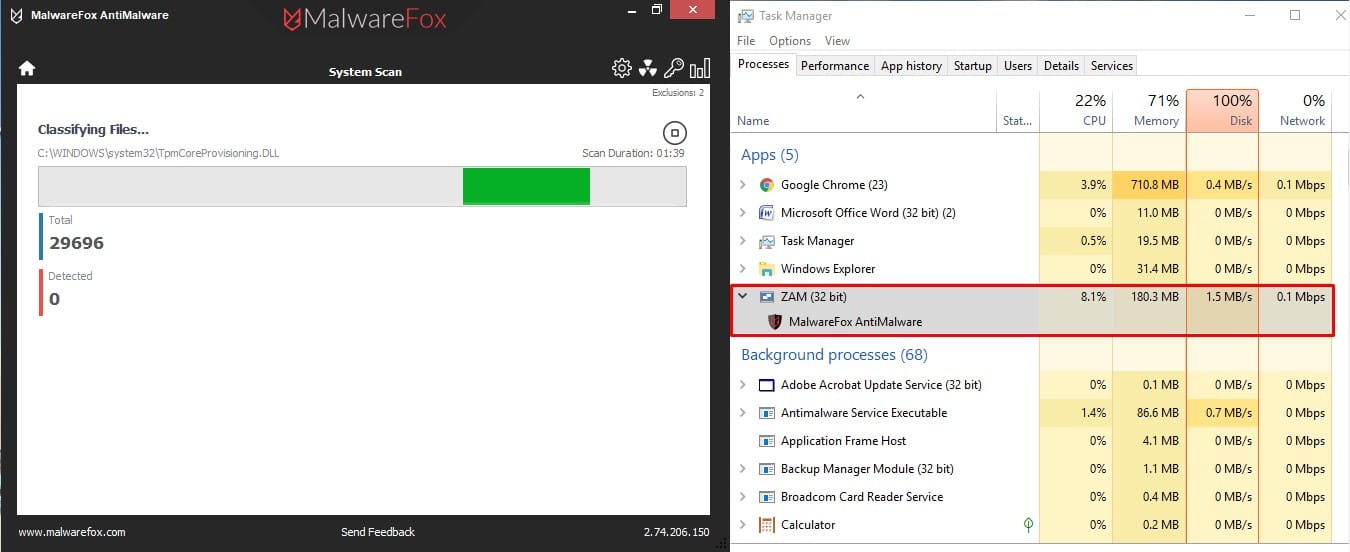 Here again, MalwareFox isn't consuming significant resources thus allowing you to work while the scan is underway.
Value in Terms of Money
Investing in reliable security will save you from a lot of troubles while investing in the wrong security product could cause more trouble. If you don't choose the right product, you will be in a false sense of security, and it is worse than not having any security suite.
MalwareFox is the right product for you; it saves you from dozens of malware including ransomware, spyware, rootkits, and even zero-day malware. Speaking of pricing, a yearly subscription of MalwareFox Premium will cost you less than $23 (799 INR in India). Besides a single PC, few other attractive plans are available for users who want to secure multiple computers at home or business place.
Final Verdict
In our view, MalwareFox is a decent choice if you want to protect your computer from malware. However, if you want a security suite that packs lots of features, then MalwareFox is not for you. The developers of this suite have only focussed on catching the malware. And it does that job perfectly.
Though having different features in a security suite is beneficial, but they need to be added without making the software bulky or resource-consuming.
After installing MalwareFox and enabling the scheduled scan, you will forget that you have antimalware installed on your PC unless there is an attack. It works quietly in the background even with real-time protection and scheduled scan enabled. The case is such that you won't even notice that a full system scan is running in the background.