You can add someone else's or your own reel to your Instagram story or send it directly to someone via DM. However, unlike tweets on Twitter, there is no way to repost or reshare Reels on Instagram.
Although reposting your reel video will result in duplicate content unless you later choose to delete the older reel. That said, most people see resharing as a potential way to maximize their content reach.
If one strategically reposts a reel on Instagram then it can help them drive engagement and hence increase their followers.
Can you share or repost on Instagram?
Though not possible officially, I've found an easy way to repost Instagram Reels without having to manually download the reel video and then upload it back to Instagram. You can use it to repost someone else's reel or your reel either to your Instagram News Feed, Reels, or Story.
To repost on Instagram, you need 'Repost: For Instagram', a completely free app that doesn't require a subscription. Repost features a clean and easy-to-use interface, with simply one non-intrusive ad at the bottom. The app is available for both iPhone and Android.
With Repost, you can choose to add attribution with a custom position and the reel caption is automatically copied to your clipboard for easy pasting. However, the app adds a short reference 'Posted @withregram' in the caption that you can remove manually. Moreover, Repost retains the history of all the content that you repost including posts, reels, stories, and IGTV videos.
NOTE: Before you repost, it is advisable to take prior permission to avoid copyright infringement. Also, make sure to give proper credit to the original creator of the reel.
Now let's see how you can repost reels on Instagram for iPhone and Android.
How to repost a reel to your Instagram Feed
To share someone else's Instagram reel to your news feed,
Install "Repost: For Instagram" from the App Store (on iPhone) or Google Play (on Android).
Go to Instagram and find the reel video you want to repost.
Tap the ellipsis button (3-dot icon) at the bottom-right corner and select "Copy link".

Open the Repost app. The app will automatically fetch the reel link from your clipboard and show 'Repost pasted from Instagram'.
Tap a reel in the Repost app.
Optional: Tap the 'Attribution mark' option and set the position to 'None' to repost the reel without an attribution watermark.

Optional: Turn on the toggle next to 'Copy caption' if you want to copy the caption from Instagram reels to your clipboard and use it later while resharing the reel.
Tap on "Share" and select 'Allow Access to All Photos' to let Repost access your photos.
On Post to Instagram screen, tap on "Feed". Then choose the crop size and tap 'Next'.
Under Share as…, select the "Post" option to share a reel as a post on your feed and hit Continue.
Apply a filter, trim the video, or set a cover image if you want and tap 'Next'.
Add a caption (or paste it from the clipboard) and tap the 'Share' button.
That's it. The reel video will now appear in your Instagram feed.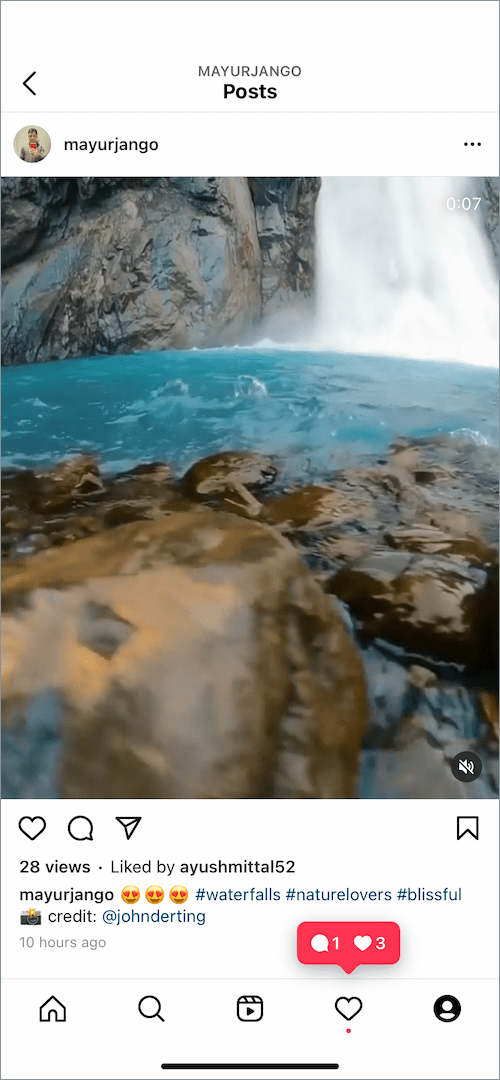 Note that in the above process, the certain reel will be saved with music to your gallery. You can either delete or use the reel elsewhere.
ALSO READ: How to reorder clips in your Instagram reels video
How to repost reels to Instagram Reels
To reshare someone's reel or your reel that you posted earlier,
Simply follow the above-stated steps from Step #1 to #9.
Under Share as…, select the "Reel" option to share a reel on Reels and hit Continue.
Add effects, text, stickers, or select different music if you want.
Tap 'Next' and write a caption. You can also select 'Also share to feed' or even recommend the reel on Facebook.
Select "Share" to share the reel with the Instagram Reels audience.
How to repost reels on Instagram Story
Follow this to reshare a reel that plays the first 15 seconds of the video within your story. Whereas your viewers need to tap the story to view the rest of the reel in the Reels section.
To repost a reel on your Instagram story,
Go to "Reels" and open the reel you want to post as a story. To find reels posted by you, head to your profile and tap the 'Reels' tab.
Tap the paper airplane icon at the bottom-right corner.
Select "Add Reel to Your Story" under the search bar.
Tap the "Your story" button at the bottom of the screen.
ALSO READ: How to show reels on Profile Grid again after posting
TIP: To share full reels to Instagram Stories on iPhone, follow the below method instead.
Find the particular reel and copy its link.
Open the Repost app and let it recognize the reel.
Hide the Attribution mark if you want.
Tap the 'Share' button at the top-right corner and select "Save Video" from the share sheet to save the reel to the Photos app.
Open Instagram and add a new story.
On the Create Story page, swipe up on the screen and select the saved Reel. (Note: Reels longer than 15 seconds will automatically split into two clips.)
Optional: Add any effects, stickers, or text to the reel video if you want.
Tap "Next" and then tap "Share" next to Your Story to share a full 30-second reel on your Instagram Story.
Hope you found this guide helpful.
RELATED STORIES: