Ever since the ban of TikTok in India, Instagram Reels has emerged as a popular short-video sharing platform. The main Facebook app also lets you create and post Reels but it's a slimmed-down version of Instagram Reels.
Perhaps, you might have noticed Reels while watching videos on the Facebook app. That's because Facebook is testing a new feature in India that allows creators to share their public Reels on Facebook.
What's 'Recommend on Facebook' in Instagram Reels?
Officially known as "Recommend on Facebook", this feature lets Facebook recommend your Reels on its own platform. Sharing Reels to Facebook makes sense especially for creators as doing so will help them expand the reach of their Reels.
Once you opt for this feature, your Reels can be recommended to anyone on Facebook and will be shown with your Instagram username.
What's noteworthy is that you can either choose to share a specific Reel or all your future Reels on Facebook.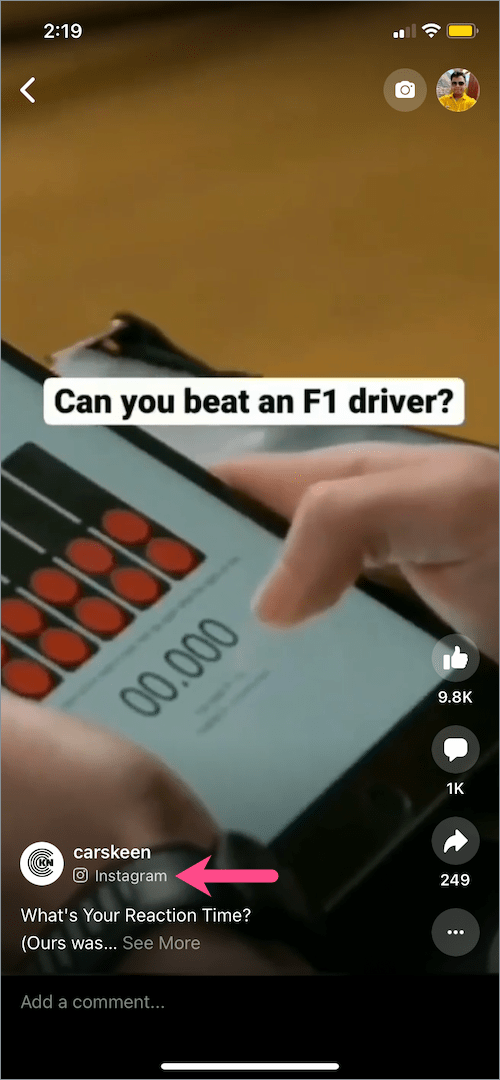 Interestingly, you don't need a Facebook account to share a Reel on Facebook.
Just like Instagram, anyone on Facebook can create Reels with your original audio, and even remix your video (only if you allow it). Also, your Facebook account info won't be shown to anyone even if your Instagram account is linked to Facebook.
You can go through this documentation for detailed info about Instagram Reels being recommended on Facebook.
How to connect Instagram Reels with Facebook
Since Facebook is testing this feature, it isn't currently available to everyone. So fret not if you can't find the option yet while sharing a Reel. Also, the "Recommend on Facebook" option will only be available to users who have a public account on Instagram.
Luckily, the "Let Facebook recommend your reels to grow your audience" option recently showed up for me while watching Reels. Just make sure you are running the latest version of Instagram.
Once the option is available, you will see the below banner within the Instagram app. Simply tap "Always Allow" to allow the platform to always share Instagram reels to Facebook reels.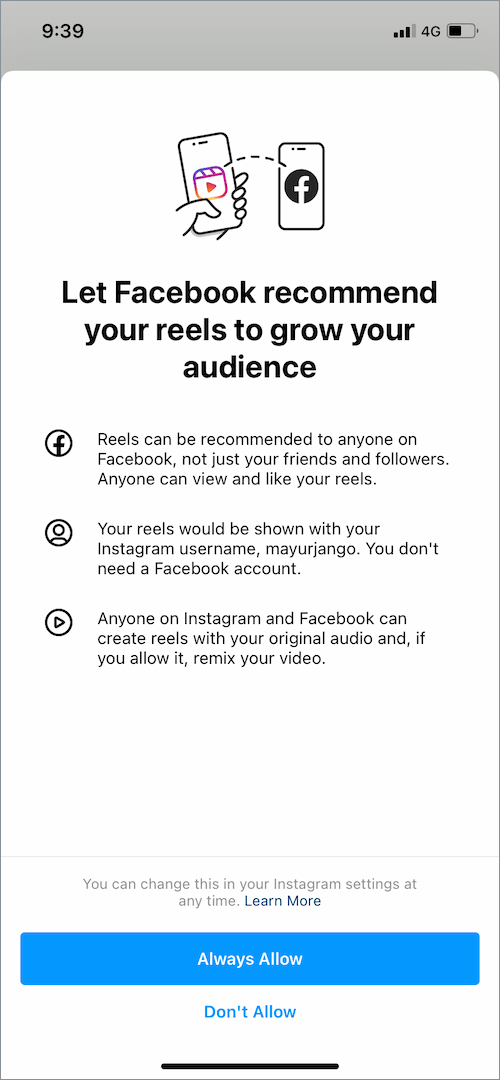 If you hit 'Don't Allow' by mistake, then follow the below steps instead.
Open the Instagram app and tap the profile tab at the bottom-right corner.
Tap the Menu tab (hamburger icon) at the top-right.
Go to Settings > Privacy > Reels.
Turn on the toggle next to "Recommend on Facebook".
Optionally, you can turn on "Enable remixing" if you want.
NOTE: This is the default setting and the changes made apply to all the Reels that you share publicly on Instagram.
ALSO READ: How to download Reels from Facebook
How to share an Instagram Reel on Facebook
If you don't want all your Reels to be recommended on Facebook, then you can share individual Reels on Facebook instead.
It comes in handy if you prefer to keep the default setting for 'Recommend on Facebook' disabled. This also gives creators more control and lets them decide what works best for them.
To share Instagram reel to Facebook feed,
Create a reel and tap the "Share to" button.
On the Share screen, tap the 'Recommend on Facebook' option.
Turn on the toggle button for "Recommend on Facebook".
Select the "Turn On for This Reel" option.
Go back and share the reel on Instagram.
That's it. Your Insta Reel may then appear in the "Reels and Short Videos" section on Facebook.
How to share Instagram Reels to Facebook Story
If you're outside of India, then there is a rare chance you would get 'Recommend on Facebook' as an opt-in feature.
However, if you still want to share reels to your Facebook story then that's possible. This way you can also be sure that your Reel is posted on Facebook and can be seen by your friends and followers, or the public.
To upload reels on Facebook, you first need to download a reel video that has been posted on Instagram. It can be your own or someone else's reel. Here's how you can do it on iPhone.
Go to the "Reels" section in the Instagram app and open the reel you want to download. To find reels posted by you, navigate to your profile and tap the Reels tab.
Tap the ellipsis button (3-dot icon) at the bottom-right corner.
Select "Copy link".
Visit a website like igram.io or instavideosave.net (or use the one you prefer).
Paste the link in the Instagram Link field and hit "Download". Tap the "Download .mp4" button and select Download to save the reel.
After downloading is over, open the Files app and navigate to "Downloads".
Open the reel file you just downloaded and tap the "Share" button at the bottom left.
Tap "Save Video" to save the reel to the Photos app.
After saving the reel, simply post it as a story on Facebook as you normally do.
Alternatively, iPhone users can use the Instagram Media Saver shortcut to quickly save reels in their gallery with music.
TIP: Besides Facebook Stories, you can share Instagram reels to your Facebook Page or Facebook feed.
ALSO READ: