Just like Twitter and Facebook, Instagram users can easily tag someone in their posts, story, or comment. Speaking of Instagram Reels, while it's common to add captions and hashtags to reels. But did you know you can tag in Instagram reels as well?
How does tagging someone in a reel help?
Most people may wonder what's the use of tagging on Instagram reels. Well, it is a good idea to tag people who relate to or have any contribution to your reel. Tagging users in reels is a simple and effective way to drive engagement and increase reach. It works similarly to Facebook and Twitter wherein Instagram notifies a user that XYZ person tagged or mentioned them in a reel. Tagging also helps you get more views, likes, and shares on your reels without much effort.
While tagging is entirely different from #hashtags, you can smartly add tags in reels to get attention from a friend, influencer, business, brand, or community.
Now let's see how you can tag someone on Instagram reels, before or after posting a reel.
How to tag a person in Instagram reels
Here's how you can tag people in a reel before sharing it on your Instagram account.
Create a new reel or add an existing one from your reel drafts.
Tap the "Preview" button at the lower right corner.
Edit and make final changes to the reel such as muting the original audio, trim reel clips, adding stickers or text, and applying saved effects.
Tap the "Next" button at the bottom-right corner.
On the Share screen, tap the "Tag people" option.
To put tags in a reel, tap on "Tap to Tag People". Then search for the username or profile name of the person or business that you would like to tag in your reel. Note that it's easier to find people whom you already follow.

To tag multiple or more than one person, tap the "Add Tag" option and search for the person. Similarly, you can add more people to your tag list.
After tagging all the relevant users, simply tap "Done" and share your reel.
Now whoever you tag will instantly get a notification, saying that you've tagged them in a reel.
TIP: You can also tag someone in the caption of your reel.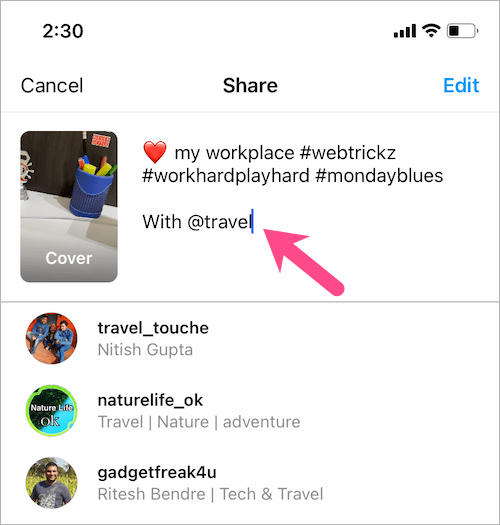 To add mentions to your caption, write a caption on the Share screen and type @ followed by the username or name of an individual or business, such as @therock. This is an excellent way to give credit to the team involved or the original creator of the reel (if you're reposting a reel).
ALSO READ: How to hide Instagram reels from a certain person
How to tag someone on Instagram reels after posting
Did you publish a reel but forgot to tag people or want to tag more people? Worry not, you can still tag someone in a reel after posting. To do so, follow the steps below.
Go to your profile and tap the "Reels" tab. The Reels section will show all the reels you have shared till now.
Tap the reel you want to tag people in.
Tap the ellipses button (3-dot icon) at the bottom-right corner.
Go to 'Manage' and tap the "Edit" option.
On the 'Edit info' screen, tap on "Tag people" and then tap "Tap to Tag People".

Search for a friend, brand, influencer, or business whom you want to tag. Use the "Tag Another Person" option to tag more people. Then hit 'Done' at the top-right.
After tagging people (including mentions in the caption), tap "Done" to apply the changes.
That's it. You can now see the tagged people in your already shared reel.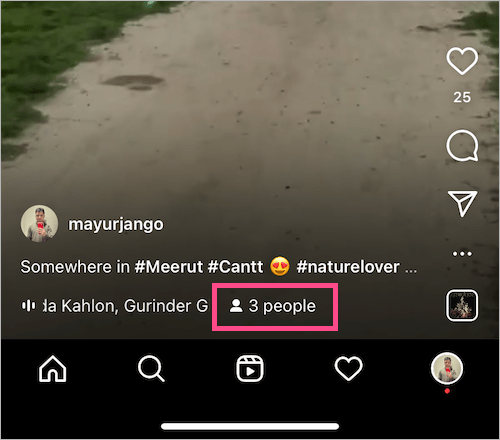 How to tag someone in a Reel Story on Instagram
Looking to tag friends when adding a reel to your story? Thankfully, there are two ways to tag people in a reel story. You can tag people in your own reel or someone else's reel that you share on your Instagram story. To do so,
Open the reel you want to share on your story.
Tap the paper airplane icon at the bottom-right corner.
Tap "Add Reel to Your Story".
To tag a person in your reel story, tap the text option (Aa icon) at the top.
Type @ followed by the username or name of the person or business. Example: @mayurjango
Instagram will show a list of relevant users in a row right below. Swipe across the row left or right and select the desired profile.
In a similar way, you can mention more people in a reel story.

Mentions in an Instagram reel story

Align the position of the tag, change its color or font style if you want.
Share the reel to your story.
That's it. The tagged person will now get a direct message (DM) that reads "Mentioned you in their story". They can further add your story to their story.
Alternate Way –
While you are on the edit story screen, tap the "Stickers" option at the top. Then select "@Mention" and type in the name or username of the person you want to mention in your reel story. Select the desired profile to tag it. You can later resize, change the position or color of the Mention sticker.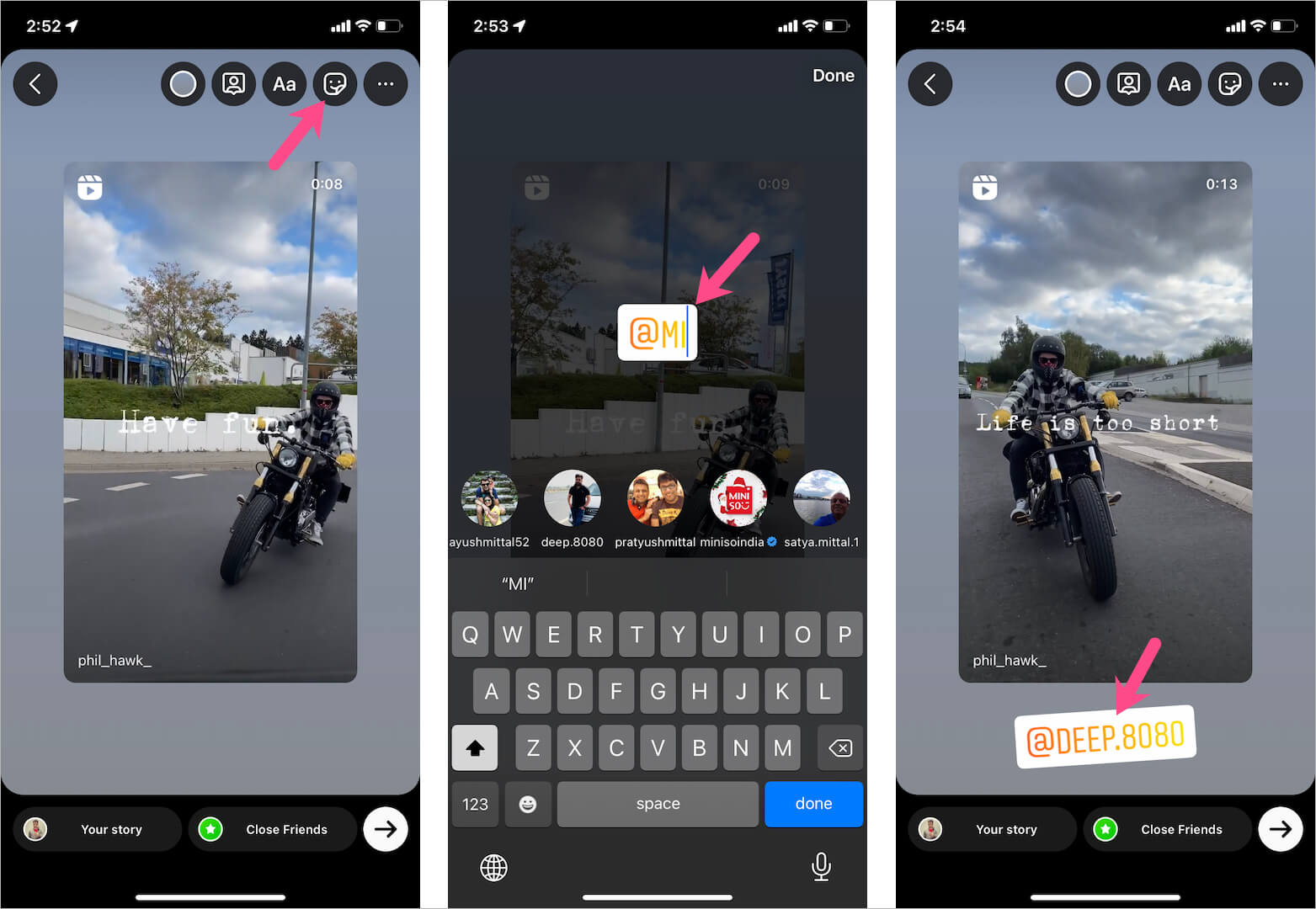 Hope you found this guide helpful.
ALSO READ: