Until now, it was only possible to restrict people on Facebook, using the Facebook mobile app or website. However, Facebook has now added a new 'Restrict' option in the latest version of Messenger for iPhone and Android. It allows users to directly restrict someone on Messenger instead of Facebook.
The Restrict feature in Messenger is an ideal way to limit interactions with someone you know without having to block or unfriend them. Unlike Blocking, you can see restricted messages, just like you view messages from people you aren't friends with on Facebook.
At the same time, you might have noticed that there is no option to ignore messages on Messenger 2023 anymore. That's because the new Restrict option replaces the 'Ignore messages' feature, present earlier in the Facebook Messenger app.
What happens if you restrict someone on Messenger?
Here's how restricting works when you restrict a person or contact in your Messenger chat.
The conversation is removed from the Chats list to Restricted accounts.
You won't receive notifications when a restricted person messages or calls you.
The restricted contact won't see when you've read their messages or your Active Status.
The person won't be notified when you restrict them.

You can't message or call the restricted person.

You cannot see the online status of someone whom you've restricted.
Although Restrict on Facebook and Messenger serve a similar purpose, they both work independently. This means the people you restrict on Facebook will remain unrestricted on Messenger unless you restrict them in Messenger as well. As a result, people in your Facebook Restricted list won't appear in the Restricted list on Messenger and vice-versa.
Perhaps, if you want to reply to messages in a restricted chat on Messenger then you first have to unrestrict the certain person.
Now let's see how you can restrict or unrestrict someone on Facebook Messenger.
How to restrict messages on Messenger 2023
Make sure you're running the latest version of Messenger.
Open the Messenger app and go to a conversation you want to restrict.
Tap the profile picture of the person.
Under Privacy and support, select "Restrict".
Once restricting is done, a popup saying 'XYZ is restricted' will appear at the top.
Note that the above steps are applicable to both iPhone and Android.
TIP: Below is an alternate way to quickly restrict several people in Messenger.
On Android – Go to the 'Chats' tab and long-press a particular chat conversation. Choose the 'Restrict' option from the list.
On iPhone and iPad – While you are on the Chats screen, swipe left on a conversation, tap 'More', and then tap on 'Restrict'.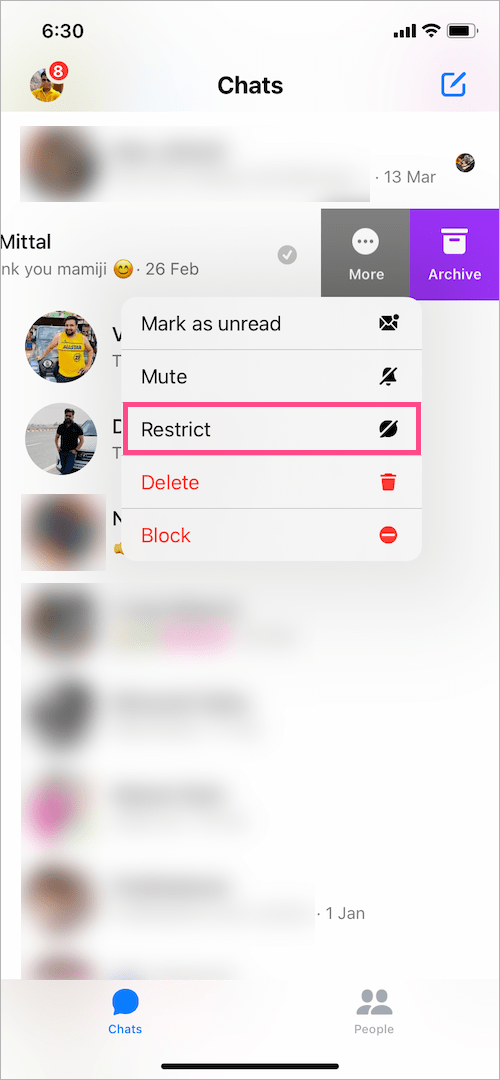 How to see restricted messages on Messenger
Where to find restricted messages on Messenger 2023? Follow the steps below to find restricted accounts on Messenger.
Go to the Messenger app and tap the Menu button at the top left.
Tap on 'Settings' (gear icon) next to your profile name.
Go to 'Privacy & safety'.
Under Who can reach you, go to 'Restricted accounts'.
Here you will see the list of people you've restricted on Messenger.
How to remove restriction in Messenger
Tap the Menu button in the top left corner and go to Settings.
Head to Privacy & safety > Restricted accounts.
To unrestrict on Messenger, tap the person's name you want to remove from restricted.
In the chat window, tap the 'Unrestrict' option at the bottom.
An 'XYZ is unrestricted' notification will show up and the particular conversation will move back to your Chats list.
Hope you found this article helpful.
ALSO READ: