Facebook Messenger for iPhone and Android has got a new update that brings a host of new features. These include the Star Wars and Selena: The Series chat theme, new camera stickers, ability to reply to a specific message with a photo or video. There is also tap-to-record to easily record and send voice messages without holding down the record button.
In addition, users can now archive inactive chats with a swipe gesture and Facebook has finally made it a lot easier to find your archived messages. The company has added a new "Archived Chats" folder as a dedicated menu in Messenger 2021.
Now you don't need to manually search for your archive chats. The new update lets you access the full list of archived conversations in one place. This comes in handy in case you don't remember the person's name or the group conversation you had archived.
Moreover, it is now possible to unarchive chats on Messenger without sending a message. This way you can move archived chats back to your inbox without bothering the receiver.
How to delete archived chats in Messenger 2022
Do you happen to have a lot of archived threads that are redundant and not needed in the future?
You can permanently delete all such archived messages from your Messenger account so that they cannot be retrieved later on.
Now let's see how you can delete archived messages in Messenger 2022 on iPhone and Android.
Open the Messenger app and tap your profile photo at the top left.
Go to "Archived chats".
To get rid of an archived chat, tap and hold (long-press) the particular chat and select "Delete".

Tap on Delete again to delete the archived conversation forever.
There is also an alternate way for iPhone or iPad users. Just swipe left on the archived message, tap "More" and then tap the Delete option.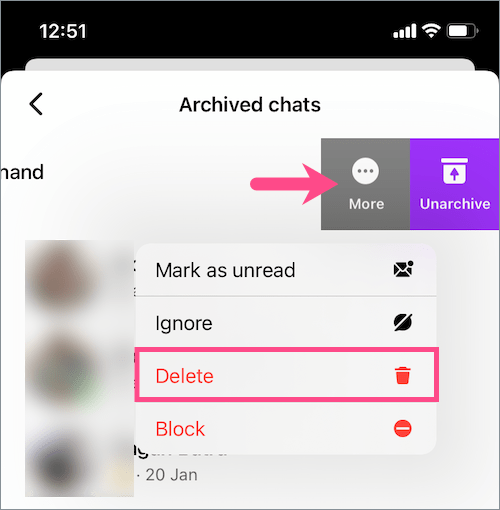 The only downside is that you still cannot delete all or multiple archived messages at once.
On Computer
You can also delete archived chats on your PC or Mac through messenger.com. To do so,
Visit messenger.com in a browser on your computer and log in to your account.
In the sidebar at the left, click the "Archived" option.
Hover your mouse cursor over a particular chat and click the 3-dot icon.
Select "Delete Chat" from the list.
Click on Delete Chat again to confirm your choice.
ALSO READ: How to unignore someone on Messenger without replying
How to unarchive messages on Messenger app 2022
The updated Messenger offers the ability to unarchive messages without messaging. Earlier users had to send a message or reply to unarchive an archived chat.
It's worth noting that an archived chat will get unarchived automatically when you receive a new message in that certain chat.
Here's how you can unarchive a conversation in Facebook Messenger.
On iPhone – Tap your profile picture at the top left and open Archived chats. Swipe left on a chat you want to move back to your inbox and tap the "Unarchive" icon. You can also swipe all the way to the left to unarchive a chat in a single gesture.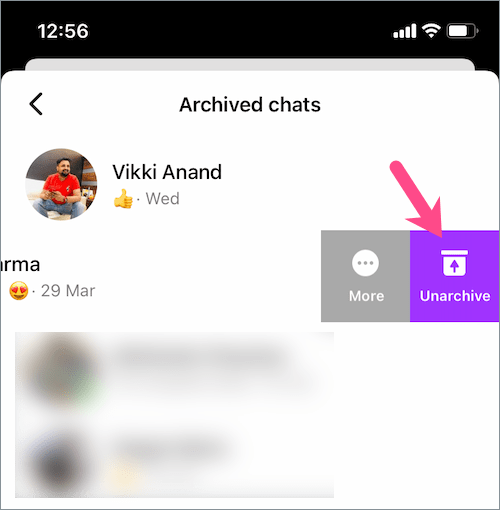 Another way is to long-press on a specific chat and tap the "Unarchive" option.
On Android – Go to Archived chats and long-press the chat conversation you want to unarchive. Tap "Unarchive" from the list.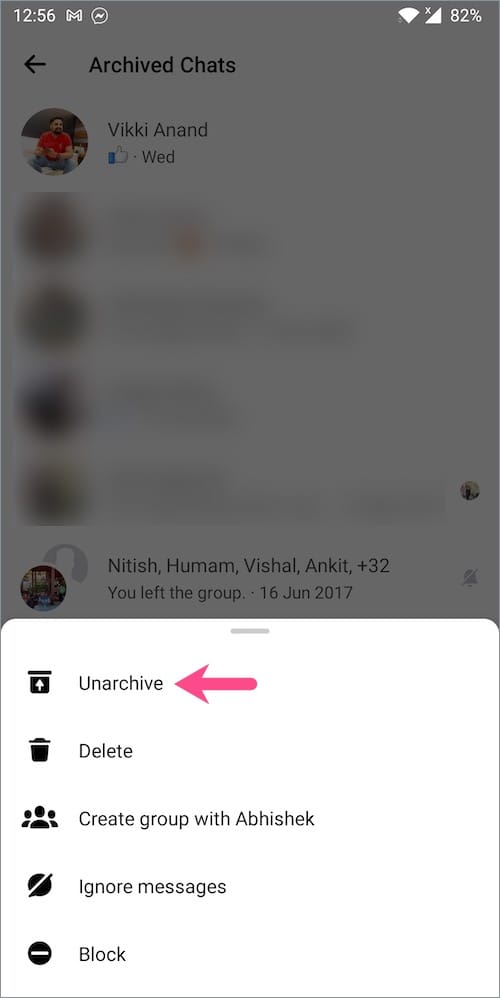 ALSO READ: