There are times when the only option left is to block someone's Facebook profile in order to avoid them. Blocking is a feasible way to get rid of people who are constantly bothering or harassing you. It is different than unfriending a person or restricting someone on Facebook.
When you block someone on Facebook, they will no longer be able to see your posts, tag you, add you as a friend, start a conversation with you, and invite you to events or groups.
If you're friends with someone, blocking them will also unfriend them from your profile. That said, Facebook doesn't notify the relevant person when you block them. And in case you want to unblock a person, you'll have to send them a friend request again in order to be friends again.
How do I find my blocked list on Facebook?
It's certainly difficult to remember who you have blocked. Worry not, you can easily see your Facebook blocked list on both mobile and desktop. Doing so will let you remove someone from your blocked list on Facebook and reconnect with them.
Now let's see how to find your block list on Facebook app and website.
How to see your Blocked list on Facebook 2023
Follow the steps below to see blocked list on Facebook for iPhone and Android.
Go to the Menu tab.
Scroll down and navigate to Settings & Privacy > Settings.
Scroll down to 'Audience and visibility', then tap 'Blocking'.
Here you can see who you blocked on Facebook.
On Desktop
To see your Facebook blocked list on the desktop,
Visit facebook.com and select your Facebook profile or page.
Click your profile picture at the top-right corner and go to Settings & privacy > Settings.
Click on "Privacy" in the sidebar on the left.
Under Privacy, select the "Blocking" option.
Under Manage Blocking, click "Edit" next to 'Block users'.
Click on "See your blocked list" to see all the people you have blocked.
How to unblock someone on Facebook 2023
The below steps are applicable to both the Facebook app and website.
Follow the relevant steps above to see the blocked users/people/accounts list on your device.
To unblock a person, tap the 'Unblock' button next to their name.
Tap 'Unblock' (Mobile) or 'Confirm' (PC) to remove the particular person from your blocked list.
NOTE: When you unblock a person, you will have to wait 48 hours if you want to block them again.
How to see when you blocked someone on Facebook
Want to know the date you blocked someone on Facebook? Here's how you can do it on the Facebook app on iPhone and Android.
Go to the Menu tab and tap your name or profile picture to view your profile.
Tap the ellipsis button (3-dot icon) next to 'Edit profile'.
Select 'Activity Log'.
In the Activity Log, tap Connections and then expand the Friends dropdown menu.
Under Friends, tap the 'See more' button and select 'Blocked'.
That's it! You can now see the exact date when you blocked a particular person on Facebook.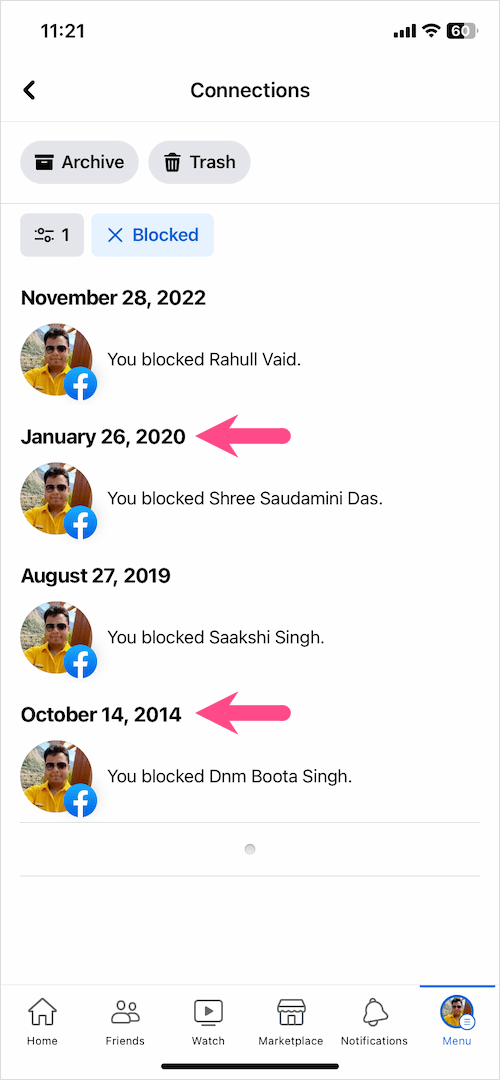 On Website
Visit facebook.com on a computer and log in to your Facebook account.
Click your name in the left sidebar to go to your profile.
On your profile page, click the 3-dot button shown under the 'Edit profile' option.
Go to 'Activity Log'.
On the Activity Log page, click the 'Connections' dropdown menu and select 'Blocked'.
The Blocked page will show the date as well as the time when you blocked someone.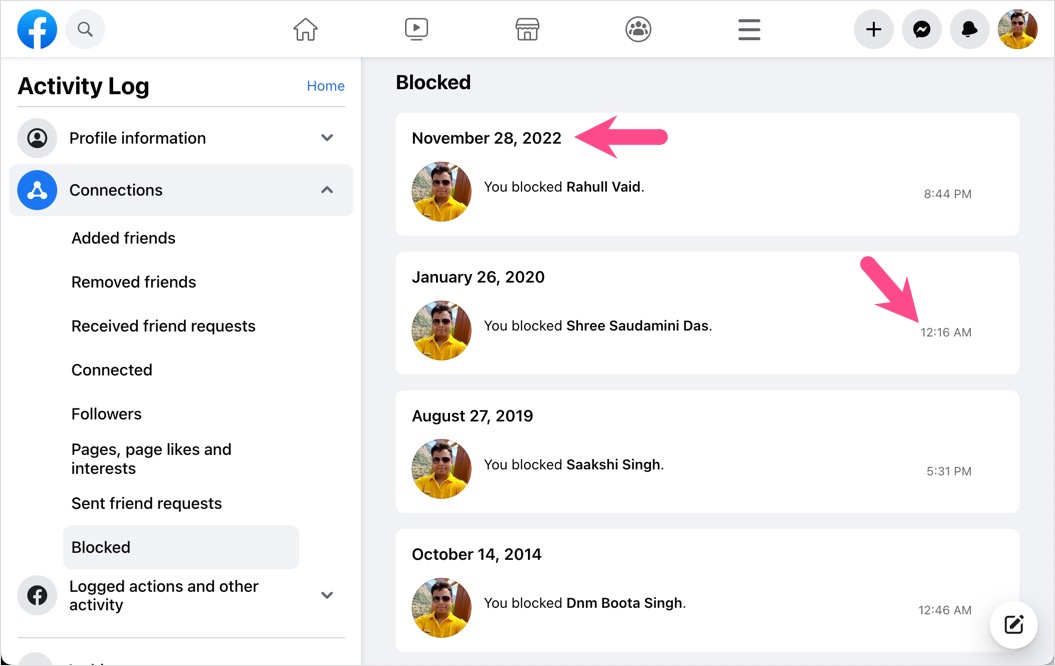 Hope you found this article helpful.
ALSO READ: