Messenger's "Ignore messages" feature comes in handy when you don't want a certain friend or contact to bother you with chat messages. It works differently than the Mute and Block option already present in Facebook Messenger.
When you ignore someone on Messenger, the message thread is moved from the Inbox to the Spam folder in Message Requests. New messages from the ignored person continue to arrive though but without any notification.
Unlike Block, you can read the ignored messages, just like you would read messages from people you aren't friends with on Facebook.
Messenger doesn't notify the person when you ignore their chat or even when you see their ignored messages. Perhaps, if you have ignored a message then the only way to move ignore messages back to the inbox is by replying to the ignored chat.
While there is no harm in replying to unignore a message, most users are reluctant to do so. That's because if you reply or send a message then you might end up starting a conversation even if you don't want to.
Unspam Messenger chat without replying
That said if you still want to unignore messages in Messenger without replying then that's possible. I've found a workaround that will let you undo ignore messages on Messenger 2021 without replying.
To unignore a conversation in Facebook Messenger without chatting, we need Messenger Lite. Unlike the regular Messenger app, the Lite version of Messenger offers the ability to unignore someone without sending a message.
The only downside is that Messenger Lite is available only for Android devices. Hence, if you use Messenger on iPhone or desktop then you have to follow the traditional way.
Now let's see how you can remove ignore messages in Messenger on Android without replying or messaging.
How to unignore someone on Messenger without replying
Install Messenger Lite on your Android phone. (TIP: Download the APK and sideload it if the app isn't available in your region.)
Open the app and log in with your Facebook account.
Tap the "People" tab and search for the person whose conversation you want to unignore silently.
Tap the person's name in the search results.
Select the "Accept" option at the bottom.
That's it. The ignored conversation will automatically move back to your Chats list.
RELATED: How to unarchive messages on Messenger without sending a message
How to unignore messages (Standard Way)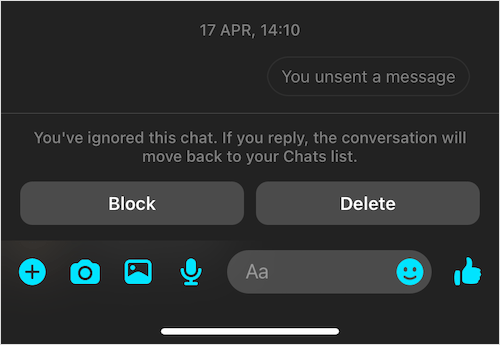 Navigate to Message requests in Messenger and open the "Spam" tab. Open the conversation that you want to unignore or remove from spam. Now reply or send a message to the person and the chat will move back to your Messenger inbox.
ALSO READ: How to see what time someone sent a message on Messenger
How to ignore messages
Go to the desired conversation or chat in the Messenger app.
Tap the profile picture of the person.
Under Privacy and Support, select "Ignore messages".
Tap "Ignore" to confirm.
How to read ignored messages
As stated above, messages you ignore do not appear in your chat list anymore. To view them,
Open the Messenger app and tap your profile icon at the top left.
Tap on "Message requests".
Go to Spam. Here you can see all the spam messages as well as chats that you ignored.
Hope you found this article helpful.
ALSO READ: