Blocking someone on social media isn't uncommon as we all tend to block certain people at some point in time. Similar to Facebook and Instagram, you can easily block a person's profile on Snapchat to stop any interaction with them. Blocking is an apt way to avoid people who spam or bother you with unwanted snaps, selfies, or chats. It's however different than just removing a friend on Snapchat.
When you block someone on Snapchat, they will no longer be able to see your stories, view your Charms, or send you a Snap or Chat message. If you're friends with someone, blocking them will also remove them from your Snapchat Friends list. Moreover, the blocked person won't be able to search for your username anymore.
Thankfully, Snapchat doesn't notify the relevant person when you block them. The platform does this to protect user privacy and there is no sure way to find out whether someone has blocked or unfriended you.
Perhaps, if you want to add a blocked person as a friend again, you'll first need to unblock them and then send them a new friend request.
How do I find my blocked list on Snapchat?
If you've blocked a lot of people over time then it might be difficult to remember who you have blocked. Worry not, you can easily see who you blocked on Snapchat with a few taps. Doing so will let you unblock someone and add them back as a friend.
Now let's see how to see blocked people on Snapchat on iPhone and Android.
How to see your Blocked list on Snapchat 2023
Follow the steps below to find accounts you've blocked on Snapchat.
On iPhone
Open the Snapchat app and tap your profile picture at the top-left corner.
Tap the gear icon at the top right to go to Settings.
Scroll down to the 'Privacy Controls' section and tap on "Blocked users".
Here you can see the list of people you have blocked on Snapchat all in one place.
On Android
Tap your profile icon to go to your profile.
Tap the Settings button (gear icon) at the top-right corner.
Under Settings, scroll down to the bottom and tap the 'Blocked' option under 'Account Actions'.
The Blocked screen will show all the blocked accounts.
NOTE: The blocked friends list appears in reverse chronological order, i.e. the most recently blocked person is shown first.
To unblock a person on Snapchat, simply tap the X icon next to their name. Then select 'Yes' to confirm. The respective person will then be removed from your blocked list. You can now search for their username and add them back as friends.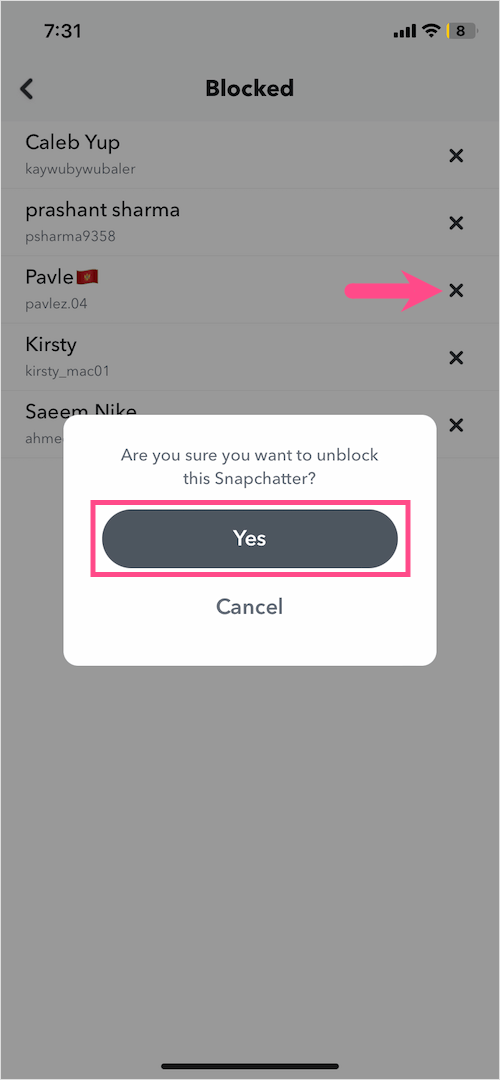 Sadly, there is no option to unblock everyone on Snapchat at once and you cannot unblock multiple accounts either.
Hope you found this article helpful.
ALSO READ: