Facebook for iPhone and Android has got a major facelift in terms of the overall design and user interface. Hence, it's not surprising to spot various settings in an entirely different locations. One such change is clearly seen in the way Facebook shows friend requests.
Unlike before, you now won't find the option to check outgoing friend requests in the Facebook app. Outgoing friend requests are pending friend requests sent by you to other Facebook users.
Thankfully, you can still see sent friend requests on the Facebook app. However, you now have to navigate deep inside the app to view your outgoing requests.
The sent friend requests option makes it easier to find all the requests sent by you in one place. You can cancel the requests anytime and revert your decision. This way you can also track people who haven't accepted your friend request.
Now let's see how to see sent friend requests on Facebook app 2022 on iPhone and Android.
How to See Outgoing Friend Requests on Facebook
Open the Facebook app and tap the Menu tab at the bottom-right corner.
Tap your Facebook profile at the top of the screen.
Tap the 3-dots next to the "Add Story" button and select "Activity Log". Alternatively, you can navigate to Settings & Privacy > Settings to view the Activity Log setting.

Once in Activity Log, scroll down to 'Connections'.
Tap on Connections and select "Sent friend requests".
That's it! Here you can find all friend requests sent by you on Facebook.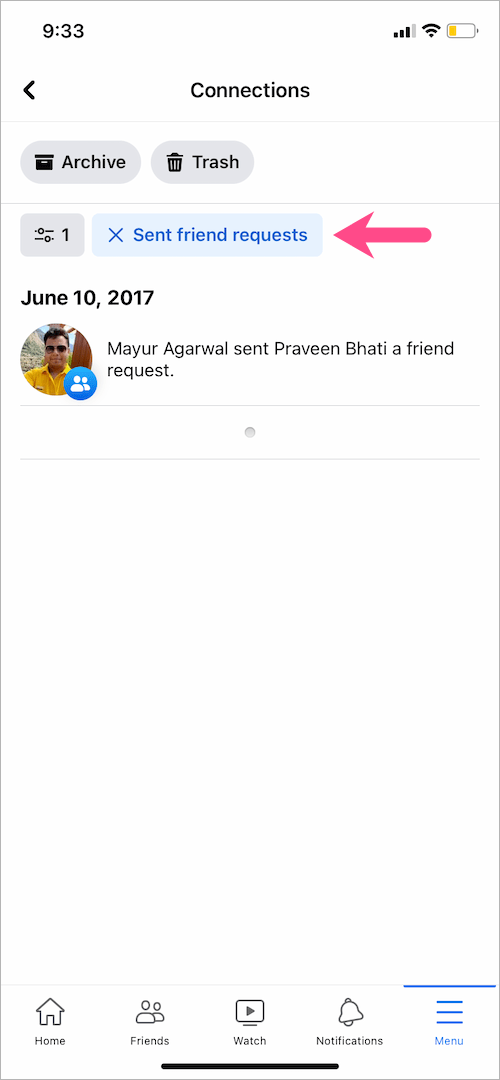 ALSO READ: How to see Most Recent posts on Facebook
Note: You will only see pending friend requests here and not the ones that have been accepted.
Similarly, you can use the activity log to view received friend requests, added friends, and removed friends on Facebook.
ALSO READ: