Facebook has made numerous subtle changes to its mobile app interface in the recent past. The changes, however, aren't noticeable by all users as they are being initially rollout out for a limited audience.
Following the UI redesign, the option to see Facebook stories archive is missing. Earlier the 'See Archive' setting used to appear at the top of the main news feed in the Facebook app but not anymore.
Facebook for Android – Before vs After
Thankfully, you can still view archived stories on Facebook 2023 for Android and iPhone. Facebook has just changed its placement and the setting is now hidden deep inside the app. We are not sure as to why Facebook moved this option from the main page to a weird location, thus making it really difficult to find it.
Now let's see how to see your story archive on Facebook 2023.
How to see your Story Archive on Facebook 2023
In the new version of Facebook for iPhone and Android, you can easily see your archived stories in a few taps.
To do so, open the Facebook app and look for the Stories carousel at the top of the Home tab. Then tap and hold the "Create story" slide at the extreme left. Tap the "Story Archive" option that pops up at the bottom to find your story archive.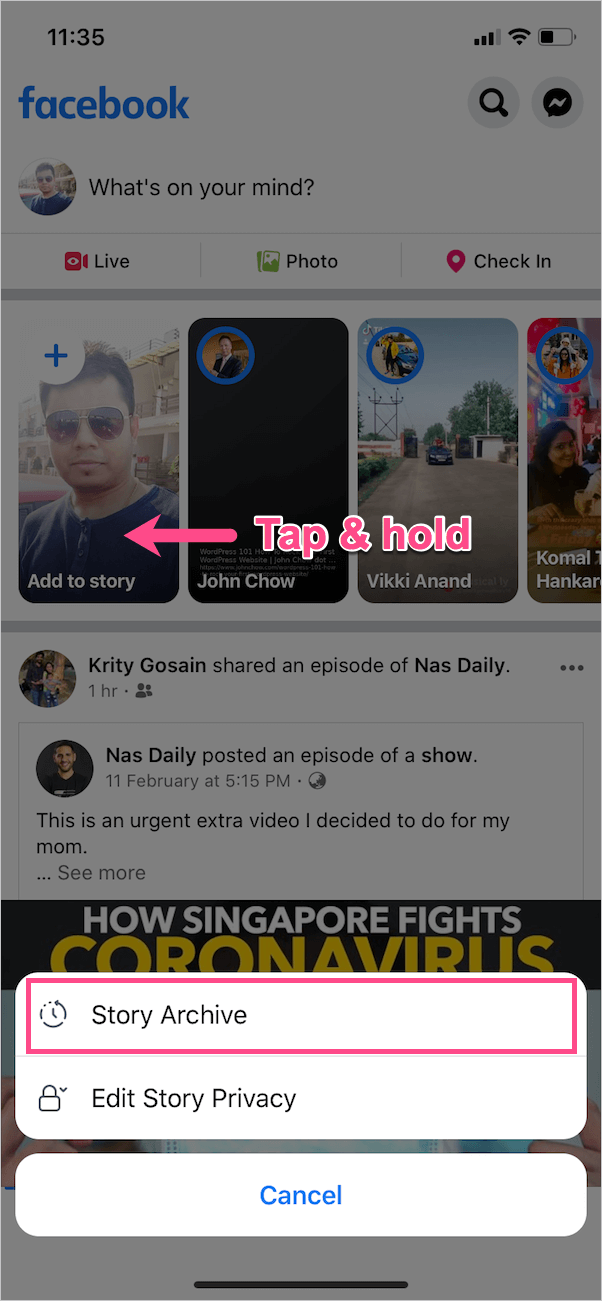 ---
How to See Stories Archive in New Facebook App
Open Facebook and tap the menu tab at the top right.
Tap your profile name to view your profile.
Now tap on 3 dots (More button).
Select "Story Archive".
That's it! You can now access your archived stories.
Note: You can view your story archive via the above setting even if the See Archive button is appearing in the news feed tab.
To turn on or off the option to save stories to archive, tap the 3 dots at the top right and select Settings. Now toggle on or off the "Save to Archive" setting.
What are Archived stories on Facebook?
Similar to Instagram, the Archive feature automatically saves all the stories posted by a user after they disappear. It comes in handy as you can view them later, re-share the saved stories, and save the story photo or video to your phone. You can also create a story highlight by choosing one or more stories from the past.
ALSO READ: How to see archived conversations in Messenger 2021
How to See Story Archive in Messenger
Besides the Facebook app, it is possible to see your stories in the Messenger app. To do so, open Messenger and tap on your profile picture from the top left. Scroll down and open the Story option under preferences. On the Story page, tap "View Story Archive" to access your old stories.