Facebook Messenger has got a whole lot of new and exciting features in 2020. Some of them include custom emoji reactions, chat themes, Watch Together, Messenger Rooms, vanish mode, app lock, and so on. Thanks to cross-app communication between Messenger and Instagram, you can now reply to a specific message on Instagram.
There is yet another small yet cool feature which is the ability to send a gift message in Messenger. As both these apps now share common features, you can send gift messages on Instagram as well.
The option to send a gift-wrapped message should come in handy for Messenger users who can't send real gifts to their family and friends during the pandemic.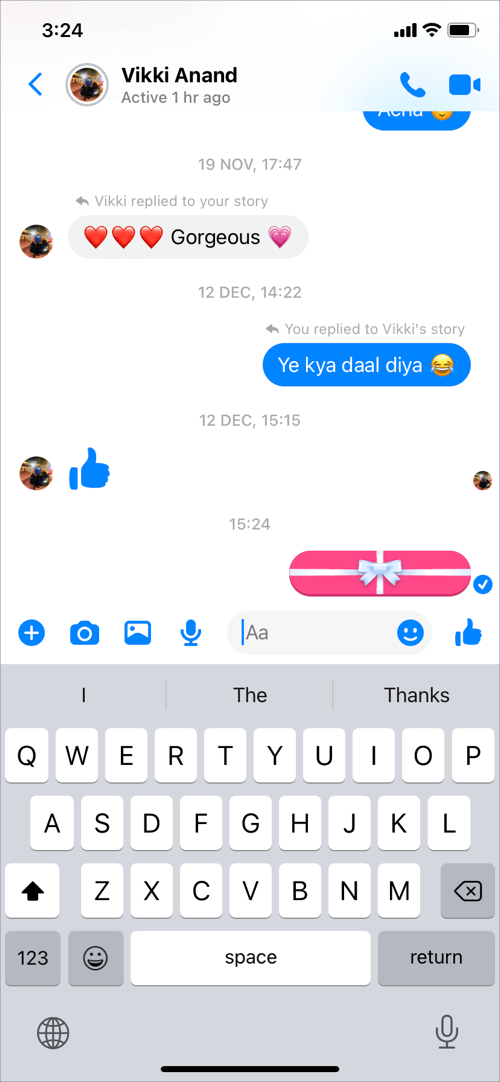 The upcoming holidays and Christmas is perhaps the best time to send messages with a gift wrap effect in Messenger. In addition to gift wrapped text message, you can send text messages on Facebook Messenger with flame or fire effect, confetti, and heart effect.
These new message effects add a nice touch and are a fun way to express your feeling of love, celebration and surprise.
Now let's see how you can send gift-wrapped messages in Messenger on iPhone and Android.
How to send a gift message in Messenger 2022
Make sure you are running the latest version of Facebook Messenger.
Open a chat and type the message that you want to send as a gift.
Tap the 'search icon' on the right side of the message box.
Select the Star tab and tap the gift wrap effect shown under send effects.
Your gift wrapped text message will now be sent. You can tap the box to read it.
In a similar way, you can send text messages with confetti, fire, and love effect to your dear ones.
How does a gift message work in Messenger?
When you send a gift in Messenger during a chat conversation, it appears like an actual gift and the receiver has no idea what's inside the gift box. That's because despite being a regular text message, the gift wrap effect hides the actual message.
The message is invisible and can be only read after the receiver taps the gift box to open it.
How to send gift wrapped messages on Instagram
The process to send a gift message on Instagram 2022 is similar to the Messenger app. To do so,
Make sure your Instagram app is updated to the latest version.
Open Instagram and tap the Messenger icon at the top-right corner of the Home tab.
Start a new or open an existing chat conversation.
Type your message and tap the Search button on the left side of the message.
Tap the gift box message effect.
That's it. The person on the other side will now see a wrapped gift box as a new message.