Back in April, we were the first one to report that Echofon for Windows is coming soon. Well that wasn't really soon but the wait is finally over as the beta of the popular and amazing twitter client 'Echofon' is now released as a desktop app for Windows. Besides, Firefox, Mac OS X and iPhone (iOS) users, Windows users can now enjoy Echofon's simple and clean desktop Twitter experience. The Echofon desktop app is fast with a cool design and interface similar to their layout for other platforms.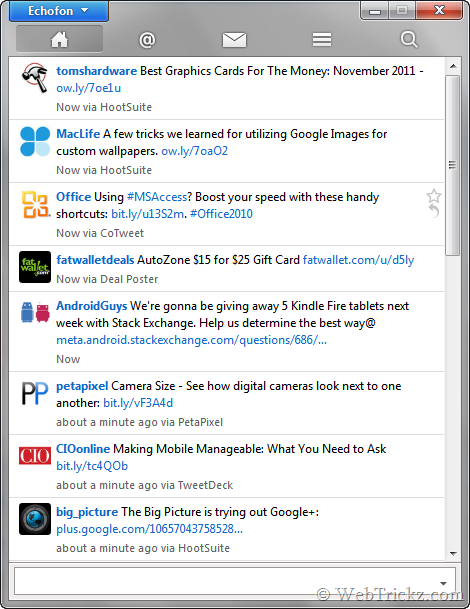 Echofon Windows Twitter client lets you tweet and follow your twitter timeline, mentions, messages, lists, etc. directly from the Windows desktop. One can simply read tweets, post replies, mark as favorite, retweet or retweet with comment. There is an option to set the font size of tweets and the update interval of tweets. Clicking on the user's twitter handle pops-out a window, using which you can Mute or block a person and disable retweets from them. If you use Echofon on iPhone, then it's easy to get back from where you left off as it syncs your activity and settings too.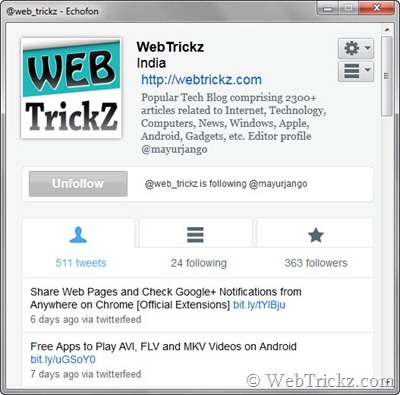 Unlike TweetDeck Windows app, it doesn't requires Adobe Air. Just download and install it. Then authorize with twitter to let Echofon access your twitter data.
Supports: Windows XP, Vista, and Windows 7
– Download Echofon for Windows