In a partnership with PepsiCo, Bharti Airtel is offering up to 2GB of free data to its Prepaid users in India. This promotional offer is valid on the purchase of Lay's chips, Kurkure, Doritos, and Uncle Chipps pack of Rs. 10 and Rs. 20. You can get 1GB of free data on every pack of Rs. 10 while Rs. 20 pack offers 2GB free data. To get free 4G data on Airtel, you need to redeem the coupon code printed inside the chips pack. Before you claim Airtel free data coupon, below are a few points that you need to know.
Things to note:
Airtel Prepaid mobile users can redeem the data pack any time during the offer period (1st August 2020 to 31st January 2021).
The free data pack of 1GB or 2GB will be valid for 3 days after redemption.
One user (recognized by their unique mobile number) can redeem the free coupon codes a maximum of 3 times only.
A smartphone with Airtel Thanks app installed is required to redeem Airtel data coupon.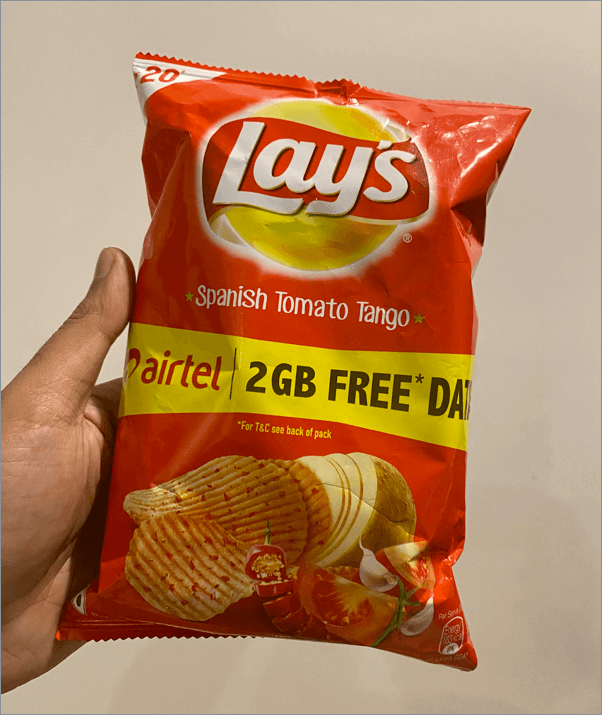 Now let see how users can use Airtel's data coupon to get free 1GB or 2GB data on their Airtel prepaid connection.
How to use data coupon in Airtel app
Buy a promotional pack of Lay's, Doritos, Uncle Chipps or Kurkure.
Open the pack and look for the 12-digit coupon code on the inner wall of the pack.
Open the Airtel Thanks app on your phone. Download the app and login with your Airtel number if the app isn't already installed.
Go to the coupon section in Airtel Thanks app. To do so, tap "My Coupons" from the Home tab.
Tap the "Have a coupon code?" area and enter the Airtel data coupon. Then hit Claim.
NOTE: You cannot use your free 1GB/2GB data coupon yet as you also need to redeem your newly added coupon. Here's how it can be done.
ALSO READ: How to Change Airtel Xstream Fiber Password
How to redeem Airtel data coupon for free data
Once you have claimed your Airtel coupon following the above-stated steps, it's time to redeem it.
TIP: It's better to claim your free data coupon first and redeem it anytime later before the expiry date.
Go to My Coupons in Airtel Thanks app.
Look for the 1GB or 2GB data coupon in the "All" section.
Tap the "Redeem" button shown next to the valid till date.
A "Voucher redeemed" message will now appear and the data will be credited to your Airtel account.
The free data you just redeemed will be available to use for 3 days on your mobile. Enjoy!
ALSO READ: How to check your Airtel data balance and validity
How to get up to 6GB free data on Airtel
In addition to the LAY'S offer, Airtel is offering free data coupons to its Prepaid customers who recharge via Airtel Thanks app. The free data is available in the form of coupons that you can redeem to get free mobile data. The coupons users get entirely depends on the particular recharge plan they opt for. For example:
Rs. 219, Rs. 249, Rs. 279, Rs. 298, Rs. 349, and Rs. 398 prepaid plans are eligible for two coupons of 1GB data each with a validity of 28 days.
Rs. 399, Rs. 449, and Rs. 558 plans get four coupons of 1GB data each with 56 days validity.
Rs. 598 and Rs. 698 plans are eligible for six coupons of 1GB data with 84 days validity.
Here's how you can claim your 2GB, 4GB or 6GB free data coupons in Airtel app.
Make sure you have chosen a prepaid recharge pack having free data coupons as an "APP Offer".
After successful recharge, you will get an SMS saying "Free data coupons of 1GB each have been credited to your Airtel mobile account."
Open the Airtel Thanks app and tap "My Coupons". All your earned coupons will appear that you can redeem.
Tap "Redeem" to redeem the voucher. In a similar way, you can redeem all the data coupons.
Hope you found this guide helpful.