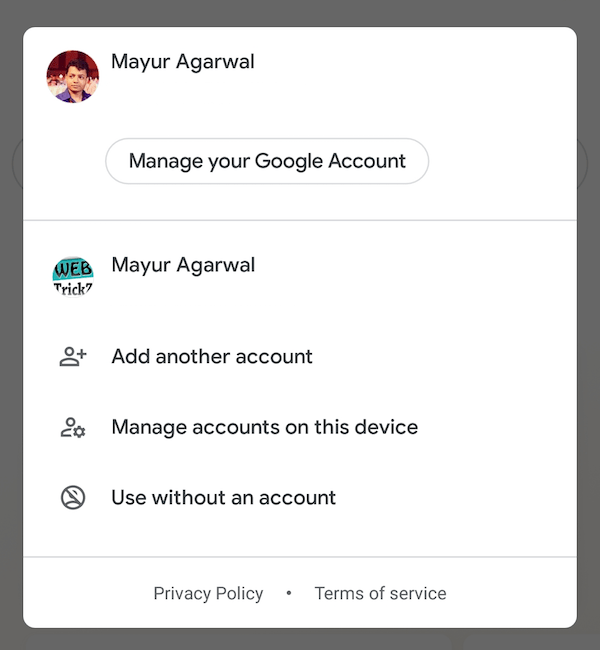 At the recent Google I/O 2019, CEO Sundar Pichai announced that Incognito Mode will soon come to Google Maps and Search. Prior to the announcement, a couple of new additions were seen in the Google app for Android. You may now notice a new "Manage your Google Account" option when you tap your Google account picture from the top right. This new setting offers one-tap access to control the privacy and security settings for a certain Google product.
Besides, a new "Use without an account" option is visible in the Google account profile menu. This new feature is actually the Incognito mode for Google Search that allows you to use Google Search without an account.
This option is enabled for us for the past few days on the latest stable 9.84.10.21 version of the Google app. However, this seems to be a server-side update that is still being rolled out to users globally.
As you would expect, tapping the "Use without an account" button opens the Google app in Incognito mode. Technically, it signs you out of your Google account and treats you as an unlogged user. However, users can get back into their account anytime without entering their Google account credentials.
How to enable Incognito Mode in Google Search
Make sure you have the latest version of the Google app installed.
Open the app and tap your profile picture at the top right.
Tap the "Use without an account" option.
You can now use Google search privately in Incognito mode.
To sign back into your account, simply tap the blue icon from the top right and select the desired Google account.
What happens when you access Google Search without an account?
When you access the Google app in Incognito mode, Google won't track your searches and won't link them to your search history. Additionally,
Your profile picture will be replaced with a blue icon
Discover Feed will turn empty and won't show any cards
Your recent or previous searches won't be visible
Trending searches will be shown just like when you use a new device
You will be logged out from Google Assistant as well
Having said that, once you switch back to your Google account, all your personal data including your recent searches and personalized information will be restored automatically.
Have you got the latest update? Do share your views with us.
ALSO READ: