iOS 15 and iPadOS 15 public release is now out and people are liking it so far. Apparently, one of the biggest introductions in iOS 15 is Focus wherein a user can set different rules for work, sleep, home, or driving. Focus is basically an evolution and more powerful iteration of Do Not Disturb on iOS. With Focus, a person can now create custom filters for notifications, phone calls, messages, and other stuff on their iPhone. For instance, you can use Focus to allow notifications from certain apps on Do Not Disturb.
Where is Do Not Disturb in iOS 15?
The Do Not Disturb (DND) mode on iPhone now lives under Focus. Hence, you won't find the Do Not Disturb option under Settings anymore in iOS 15 and iPadOS 15. Since Focus is highly customizable and complicated to use, most users may find it difficult to locate and use DND mode on iOS 15.
In this article, I won't talk about how the all-new Focus mode works in iOS 15. We will instead see how you can use the good old Do Not Disturb feature in iOS 15. That's because the DND mode is most commonly used by people while they are at work, home, or on a vacation.
Thankfully, it is still easy to enable or disable Do Not Disturb. It is just that iOS 15 changes the way how you access DND on iPhone 13, iPhone 12, iPhone 11, or older iPhones.
Now let's see how to use iOS 15's Do Not Disturb on your iPhone or iPad.
How to Turn On/Off Do Not Disturb on iOS 15
To turn on Do Not Disturb in iOS 15 and iPadOS 15,
Open the Settings app and tap "Focus".
On the Focus screen, tap the "Do Not Disturb" option.
Turn on the toggle button next to 'Do Not Disturb'.
That's it. A crescent moon icon will now appear in the status bar and on your lock screen, indicating that Do Not Disturb mode is active.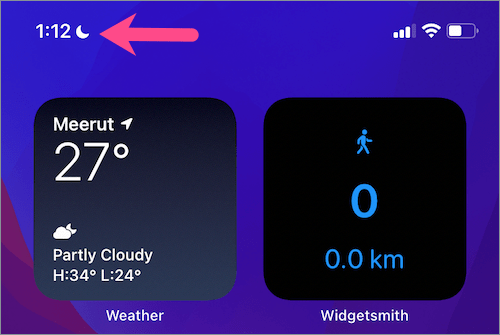 To stop DND or turn off Do Not Disturb, simply toggle off the above setting.
How to enable or disable DND from iOS 15 Control Center
To enable Do Not Disturb directly from the Control Center in iOS 15,
Go to the Control Center. To do so, swipe down from the top-right corner (on iPhone X or later) or swipe up from the bottom of the screen (on iPhone 8 or earlier).
Tap on the "Focus" control.
Tap the "Do Not Disturb" option to turn on DND.
Optional: Tap the 3-dot icon next to 'Do Not Disturb' and select 'For 1 hour' or 'Until tomorrow morning' to activate DND for a certain time frame.
To disable Do Not Disturb, just tap the half-moon icon next to Focus in the Control Center.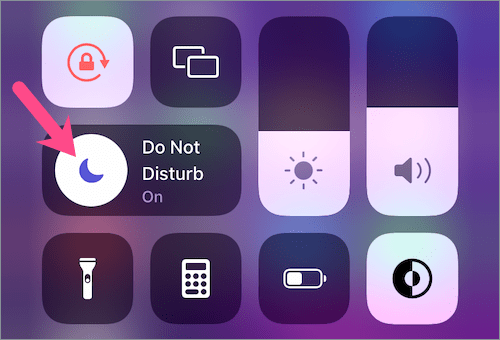 TIP: To quickly turn off DND mode when your iPhone is locked, tap or long-press the crescent moon icon on the lock screen. Then tap "Do Not Disturb".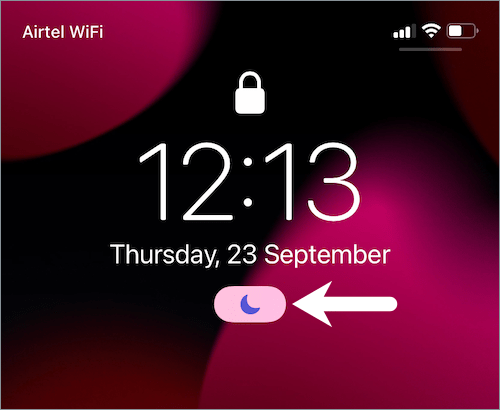 RELATED: How to disable Do Not Disturb While Driving in iOS 15
How to schedule Do Not Disturb on iOS 15
It is a good idea to schedule DND so that the Do Not Disturb mode turns on automatically at a set time. You can set a schedule for every day, weekend, or specific day(s) in a week. Thanks to Focus, one can allow calls and notifications from specific contacts and apps to be delivered during DND.
To add automation for Do Not Disturb in iOS 15,
Go to Settings > Focus > Do Not Disturb.
Tap on "Add Schedule or Automation" at the bottom.
On the New Automation screen, select the "Time" option.
Turn on the toggle for 'Schedule'. Then choose a start and end time for DND.
Select the days you want to enable the schedule for and hit Done.
TIP: You can turn the Schedule on or off anytime without having to delete your automation.
ALSO READ: