There are various widely popular cross-platform instant messaging apps available for iPhone, Android, Windows Phone, Blackberry, and Nokia. Some of the top chat messenger apps are WhatsApp, Facebook Messenger, Line, WeChat, Hike, and Viber. Of these Hike messenger, which is highly popular in India is now topping the charts by currently being the #1 App in the 'Top Free apps' category on Google Play and currently #3 on iOS App Store. Hike, made with love in India has over 20 million users and is adding over 300K new users every day.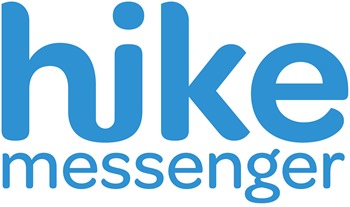 Personally, I feel 'hike' is amazing and a better alternative to WhatsApp because of its unique features and beautiful UI, which WhatsApp still lacks. One of the best things about Hike is that users can even send SMS messages to non-Hike users for free, though only within India. Besides this, below are a bunch of cool and interesting features that make Hike special.
Prominent Features offered by Hike Messenger
Hike Offline – Send messages as an SMS to friends even when they're offline using Hike's free SMS. The more you chat with Hike users, the more free SMS's get added to your account.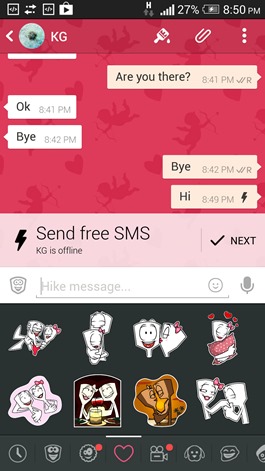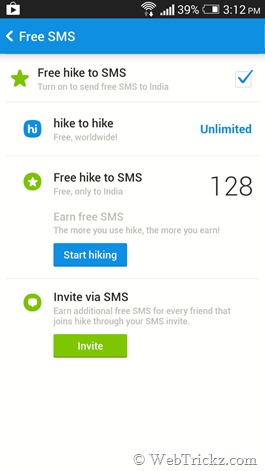 Show your Last Seen, Online status, and Status only to specific users – This is a great option in Hike, giving you complete control over Privacy. Simply add a friend or multiple friends to your 'Favorites' to share your last seen and status updates only with them. You can also ask them to add you to favorites and can also see who all have added you as a favorite.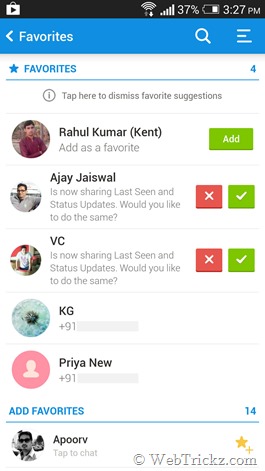 Hidden Mode – Having late-night naught chats or some personal conversations over Hike? Well, the newly introduced hidden mode lets you hide all those texts and password protect chats for a particular friend with a pattern lock. Moreover, this mode has been designed so smartly that one can't easily make out if you've hidden something or not.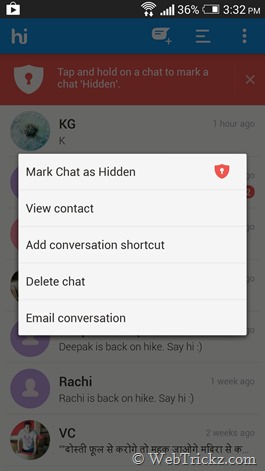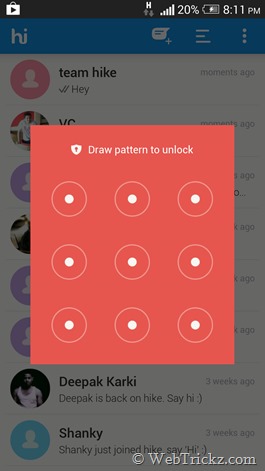 To set up hidden mode on Hike, tap on the hike logo (hi) from the top left corner and then choose 'Quick Setup'. Then tap and hold a chat that you wish to hide, select the 'Mark chat as hidden' option. Tap the Hike logo again and set up a pattern password to access hidden mode. To toggle the hidden mode On or Off, simply tap on the hi icon and input the pattern. The password for the hidden mode can be changed from Hike settings and in case you forget the password, you can reset the hidden mode but doing so will delete all the hidden chats.
Stickers – A comprehensive collection of cool and amazing stickers varying from love to drama, Bollywood to Hollywood, to happiness, Memes, Superheroes, cats, and a lot more. Stickers are the best way to express your feelings when words fail to, you'll love them! There are tons of emoticons & emojis as well but nothing beats the free stickers offered by Hike.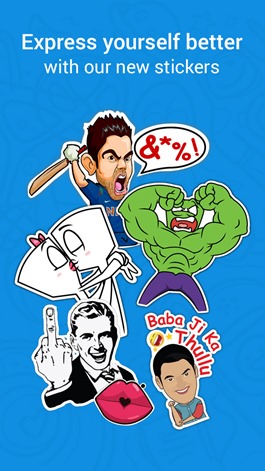 Send Any Files & Bigger Attachments up to 100MB each – Besides the option to share photos, videos, audio, location, and contacts; Hike supports sharing of non-media files and documents like PDF, ZIP, Doc, PPT, APK files, and much more! Power users can send large files and videos of up to 100 MB each. Now, this is something unusual and really useful. For those unaware, WhatsApp doesn't let you share videos greater than 16MB in size.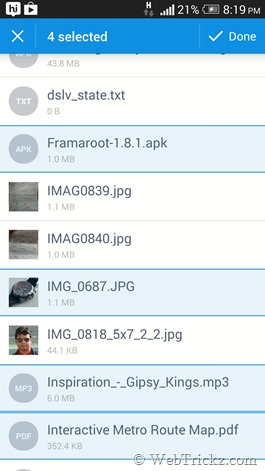 Option to Send Images in their Original quality – All of the messaging apps compress the uploaded images and photos before sending them to the recipient to save bandwidth and hosting cost. As a result of this, there is a significant loss of picture quality for most of the meaningful and beautiful images that you wish to be seen in the best quality.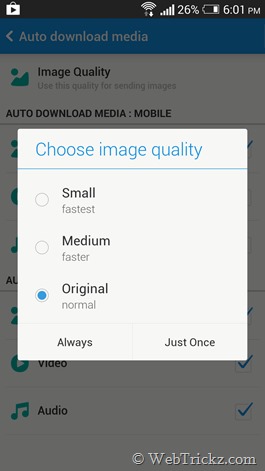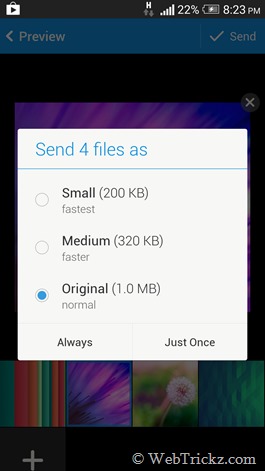 Hike is apparently the only IM client to introduce the option to send images in the original size. Those with costly data packs can alternatively send compressed images. You can choose between 3 image quality options – Small, Medium, and Original. The image size is also stated next to the options that appear when you send the file. Awesome indeed!
Chat Themes – The themes aren't simple backgrounds, unlike WhatsApp. You can set different themes depending on your mood. What's interesting is that when you change the chat theme, it gets changed for your friends too! You can set a different theme for every desired conversation. Though, there is no option to set a custom wallpaper as background.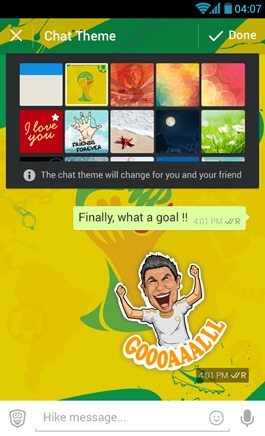 Rewards (Invite Friends and Earn Talktime) – To attract new users and delight the current ones, Hike has been rewarding its users by offering them a Free Talktime balance of Rs. 20 for each friend they invite to Hike. The Talktime can be redeemed once you reach a minimum required amount of Rs. 50.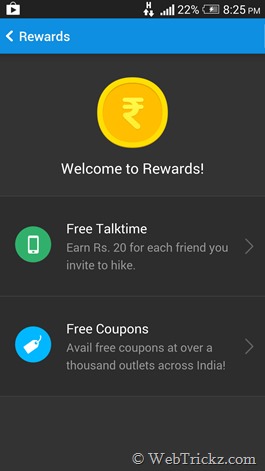 Additional features like 'Double tick R', let you determine when your messages are read exactly. The app can now be stored on the SD card. Cautious users can enable the '128-bit SSL Encryption' option from settings to be assured their messages are encrypted over Wi-Fi. The newest Hike update lets you add up to 100 friends in a group.
NOTE: Some of the above features have been introduced in the latest update for Hike on Android. So, make sure you're using the latest updated version of Hike on your phone.
If you're impressed with the range of messaging features stated above then make sure to give Hike a try, especially those based in India. Because Hike is an Indian product! I've been using Hike for the last few months and seriously prefer it over WhatsApp. 🙂
Download hike messenger (Play Store)