Making an eye-catching presentation is a time-consuming and challenging task. Yet, with the right technical support, a mission is possible. To make people get distracted from their mobile devices, think through the whole presentation in detail.
In this article, we will share tips on how to create a scroll-stopping presentation and what apps for Mac can help it stand out from the rest.
Non-technical part of the excellent presentation
Clear messages and cool stories
A good presentation contains well-structured, clear, and impressive messages. Use slides to visualize the most crucial moments of your speech, but don't turn them into a script. Let the entire presentation guide and enhance your dialogue with the audience! This tip is practical for both a presentation for a remote call and a long-awaited offline event with hundreds of guests. Statements gradually augmenting a conversation are more eye-catchy. Embrace the talk and let your thoughts take center stage – don't let the slides stunt the discussion!
Ensure you comprehend the material to deliver your vision in a way that captures your audience's attention. Social media storytelling techniques will come in handy when you prepare the presentation. Humans tend to react more strongly to narratives than sets of facts. Therefore, identifying your audience, thinking from the listeners' perspective, and sharing memorable moments with them greatly benefit your presentation. Good stories become viral, and so do the ideas behind them.
Catchy illustrations
Strong graphical support, thought-provoking visual content, and pleasant background colors are the best ways to grab the audience's attention. Images are more telling than bullet points people usually use to convey their presentations. Even if your story is stuffed with data, numbers, and statistics, try minimalizing their presence on the screen. The best way to present complicated information during the conversation is by comparing it with well-known phenomena and objects. Thus, people are more likely to remember the numbers you mentioned and the narrator's conclusions.
Don't underestimate the power of various decorative elements: background images, well-balanced theme colors, accessible font format, and comfortable space between lines – all these details help process the slide content better.
Technical part of a beautiful presentation
Without elegant, customizable templates, sound effects, video editing, and video formatting, people will quickly forget even the most crucial information. Our attention span has become tiny over the years of intense information consumption. Thus, train to grasp the audience's interest with just a killer 5-minute presentation! On top, people's minds like shiny things, bright colors, and extraordinary events.
Thus, a good presentation has to be entertaining and well-crafted. Remember that you create slides for people who may be completely unfamiliar with your work and give you limited time to impress them. Thus, take care of technical details: save video files in different formats, check the quality of audio files, ensure that the current font type or font size is comfortable to look at, etc.
Keynote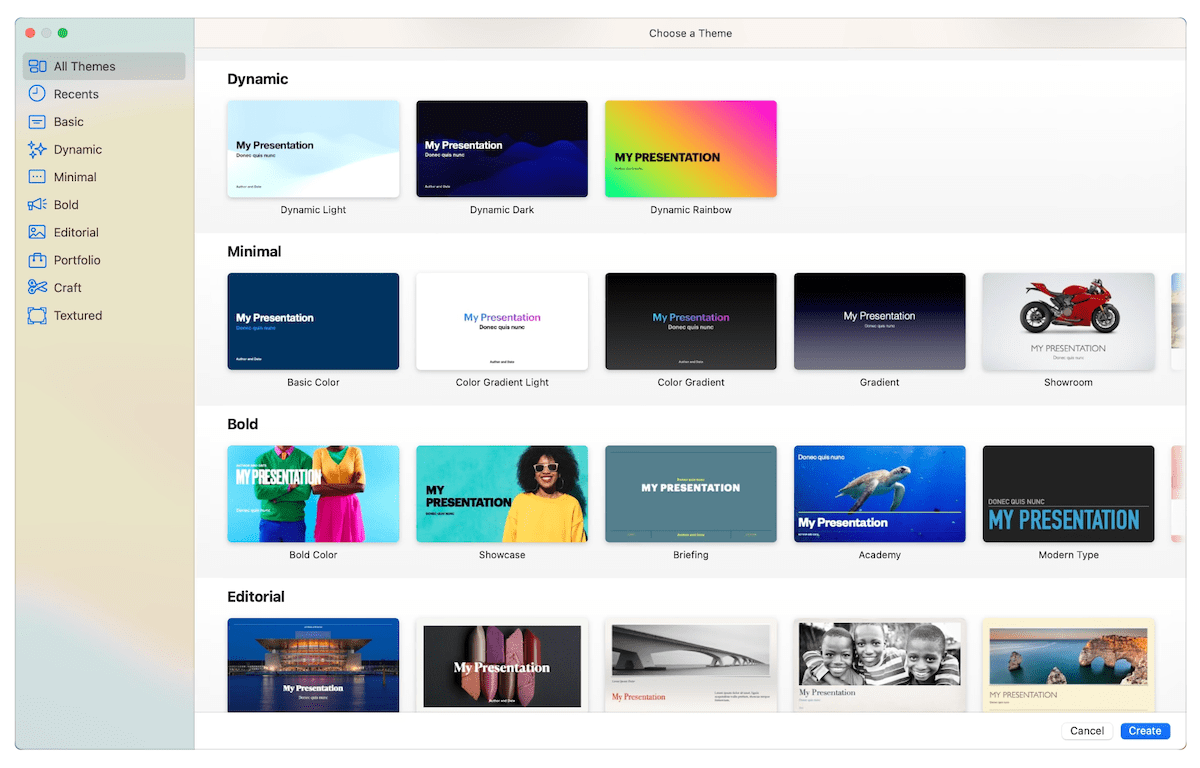 If you create it on Mac, consider using Keynote. This program offers a range of features to help craft slides that stand out. For instance, you can use built-in transition effects for an interesting visual effect. Keynote also offers a presenter mode. Thanks to it, one can rehearse with notes visible solely on the device a narrator will use on the stage.
This powerful yet simple application provides users with a library of 30 captivating themes. If team members are also Mac or iOS users, they can effortlessly cooperate right on slides and share them. On top, Keynote presentations are easy to save and download as PowerPoint files. It removes the obstacles to collaboration with PowerPoint users.
All in all, Keynote is an excellent option for those who want access to templates—rather than themes—for stunning presentations without spending any money since it's free! The app is compatible with Mac and iOS devices, making it the perfect choice for compelling presentations.
Although Keynote has a more limited selection of templates than PowerPoint, it is a good choice for those who want to avoid a stumbling block, being perplexed by too many visual solutions provided by the software. If you are sure the presentation is crafted for Mac or iOS users and find Keynote features enough for your project, don't hesitate to use this tool.
Presentify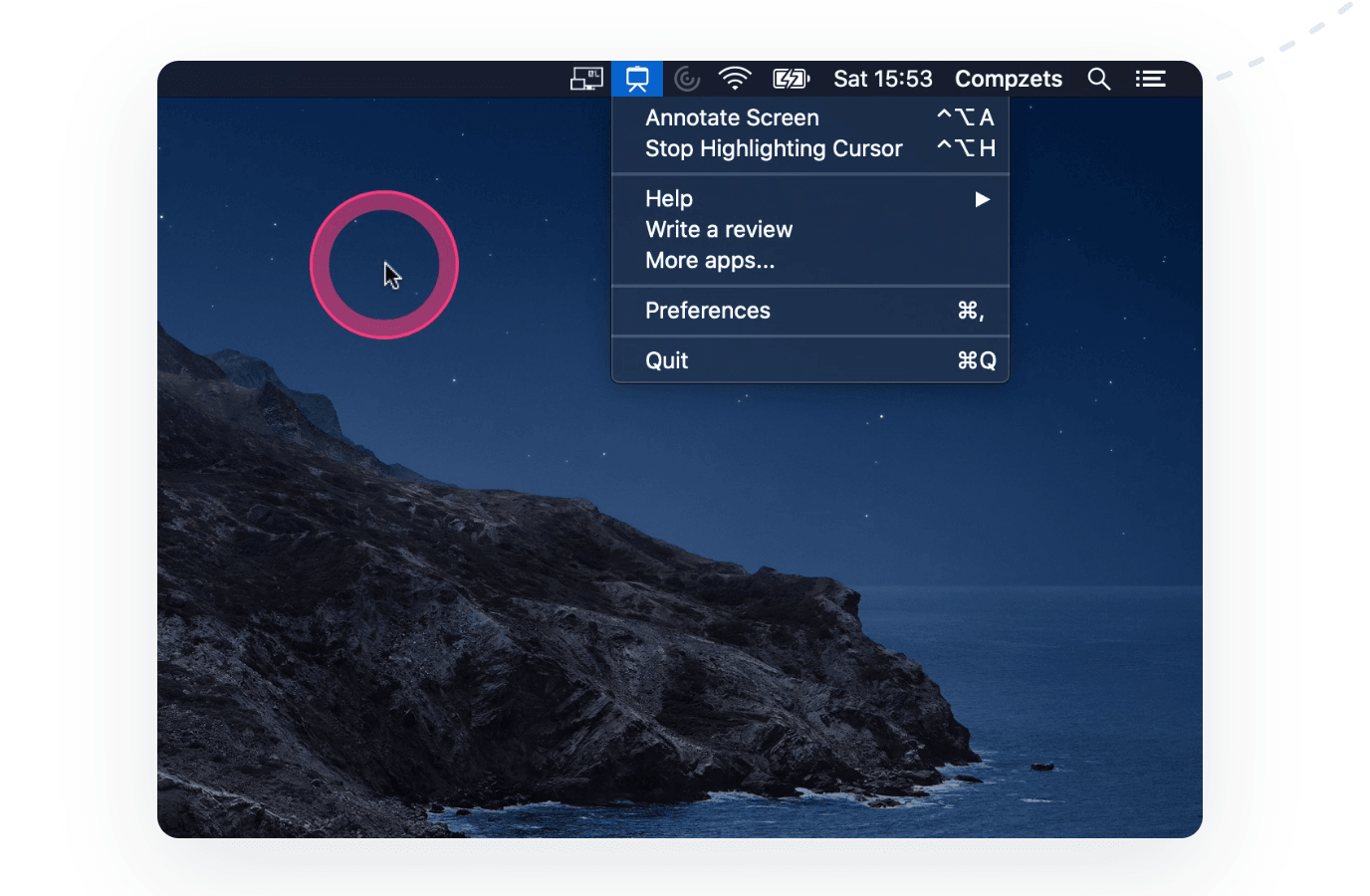 Another elegant solution is Presentify. It is a macOS menu bar app that enhances presentations, online classes, or video tutorials. Among the features Presentify offers are more control over other tools while the presentation is on, cursor highlighting, note-taking on any screen, and drawing capabilities.
Another perk you can't miss is the opportunity to share screens and collaborate in the presentation. It also allows editing content during online calls. Users even can comment on information during screen demonstration mode.
This tool facilitates online meetings by allowing users to edit mockups quickly, fill in the blanks, and share their ideas. It can be used to highlight the mouse and adjust the color of annotations. In general, Presentify is an effective instrument for brainstorming sessions.
The app also provides a wide range of drawing shapes and gradient colors. These features may be specific and not widely used for weekly reports or other errands. However, color and shape diversity settings are hard to overestimate when it comes to providing a detailed explanation of an idea or project. Therefore, Presentify enjoys popularity among Harvard and MIT professors. Besides, Presentify is also compatible with the most common video-conferencing apps and works well with Keynote, which makes it even more appealing. It is one of the most powerful tools for academic and business activity. The app costs $6.99 on Mac App Store.
iSkySoft Slideshow Maker for Mac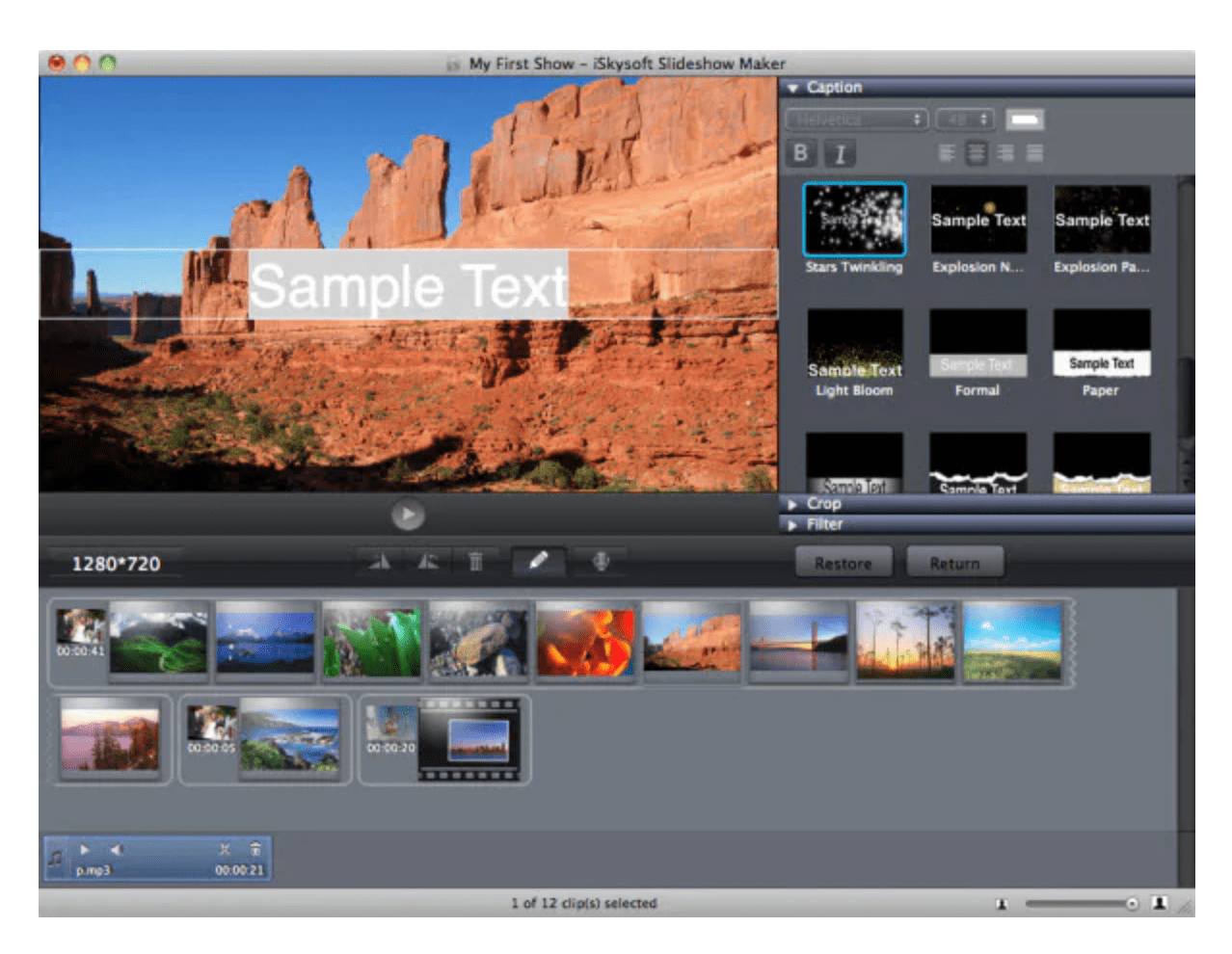 If you want to surprise your audience with a more creative approach, try to present a film, not just a series of slides. Sounds interesting, yet a bit time-consuming? Well, with iSkySoft Slides, the task becomes more feasible. Presentations with video are more impressive than the ones full of charts and tables. If your project contains many photos and video material, compose them as a clip. Downloading videos from the Internet is more manageable with Pulltube, while the Capto app, for example, can help users make a high-quality screen recording.
To start working, upload your media files to it and rearrange them accordingly, like making a mini-movie. You can also supplement your slideshow with text, subtitles, a voiceover, or music. Predominantly a multimedia content tool, iSkySoft Slideshow Maker still lets users apply additional filters, themes, and effects. Although high resolutions are currently unavailable for this program, developers promise to solve this problem soon. A monthly subscription is $23.99.
Conclusion
Creating an impressive presentation that captivates the audience is one of the most crucial prerequisites for successful projects. Making people pay attention to your slides is a victory since people tend to think about thousands of things simultaneously. Besides, even the most polite and interested listeners may dive into their mobile devices when you present information boringly.
With simple, intuitive presentation apps, you can easily add thought-provoking charts, edit photos and incorporate cinematic effects to make a lasting impression. Whatever the presentation's purpose, bring it as your story, convey facts with strong technical and visual support, and you'll win people's attention.
RELATED TIPS: