ASUS just went growing the Zenfone 2 family and in the recently held Zenfest, one of the many phones that were announced was the Zenfone 2 Deluxe bearing the model number ZE551ML which is the same as the original highest variant of Zenfone 2. We got a chance to lay our hands on the Deluxe and play with it for almost 3 weeks now. So it is finally a good time to take you through a journey where we tell you in detail how the Zenfone 2 Deluxe performed and how different or same it is compared to its original sibling.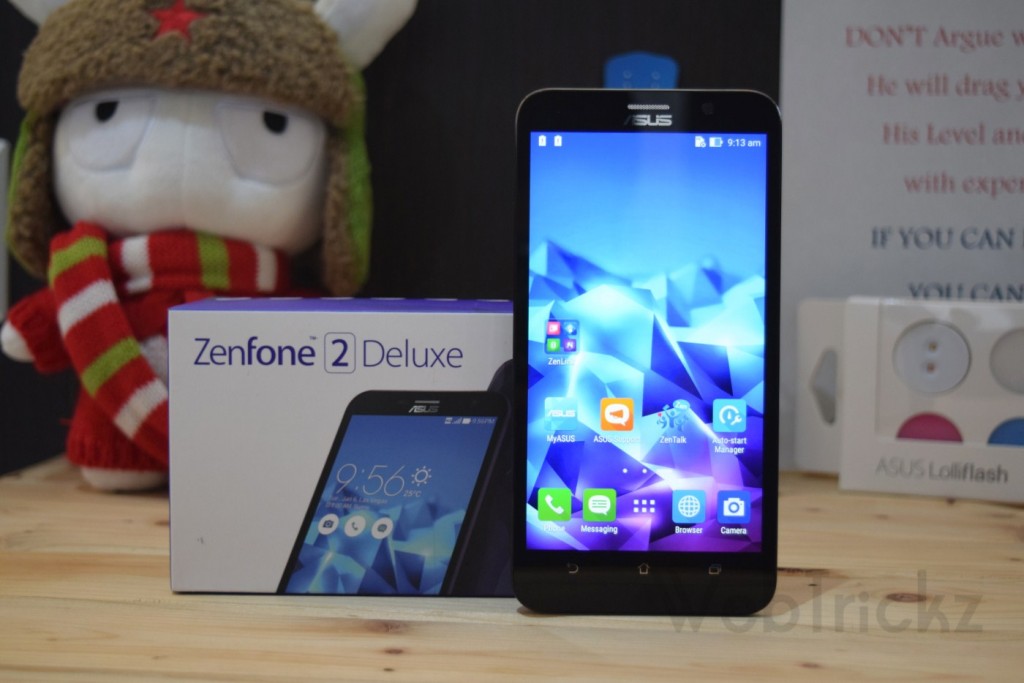 In the box:
Zenfone 2 Deluxe
USB cable
Charging Adapter (Quick charger)
User Guide
Warranty Manual
Design & Display:
| | |
| --- | --- |
| Build Quality | **** |
| One-Handed Usage | ** |
| Feel in the hand | *** |
| Buttons | **** |
| Handling Smudges and Dust | **** |
| Looks / Appeal | ** |
| Color Scheme | **** |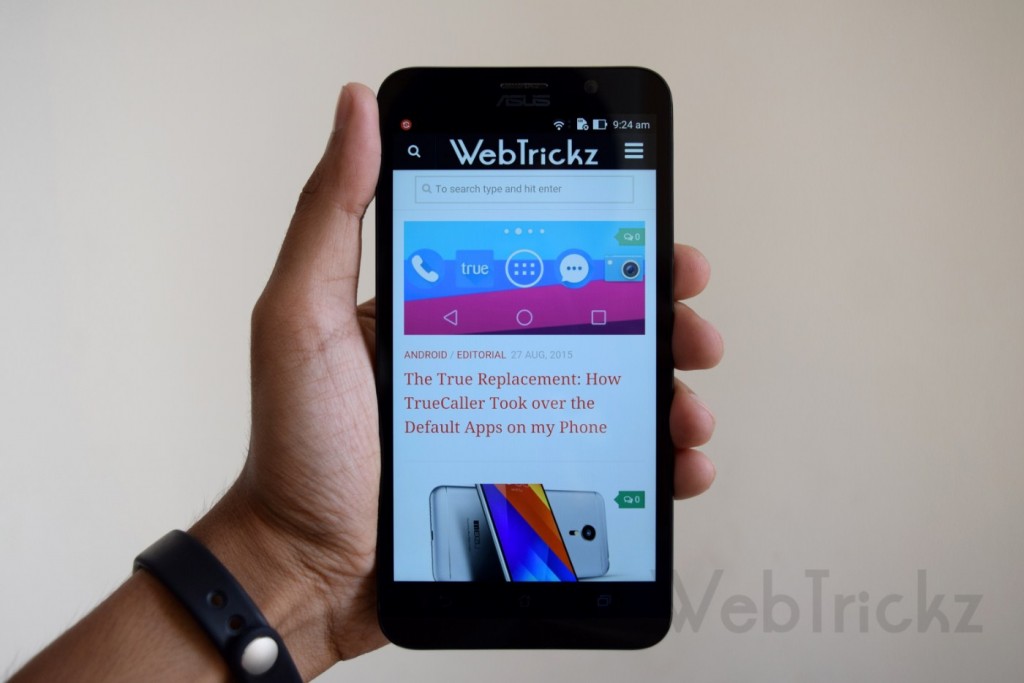 The dimensions are the same as the older Zenfone 2. Coming at a weight of 170gms and 10.9mm in thickness this is is a tall and hefty fella! One-handed usage is simply impossible thanks to the thick bezels on the top and bottom which take away the appeal from the phone. The buttons too are oddly positioned at the back (volume rockers) and on the top (power) but thanks to the good tactile feedback they provide, it is only a matter of time until one becomes used to it. But the key highlight of the phone is the rather uneven, diamond cut/crystal design which reminds us of the big fat guy from Fantastic Four. No, this is not ugly looking at all and the patterns are very neatly done. What this helps for is a better grip for the user. Agreed it does feel like your palm is being poked but over a period of time, we started liking the feel! Coming in white, purple, and maroon colors we were lucky to receive the purple color which truly looks uber cool! ASUS has also thrown in in-built wallpapers that blend in with the look and feel of the crystal cut back.
Zenfone 2 Deluxe Photo Gallery –
The tall hefty fella houses a 5.5″ Full HD screen built with ASUS's in-house technology called TrueVivid Full Screen Lamination which enhances the colors rendered on the phone thus providing an enriching experience. The display is provided with Corning Gorilla Glass 3 protection preventing scratches to occur. It has good viewing angles and we did not face any issues while viewing it under the sun.
The only complaint here is that that the 3 capacitive buttons at the bottom are not backlit. This is a real bummer. ASUS should at least provide an option for on-screen navigation keys option which will not cause much harm as the screen is big.
Performance:
| | |
| --- | --- |
| Gaming | **** |
| Multi-tasking | **** |
| Handling temperature | **** |
| Software / OS | *** |
| Call Quality & Signal Reception | *** |
| Battery | **** |
| Multimedia | *** |
Deluxe is powered by the same Intel's Atom Z3580 64 bit-processor clocked at 2.3 GHz. Helping it perform well is the 4GB of RAM and a massive 64GB of internal memory that can be extended up to 128GB via microSD. All of this powerful hardware runs a heavily customized, thick-skinned Zen UI based on Android 5.0 which has tons and tons of features and it will take you a long time until you discover all of them. Handy options in messaging, customization via themes, lots of inbuilt apps from ASUS that let you manage the phone's performance, and also some on productivity and bug reporting option that will help you issue a message to ASUS about something that went wrong. We had no issues even when as many as 50 apps were open and the Deluxe handled multitasking real smooth and easy. With features like gestures to fire up the camera, double-tap to wake or put the phone to sleep, the phone is such a peach as these features work like charm.
This meant that our expectations on gaming only increased with the AnTuTu benchmarks scoring closing to the 45K range and the Deluxe did not disappoint us! Long periods of gaming on real heavy games like Nova 3, Asphalt 8, Real Racing 3, Riptide had no issues. Deluxe managed to keep as many as 3 games in the background which proved it to be a solid performer. All this while we never faced any overheating issues. The device does get warm on heavy usage but thanks to the crystal design on the back your hands are in contact with only certain portions.
With this sort of solid performance, you will only get addicted to the gaming which requires a good battery backup – worry not, the 3000mAh battery on the Deluxe will consistently provide you 4.5 to 5 hours of screen on time which is impressive for a phone with a big screen, powerful processor and thick-skinned UI. ASUS has the quick charge technology that will charge up the battery in real quick time – 0% – 60% in just 40 minutes.
When it comes to the call quality, it was just good enough but not as impressive as the ones we have seen on the Microsoft Lumia or the Samsung phones. We may be spoiled by a high benchmark there but for a normal user, there are no glaring issues. Reception too is decent enough both on 3G and 4G.
Camera:
| | |
| --- | --- |
| Camera App | **** |
| Focusing Speed | ** |
| Processing | *** |
| Exposure handling | *** |
| Depth Of Field & Dynamic Range | **** |
| Low Light Performance   | *** |
| Video | *** |
| Gallery App | *** |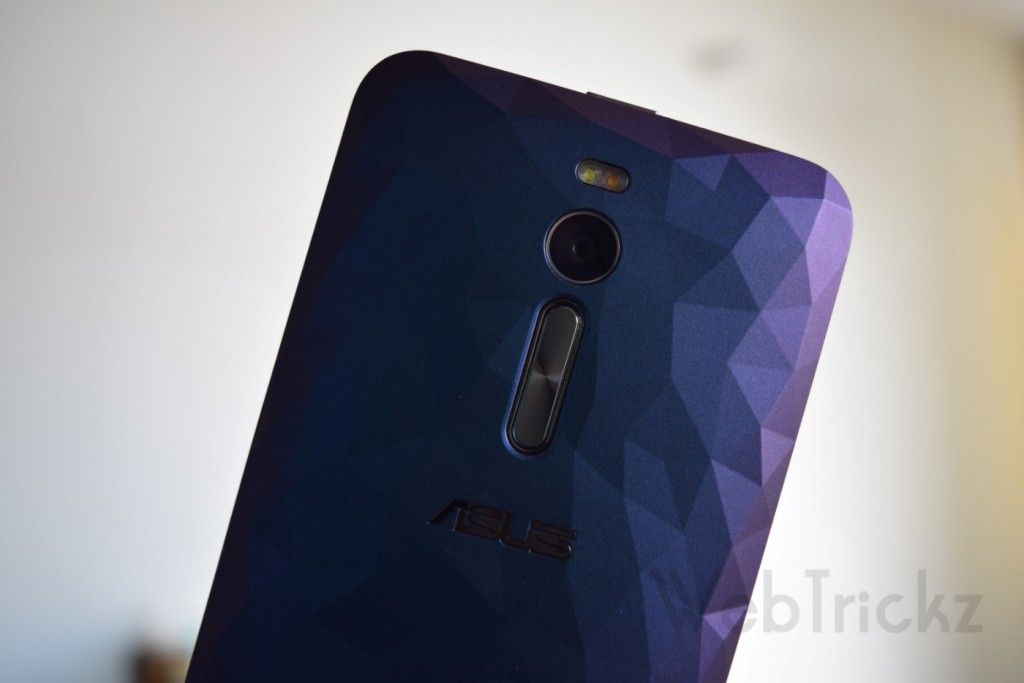 A 13MP primary camera with dual-tone LED flash and a 5MP front-facing camera is what the Deluxe will come with. ASUS claimed that the camera is one of the best in its range/flagships but we consider that to be slightly overpromising. Of course, the 6 element lens and Toshiba sensor are good but not good enough to smoke away from the likes of the Samsung Galaxy S6 or the LG G4. The camera does brilliantly in daylight conditions and we discovered the camera works stunning on the macro mode as well. Depth of field and dynamic range were handled enough but handling the exposure especially in low light conditions is not 100% satisfactory but that does not mean it is very bad – we are assessing the camera based on what ASUS claimed. The camera app has tons of options, something on the lines of what we have seen in the Samsung phones. All of these options make the phone really fun to use! The manual mode has all the options you need and works pretty well if you know the right adjustments to make.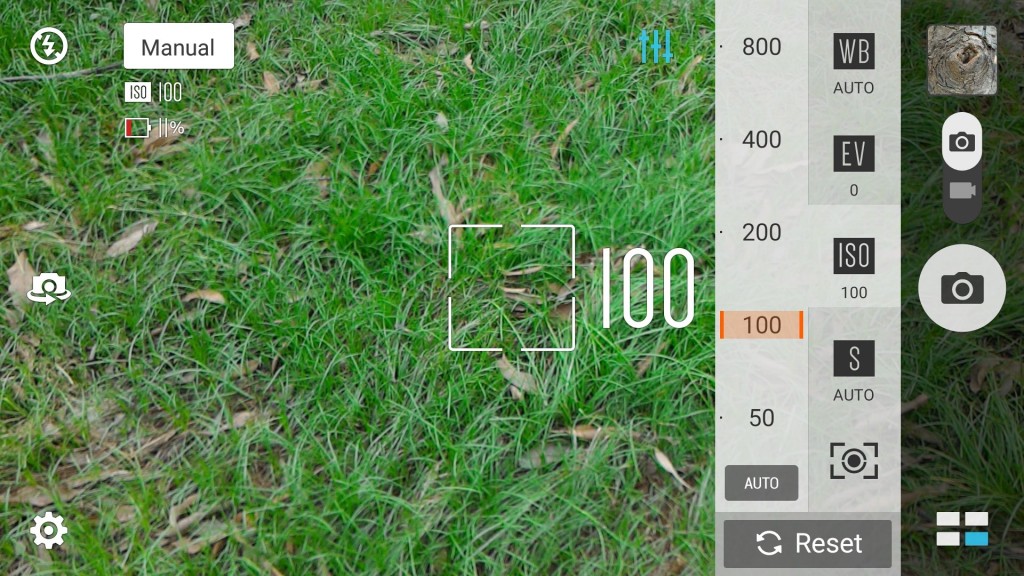 Focusing speed and the overall processing is a tad slow and this is where you may feel the drawbacks. Clicking a dancing toddler or a fast-flying bird may not be the game for this camera but you can try the burst mode and once in a while you may get lucky! Low light condition performance has nothing great that we can write about but moving to HDR mode does help a bit. Videos come just fine with no issues.
The front-facing 5MP comes with a wide-angle lens and does take decent pictures but is a disaster in indoors or low light conditions.
Camera Samples:
Verdict:
For the hardware offered, a well-knitted software, above-average camera, very good post-sales service, regular software updates that fix issues and improve performance, unique back cover, brilliant gaming, and battery performance, 64 GB of internal memory – the ASUS Zenfone 2 Deluxe is a bang for the buck. This is not for the ones who look to try out custom ROMs or look for the stock android experience. This is for the ones who will want to use a phone AS-IS, have a peaceful experience, and have a phone that lasts good enough for a year or two!
Deluxe 64GB variant is priced in India at 22,999 INR and then there are other options in the sub-25k price segment like the OnePlus 2, Honor 6 Plus, the Samsung A7, and such but each has its own set of issues but you must certainly consider them when making your decision. The Zenfone series has been a rock-solid line of a phone for the last 2 years, given a chance we will highly recommend this phone for an average user who will want to use the phone the way it comes.