Everyone across the world is familiar with renowned OTT platforms such as Netflix, Amazon Prime Video and Hotstar. In addition, there are a host of Indian video-on-demand services that are equally popular in India. Of these, Voot and Zee5 are one of the most desirable Indian OTT players. Both offer thousands of hours of video content, originals, TV shows, regional languages support and more.
While Viacom 18-owned Voot has a paid subscription service known as Voot Select. Zee5 (owned by Zee Entertainment Enterprises Limited) offers Zee5 Premium to avail a premium experience.
That said, have you subscribed to Voot Select or ZEE5 Premium and don't wish to use the service anymore? Then you should cancel your membership even if you simply opted for the free trial. That's because the subscription plan for OTT services renews automatically until you cancel the subscription. So make sure to unsubscribe prior to the renewal or next billing date.
Now let's see how you can cancel your Voot Select or ZEE5 subscription during the trial or later.
NOTE: Uninstalling the app from your TV or smartphone won't cancel the subscription.
How to cancel your Voot Select subscription
On Android (Using the Voot app)
Open the Voot app and tap your profile picture at the top right.
In Account and Settings screen, tap on "Subscription".
On the Subscription page, tap 'Cancel Trial' or 'Cancel Subscription'.
Then hit 'Yes' to confirm your choice.
On iPhone
Voot users can cancel their subscription on the iPhone or iPad from iOS subscriptions. The steps (stated below) are the same as cancelling ZEE5 subscription on iPhone.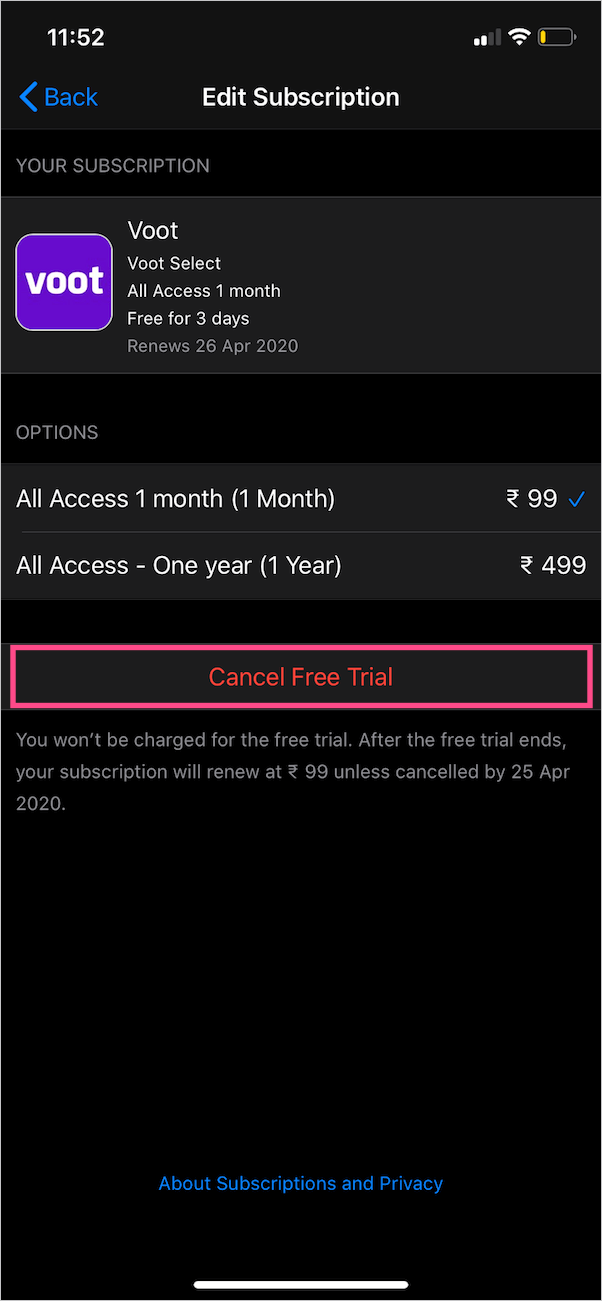 How to cancel a ZEE5 Premium subscription
On iPhone
Go to Settings and tap your name at the top.
Open the 'Subscriptions' tab.
Tap 'ZEE5' (or Voot) from the subscriptions list.
ZEE5 users – Scroll down to the bottom of Edit Subscription screen and tap the "Cancel Subscription" option.
Voot users – On Edit Subscription screen, tap "Cancel Subscription" or "Cancel Free Trial".
Tap 'Confirm' to proceed and confirm cancellation.
That's it. You can now see when your subscription expires and continue to use it until the expiry date.
On Android
Open the ZEE5 app and tap the Menu (hamburger icon) at the top left.
Under My Account, tap on "My Active Plans".
You can now see the details of the plan. Tap 'Cancel Renewal' to stop the subscription.
Tap the 'Finish Cancellation' button at the bottom to cancel your renewal.