Windows Live Writer is certainly the best and most popular blogging application for Windows, that is recommend for every blogger to write articles in a much easier and aligned manner. I can't consider writing anything without WLW and all the posts written here are published from Live Writer only because it is 100% Free and simply an excellent program developed by Microsoft for Windows.

Writer makes it easy to share your articles, photos and videos on almost any blog service—Windows Live, WordPress, Blogger, LiveJournal, TypePad, and many more.
I really wish to see it running on Mac OS X too but until now, running WLW on Mac is possible only if you run Windows using Parallels or install it using Boot Camp on your Macs. So, I just installed Windows 7 in dual boot on my MacBook Pro using Boot Camp and next task was to install Live Writer on it. BUT, the latest Windows Live Writer 2011 doesn't impress me at all as it requires lot many clicks and is pretty complicated to use unlike the previous 2009 version which I still use on my Windows 7 desktop PC.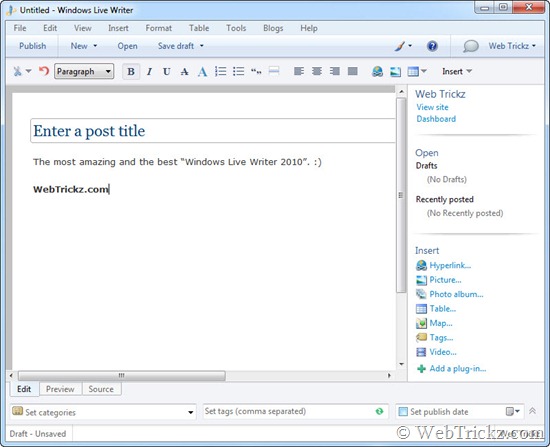 Unfortunately, it's not possible to get the good old Live Writer v14.0 now because Microsoft only provides the new Live Writer 2011 v15.4 which comes as a part of Windows Live Essentials and is not offered as a standalone offline installer.
Don't Worry, We've arranged the Standalone Setup of 2009 Live Writer v14.0.8117.416 that you can install easily using its small 5.5MB .exe file and without requiring Internet. It's all your choice to get the latest 2011 version or the one provided by us which is an official setup file, extracted from Live Writer installation directory. 🙂
Download Windows Live Writer 2009 Full Offline Installer [English]