Haptic feedback for the on-screen keyboard is available for a long time on almost all Android phones. At the same time, keyboard haptics was a big deal for iPhone users since Apple's stock keyboard lacked this basic functionality despite having industry-leading haptics. As a result, most users had to resort to third-party keyboard apps like Gboard and SwiftKey in order to get the haptic keyboard on iOS.
Can I turn on the vibration on iPhone's keyboard?
Thankfully, with the release of the iOS 16 developer beta, one of the most sought features has finally made its way to iPhone. In iOS 16, there is an option to enable the haptic feedback for iPhone's keyboard. Although Apple didn't mention this feature in its WWDC keynote, it is one of the best offerings of iOS 16.
This new feature uses Apple's Taptic Engine to make your iPhone keyboard vibrate when typing. It is also a great accessibility feature, especially for blind people. By enabling haptics, you can add a physical feel to the built-in iOS keyboard and enjoy a more realistic typing experience.
Haptic touch for the keyboard in iOS 16 even works when the device is in silent mode. Moreover, you can turn on the Sound option to make your iPhone keyboard sound when you type. That said, keep in mind that enabling keyboard vibration on iPhone may affect the battery life.
Apparently, one has to explicitly turn on haptic keyboard feedback in iOS 16 as the feature is disabled by default. When enabled, you will feel a slight vibration every time you press a key on iPhone's default keyboard.
Now let's see how to turn keyboard vibration on or off on iPhone running iOS 16.
How to turn on keyboard vibration in iOS 16 on iPhone
Go to Settings > Sounds & Haptics.
Tap on 'Keyboard Feedback'.
Turn on the toggle for "Haptic" to enable haptic vibration for the native keyboard.
That's it. Doing so will make your keyboard vibrate on iPhone 11, iPhone 12, iPhone 13, and other iOS 16 compatible devices.
Why is my iPhone not vibrating when I type?
The vibration is enabled for the iOS 16 keyboard irrespective of whether the device is in silent mode or not. However, if you have completely disabled vibration on your iPhone then keyboard haptics won't work either.
To check this, navigate to Settings > Accessibility > Touch and make sure the toggle switch next to 'Vibration' is turned on.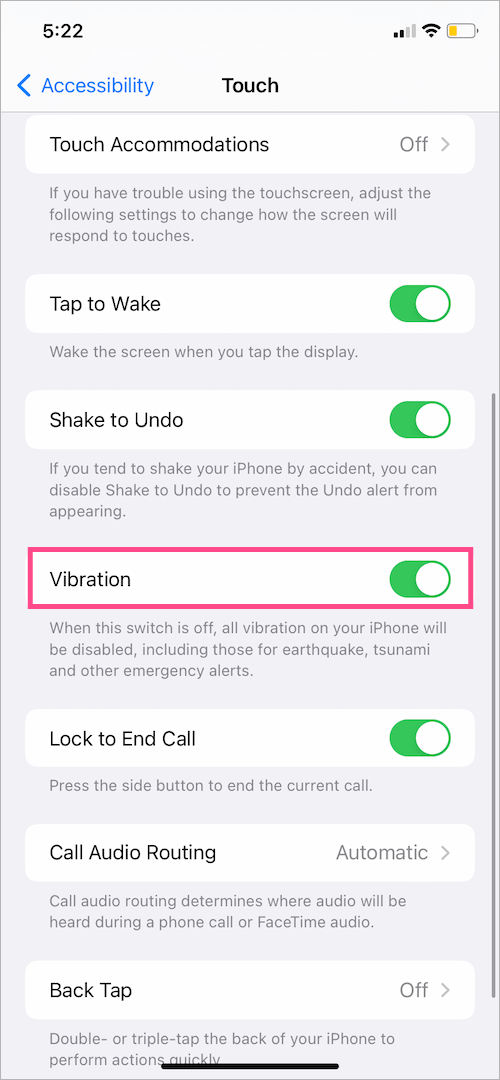 ALSO READ: How to lock Hidden photos album in iOS 16 on iPhone