Back in March this year, Instagram teased the upcoming story drafts feature on its platform. Well, one can now save an Instagram story as a draft as the said feature is globally rolling out to all users. For those unaware, until now Instagram users could only save their posts and reels as drafts.
With Story drafts, you can begin editing a story that hasn't been published yet from where you left off. This comes in handy as you don't need to create and post the story immediately.
However, unlike posts and reels, Instagram stories saved as drafts expire automatically seven days after you first save them. Though one can download the story to their device and upload it again, doing so won't retain the stickers, music, and other effects you apply.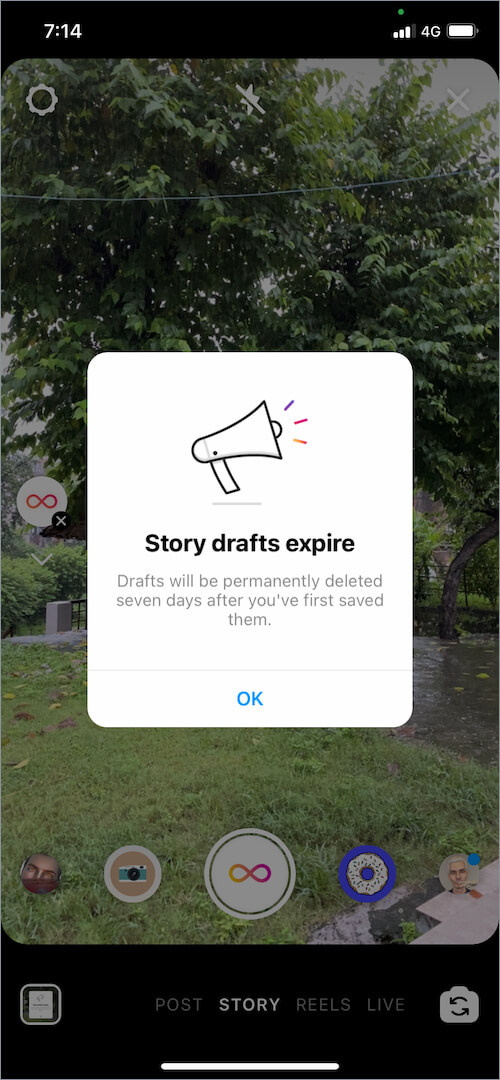 Without further ado, let's see how you can save stories as drafts, find or delete them on Instagram for iPhone and Android.
NOTE: To get the story drafts feature, make sure you are running the latest version of the Instagram app.
How to access story drafts on Instagram
Where are my Instagram story drafts? To find your draft stories on Instagram 2022,
In the Instagram app, go to the Home tab and tap 'Your story' in the upper-left corner.
On the 'Add to story' screen, tap on 'Drafts' next to the camera thumbnail. Here you can see all the Instagram stories you saved as a draft.
Tap a particular draft to edit it and share on your Instagram story.
RELATED: How to find saved draft Reels on Instagram
How to delete story drafts on Instagram
You may end up with a lot of unwanted drafts over time and might want to get rid of them. Well, you can easily delete individual stories saved as drafts or multiple story drafts at once.
To delete a draft story on Instagram,
Go to the 'Home' tab in the Instagram app.
Tap 'Your story' at the top-left.
Open the 'Drafts' section, find and open a story draft you want to delete.
Tap the < icon (back button) at the top-left corner and select 'Delete draft'.
Select 'Delete' again in the confirmation box that pops up.
To bulk delete saved draft stories on Instagram,
On the Drafts screen, tap 'Select' at the top-right corner.
Select all the story drafts you want to delete at once.
Tap on 'Delete' at the bottom.
Select 'Delete' again to confirm your choice.
ALSO READ: How to delete draft Reels on Instagram
How to save a story as a draft on Instagram
The story draft feature works similar to how you save drafts for Instagram posts and reels.
To make story drafts on Instagram, simply add a new story and apply any filters or effects you want. Then tap the back button (< icon) at the top-left corner to exit the story.
If the feature is available, you should see a "Save draft" option in the Discard media popup. Just tap 'Save draft' to save a non-published story to drafts and post it later at a convenient time.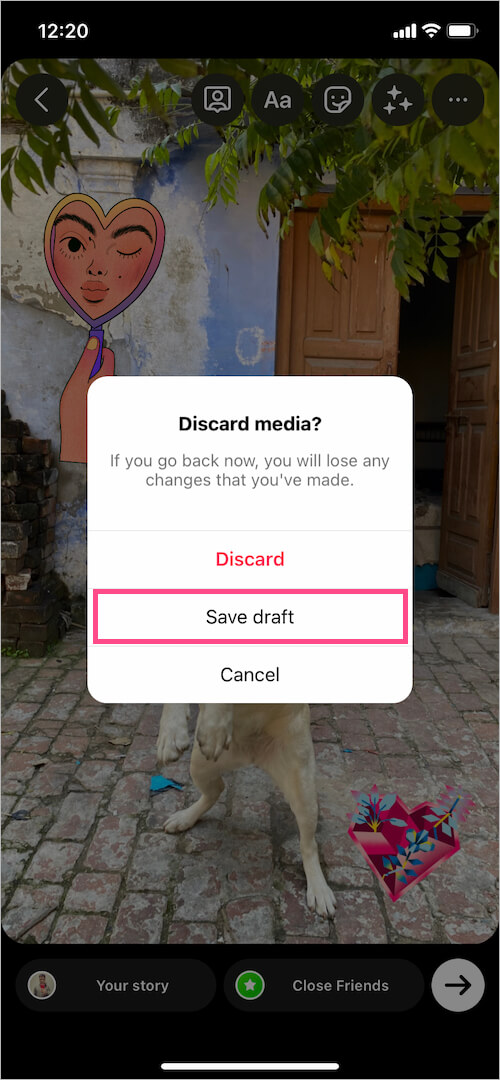 Note that Instagram story drafts are permanently deleted after 7 days. The app also shows the number of days after which you won't be able to access your saved drafts.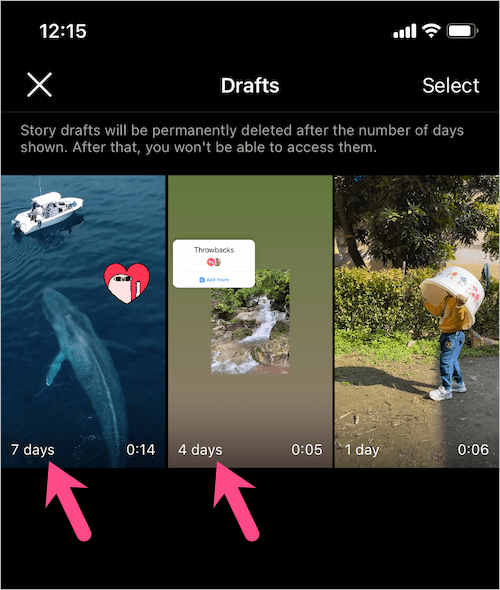 So make sure to post your draft story within seven days, or else it will be permanently deleted.
More from WebTrickz: