Instagram offers the ability to save a draft of posts and reels so that users can find them later on. Apparently, many Instagrammers use the draft feature to save their Instagram Reels without posting.
This comes in handy in case you want to publish a reel at a later time with all the necessary edits and touchups. Moreover, people prefer to save reels as drafts since there is no way to schedule the posting of reel videos on Instagram.
While most users know how to use the draft for reels as the 'Save as Draft' option is highlighted on the share page. That said, you may get puzzled while trying to find your Reel drafts on Instagram.
That's because, unlike Instagram posts, you won't see draft reels anywhere while recording a new reel or watching other people's reels.
Where are my Reels drafts on Instagram 2023?
A lot of Instagram users specially non-addicts have this certain query "Where is reel draft saved in Instagram"? Don't worry if you have no idea where your draft reels went.
Here's how you can recover a draft reel on Instagram for iPhone and Android.
Go to the Instagram app and tap your profile picture at the bottom right corner.
On your profile screen, tap the Reels tab in the center. Note that the Reels section only shows up when you share a reel or save it as a draft for the first time.
Tap on "Drafts".
The "Reels drafts" screen will show all the reels that you saved as a draft.
NOTE: If you log out or uninstall the Instagram app, your drafts will be deleted forever.
How to delete Reels draft on Instagram
If you frequently record reels on Instagram then you might end up with a lot of drafts. It is better to get rid of all the useless drafts and keep your reel drafts organized.
To delete draft reels on Instagram,
Navigate to the "Reels drafts" directory following the above steps.
Tap "Select" at the top right corner and select all the drafts that you want to delete forever.
Now tap the "Discard" button at the bottom of the screen.
That's it. All the chosen drafts will be permanently removed.
Note: The Instagram app doesn't show any confirmation popup after you tap Discard. So make sure to carefully delete your Instagram Reels drafts.
How to post draft Reels on Instagram
To post a draft reel at any point in time, simply head to the Drafts folder and tap the particular reel you want to post.
Make any final changes if needed such as adding a caption, setting a cover image, tagging people, etc. You can also edit the reel to add filters, stickers, music, and text to your reel.
Then tap the "Share" button at the bottom to publish your reel video.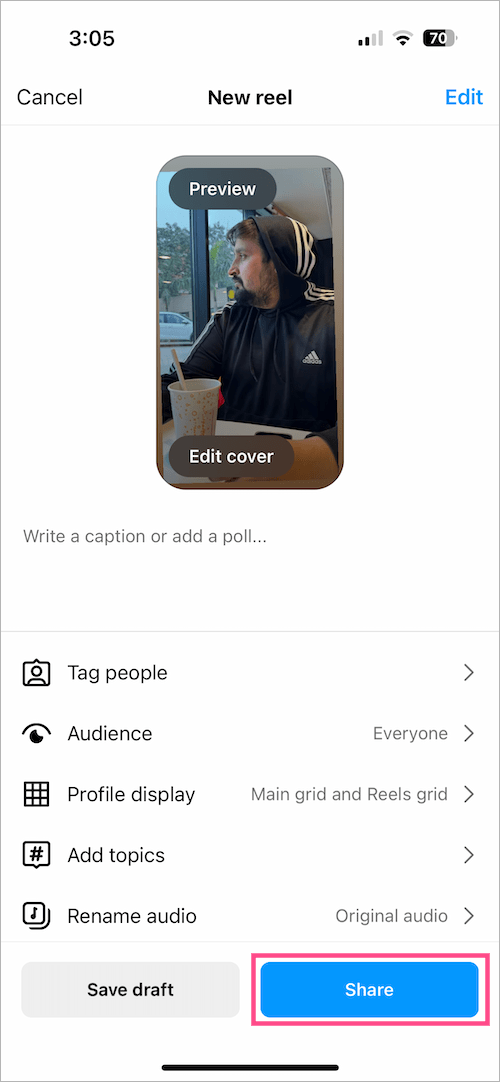 ALSO READ: How to Share Instagram Reels on Facebook
How to edit and play draft Reels on Instagram
It is a good idea to preview or play your reel draft before sharing it on Instagram. Surprisingly, there is no option to watch the reel draft on the share page.
Worry not! Simply tap the "Edit" option at the top right corner to see the preview of your reels draft.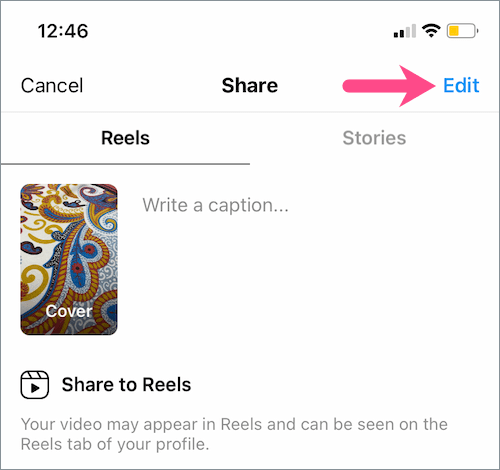 To edit draft reels in Instagram, tap the same "Edit" button on the Share screen to get into edit mode.
Here you can use the drawing tool, add a voice-over, add stickers, and add text with different fonts and effects. You can even adjust the volume of your camera audio or pre-selected audio track. It is also possible to delete the original audio and add new music from Instagram.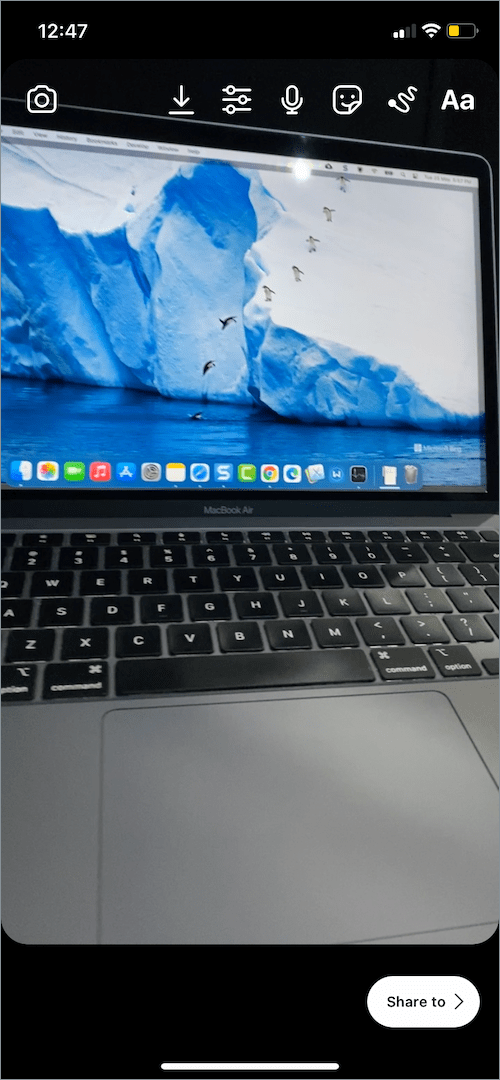 ALSO READ: How to Pause Instagram Reels on iPhone and Android
How to save Instagram Reels draft to camera roll
Do you have a reel draft that you want to post on some other platform instead of Instagram? In such a case, you have to manually download the Instagram reel draft on your iPhone or Android smartphone.
To save a draft reel on Instagram to your gallery or camera roll, just tap the "Edit" option on the Share screen. Then tap the download button (down arrow icon) to save the reel for offline viewing or direct sharing.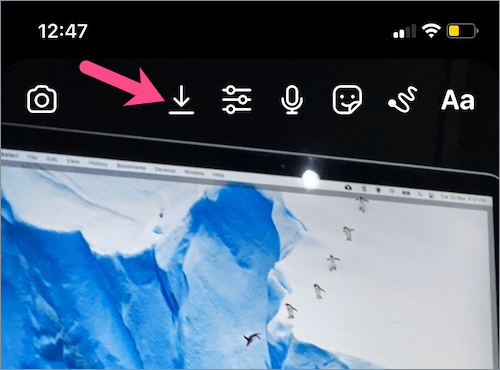 It's worth noting that any reels that use external audio from the Instagram music library will be saved without music in the gallery. However, reels having camera audio recorded by your microphone will retain the original sound.
RELATED TIPS: