Mostly all the laptops and notebooks shows a battery or charging status in the Windows system tray. But they lack some important features which are fulfilled by battery bar.
BatteryBar is a simple way to monitor the status of your laptop's battery as it displays your battery's status in the taskbar. It keeps a spy eye on your battery and provides a very accurate estimate of how much time is  remaining on your battery.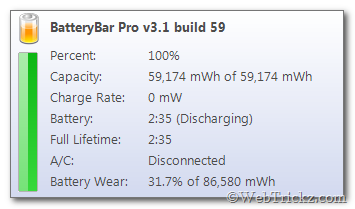 When you're running on battery, BatteryBar shows the battery life remaining in green, yellow, or red, depending on how much battery power is remaining.

When charging, the bar is shown in blue to indicate charging, and the estimated time to full charge is shown. The bar turns black and shows "On A/C" when the battery is fully charged.
BatteryBar is free and fully or partially supports 13 languages.
After installing, you need to activate BatteryBar by right-clicking on the taskbar and choose Toolbars > click BatteryBar option from the menu.