Today, we are reviewing the most popular and effective Antispyware solution for Windows, which can relieve you from serious attacks spread through the Internet.

SUPERAntiSpyware has the ability to detect and remove thousands of Spyware, Adware, Malware, Trojans, KeyLoggers, Dialers, Hi-Jackers, and Worms. It runs silently with the installed anti-virus software and doesn't slow down your computer.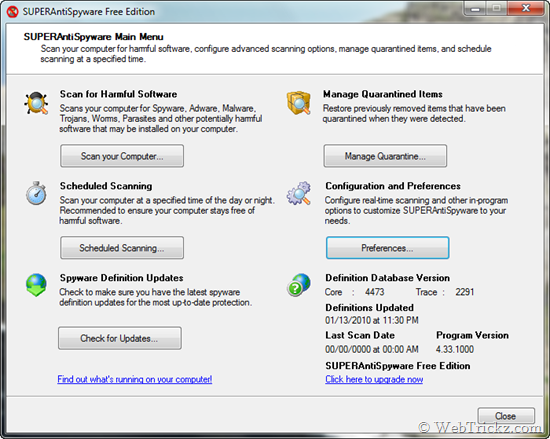 SUPERAntiSpyware is an intelligent tool integrated with many unique and powerful technologies. It can fight against harmful attacks and can detect and remove over 1,000,000 spyware threats/malware infections. Support 16 languages and allows users to scan files directly from right-click menu inside Windows Explorer.
The software provides the option to perform either a Quick scan, Complete scan, or a custom scan. You can also scan your removable media like USB Flash devices, Pen drives, memory cards, etc. The program provides numerous functions and options which users can easily customize as per their needs. You can update to the latest spyware definition updates in one click.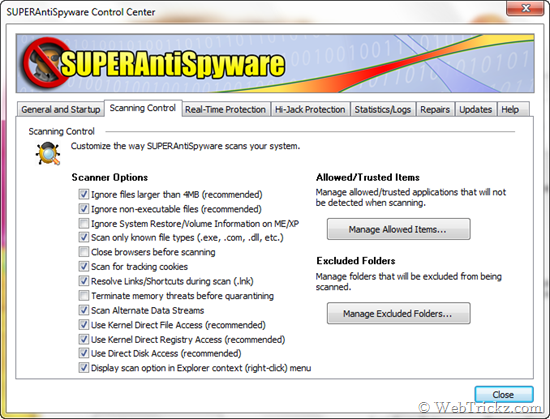 SUPERAntiSpyware comes in 2 versions – Free version & Professional version
Benefits of SUPERAntiSpyware Professional –
Real-Time Blocking of threats
Scheduled Scanning
Auto-Scanning on application startup
Daily Definition Updates via Automatic Updates
Free Unlimited Customer Service via e-mail
Download SUPERAntiSpyware FREE Edition
Compatible with 2000, XP Home/Professional, 2003, Server 2008, Vista & Windows 7.
A Portable version, Online 'Safe Scan' of SUPERAntiSpyware is also available which doesn't require any installation.
Giveaway – Win Free Licenses of SUPERAntiSpyware Professional
We are offering 5 Free Lifetime licenses of SUPERAntiSpyware Pro Edition worth $29.95 each, sponsored by Mike. To win the license, follow the rules below:
1) Tweet about this contest on Twitter. Remember to leave a valuable comment below along with your valid email address and tweet status link.
2) If you aren't on Twitter, then simply comment below and tell us why you need SUPERAntiSpyware PRO.
5 Lucky Winners will be chosen randomly and results will be announced on Jan 18
UPDATE – This Giveaway has ended. Winners will be announced soon!
UPDATE 2 – There were a total of 133 approved entries, out of which 5 Lucky winners are wisely and randomly chosen.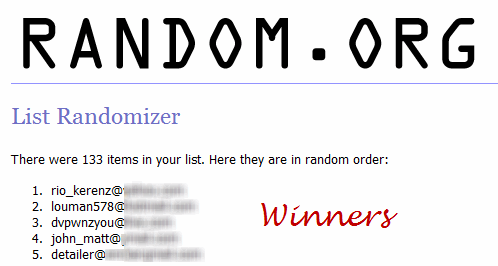 WINNERS – Rio, louman578, David, john matt, and chuck.
Congrats to all the winners. Thanks to all who participated in this giveaway.