A lot of Galaxy Nexus users are looking forward to update their Samsung Galaxy Nexus firmware from Yakjuxw to Yakju, and most of them have already updated using our initial guide. As stated by us earlier, the main reason for updating the device to Yakju/Takju is to get updates directly from Google, which in the case of Non-yakju variants are offered by Samsung and are apparently delayed by several weeks. Our "Guide to Update Galaxy Nexus (YAKJUXW) to Android 4.0.4 YAKJU and Get future Updates from Google" has been helpful as most users have successfully converted to yakju and have also got the latest Android 4.1.1 (Jelly Bean) OTA update. But I myself agree that it was an elongated procedure and certainly not so simple to be performed by everyone, especially newbies.
Note: This procedure supports all Non-Yakju GSM devices (yakjuxw, yakjuux, yakjusc, yakjuzs, yakjudv, yakjukr and yakjujp) provided they're factory unlocked.
Fortunately, I've figured out a new and simplest way to accomplish the same task using Nexus Root Toolkit (Thanks to the developer 'WugFresh'). The new version of the toolkit makes everything a piece of cake. Almost half of the steps are eliminated – No more need to manually download, extract and flash the yakju 4.1.1 firmware. All the crucial and complicated steps are now automated, and few clicks away!
~ Besides installing Android 4.1.1 Yakju or Takju on Galaxy Nexus, the below tutorial comes in handy in other situations as well. This may include:
When your Galaxy Nexus gets stuck in a boot loop or can't get past the Google logo ("soft brick").
When you prefer to Restore Stock Android from a custom ROM. Relock to fully return to factory settings. (Required when you need to return the device to store).
Or if your device is encountering any strange issues.
Disclaimer: Try this guide at your own risk! We wont be responsible in case your device gets bricked. This may also void your warranty.
NOTE:
1. This process requires to unlock bootloader which Completely Wipes your device including /sdcard. So make a backup first.
2. Your Galaxy Nexus device name should be maguro (See how to check that)
3. This procedure is meant only for GSM/HSPA+ Galaxy Nexus.
Requirement – Download Nexus Root Toolkit
Tutorial – Changing Non-Yakju Galaxy Nexus to Yakju/Takju and updating to Official (Stock) Android 4.2
Step 1 – This is an important step. You need to install and configure the ADB and Fastboot drivers on your Windows system. The toolkit makes installing drivers a piece of cake. You can also refer to our guide: New Method – Installing ADB and Fastboot Drivers for Galaxy Nexus on Windows 7 & Windows 8.
Step 2 – Take a backup of your installed apps (with data) and SD card contents. Check our article [How to Backup Galaxy Nexus Apps & Data without Rooting]
Step 3 – After configuring the drivers properly and performing a backup, unlock the bootloader. Follow our [Guide to Unlock Samsung Galaxy Nexus Bootloader]
Step 4 (New) – Enable USB Debugging on your phone and connect it to the computer via USB. (Make sure it is charged). Open Nexus Root Toolkit, select your device model (GSM) and click on 'List devices' (Advanced Utilities > Launch) to verify the connection is OK.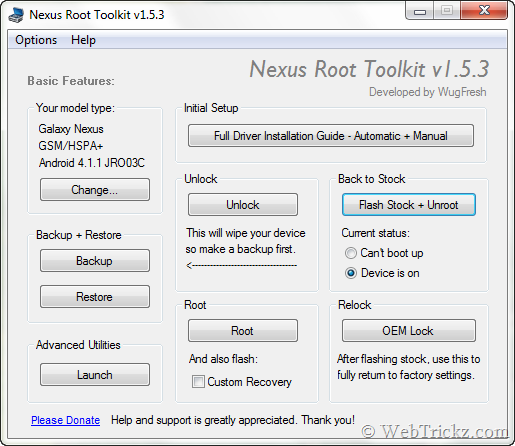 – Under 'Back to Stock: Current status', select Device is on if your device boots up fine or else select Can't boot up if the device is stuck in a boot loop or at the Google logo.
– Then click on Flash Stock + Unroot button. Press Ok if you're ready.
– A window will pop up as shown.
To Flash Yakju firmware, select 'YAKJU-MAGURO: Android 4.2 JOP40C'.
To Flash Takju firmware, select 'TAKJU-MAGURO: Android 4.2 JOP40C'.
Note: It's advisable to choose Takju (Google Play Store version) as this firmware variant gets updates faster than Yakju.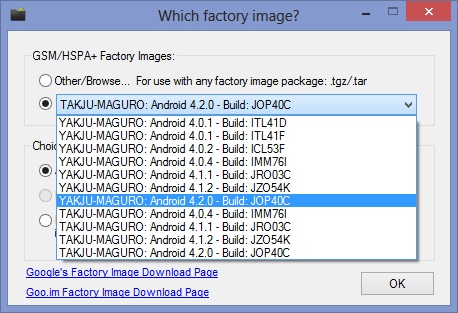 – Under Choice, select the 1st option 'Automatically download + extract the factory image selected above..'. Then click OK.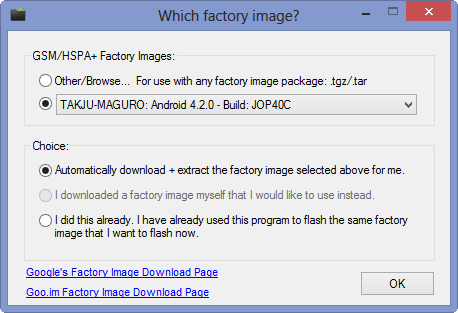 Note: If you already have the latest relevant Android 4.2 (or earlier/later) stock image from Google, then select the Other/Browse option and choose the 2nd option from Choice. Then choose a google factory image (.tgz format) from your computer and open it. Enter its md5 hash value if asked, upon verification the extraction will start.
– Nexus Factory Image Downloader will open up – This simplifies everything that you manually had to do before. The downloader will automatically download the factory image from the Google server, hash check, and extract the factory image for you. After finishing, and passing the hash check, the script will proceed to flash stock.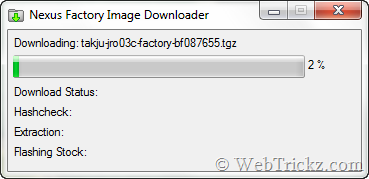 A command prompt window will open up as shown below. Stay patient for a while and let it automatically flash all the files (from factory image).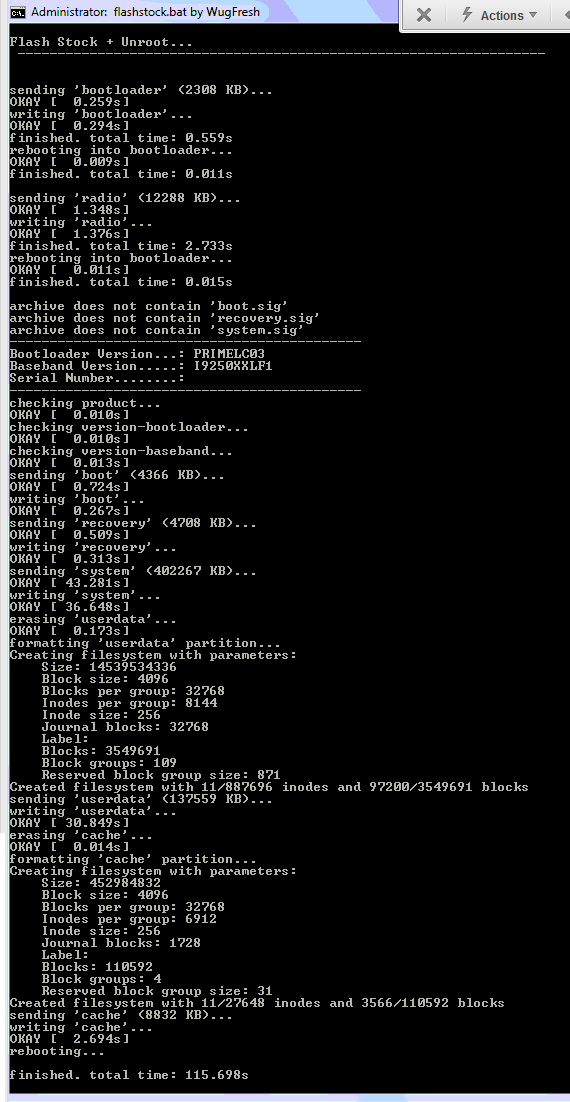 After the flashing process is over, wait for your device to finish booting back.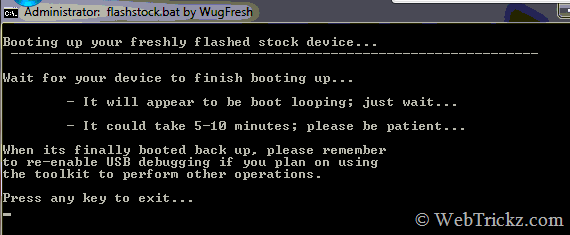 Upon completion, the device should boot up normally with Android 4.2 installed and new 'yakju/takju' firmware, eligible to receive prompt updates from Google.
Next, you may want to "Restore the Backup" that you created in Step 2 to get back all your installed apps along with their data.
Hope you found the above guide easy and useful. Do share your views below! 🙂
Try the New manual procedure if the toolkit is unable to flash the factory image. Guide to Manually Install Android 4.2 Takju on Non-Yakju Galaxy Nexus
On Mac OS X? Use this guide – How to Change Non-Yakju Galaxy Nexus to Android 4.2.2 Yakju/Takju using Mac