Step 2: Custom Recovery
Download and install the "ROM Manager" app from the Android market. Now open z4root/GingerBreak again and you will see a message requesting Superuser access, select the 'Allow' option to grant permission. Then the 'UnRoot' option will get active too.
Now open ROM Manager, a message will appear, select OK to continue.
Select the first option named "Flash ClockworkMod Recovery".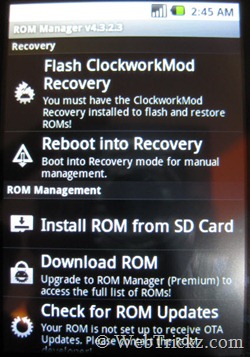 A confirm phone model window will appear, carefully select the 'LG Optimus One' option. Now a pop-up will open asking for Superuser access, instantly click Allow. A dialog box will open saying 'Successfully Flashed ClockworkMod Recovery!' as shown below.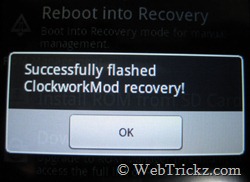 Now select the option "Reboot into Recovery" from ROM Manager.
Your device will now boot into custom recovery –
In custom recovery, the touch screen does NOT work – You have to scroll through options using the volume buttons and select an option using the menu button at the extreme left.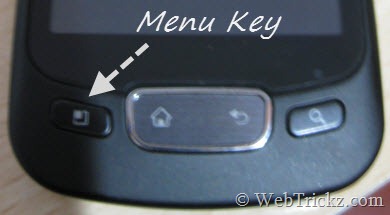 Open "backup and restore" using the menu key and then select the backup option.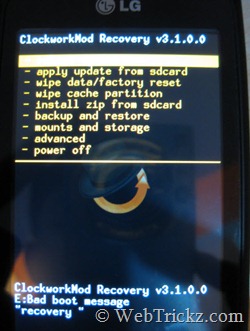 The device will now automatically start taking a full backup of internal memory which can be used in the future for restoring default firmware. Be patient as it takes time!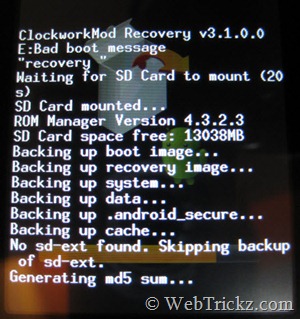 The device will now reboot automatically, if it doesn't then select "reboot system now" from the main recovery menu. It's the last time you see Android 2.2.
Copy the Backup of Current Firmware from SDcard to your Computer – To do so, connect your phone to the system via USB cable and Turn on USB storage. Look for a folder "clockworkmod", copy the entire folder to your computer. This is the backup of the Android 2.2 OS that you were using currently, it can be restored later if required.
>> Check Step 3 on Page 3