>> DON'T use the device much at the moment as you need to flash 3 more small but essential packs to power the custom Gingerbread ROM. Add-ons pack contains some default apps like Browser, Google Talk, Email, Music Player, FM radio, etc. which are not there in the market and are also not included with the custom ROMs.
To Flash Add-ons, connect the phone to computer and transfer the rest 3 zip files (File 2, 3 and 4) to SDcard that you downloaded before. Hold the power button and select Reboot, then choose "Recovery" from 3 listed options as shown: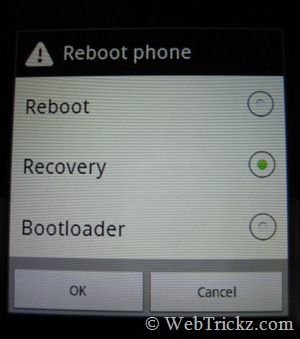 Phone will now boot into Recovery mode. Select "install zip from sdcard > "choose zip from sdcard" and then choose the void- forever-addon.zip file to apply, select 'Yes' to confirm. Now reboot by selecting the 'reboot system now' option as done before.
Similarly, install the voidAddonsPack.zip file and after that the stock.zip file.
Note: Always remember to flash ONLY ONE zip file at a time (i.e. reboot between flashes). NEVER attempt to flash 2 zip files together without rebooting.
That's it! You're done with installing Android 2.3 on your Optimus One. Now you may want to customize the screen, add widgets, change themes, modify lockscreen & display and try those various brilliant tweaks listed under 'CyanogenMod Settings'. Then sync or import contacts, download favourite apps, add media and photos to your SDcard that you backed up on your system. It's a custom ROM, you can do anything. 🙂
Listed below are some Screenshots of Gingerbread running on LG P500: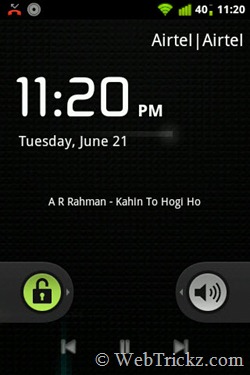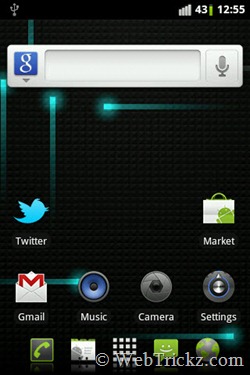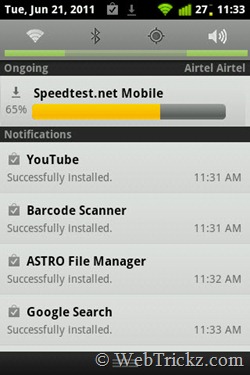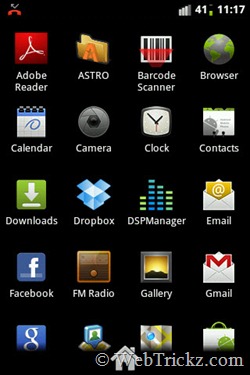 Credits: XDA Developers "Noejn & community"
Special Thanks to Pratyush Mittal (@faltoo) for devoting hours of his precious time at late night in guiding me through every single step, thus making this post possible. I too have spent lot of hours and wrote our lengthiest post ever, so don't forget me! 😉
NEW – You can Install/Flash the latest version of franco. Kernel (v19.3) after completing all the above steps.
UPDATE – Restoring LG Optimus One to Original Android 2.2 LG Stock ROM
As you guys asked, here is the procedure to RESTORE the Phone to Original Firmware.Follow the steps below if you wish to Restore the device to the older Android 2.2 Froyo ROM that you backed up in Step 2:
1. Transfer the backup folder "clockworkmod" from your computer to SD Card via USB cable. Then Turn off USB storage and remove the cable.
>> Make sure phone battery is fully charged!
2. Now Reboot your phone into Recovery mode. (Hold the power button, select Reboot and choose Recovery).
3. After rebooting, ClockworkMod Recovery will appear. Select "backup and restore" > Restore > Choose the image to restore (That you backed up earlier).
Note: You can also opt to first backup the current void #forever Custom ROM and then restore the old Android 2.2 firmware image.
4. Upon selecting Restore, wait for the restoring process to complete. After it gets completed, choose 'reboot system now'.
Hopefully, your phone should now boot into the original Android 2.2 OS.