Step 3: Flashing
Now open ROM Manager on phone and select the 2nd option "Reboot into Recovery".
In ClockworkMod Recovery panel, scroll down to 3rd option "wipe data/factory reset" using the volume keys and select it. Select 'Yes — delete all user data' to confirm.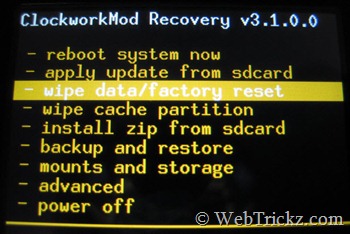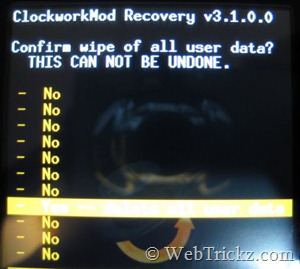 After the Data Wipe is completed, select "wipe cache partition" and then select 'Yes – Wipe Cache' to confirm.
Now select "advanced" and select "Wipe Dalvik Cache", confirm to proceed. Next "Wipe Battery Stats" too.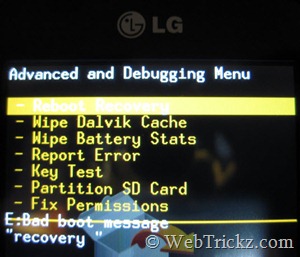 Press 'Back key' once to goto main screen. Select "mounts and storage" option and further select "format /sdcard".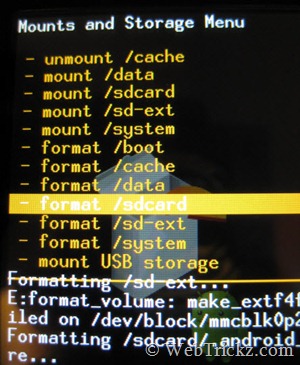 Go back to "Advanced and Debugging Menu", select "Partition SD Card".
Choose the Ext Size, this is the internal memory size allocated on SD card as internal memory. This is pretty useful because internal phone memory is usually very limited which results in low storage space when several apps are installed to it. Thus, your total internal memory would be default memory plus space specified in Ext Size.
Note: You might need to use Link2SD, a free app that lets you move ANY applications to that external partition on sdcard that acts as internal memory.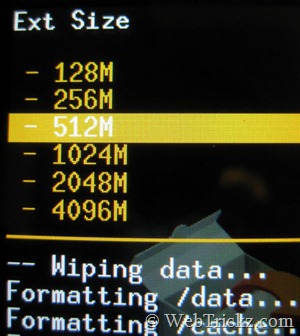 Select 0M as Swap Size (Swap memory is for caching memory to a drive to free up RAM to be used for more active programs).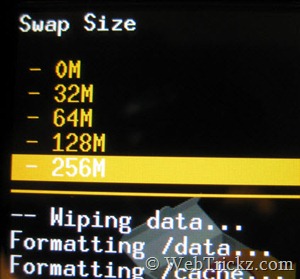 Wait for Partitioning SD Card task to complete. Upon completion, Connect the phone to computer via USB cable. Then select "mount USB storage" from the Mounts and Storage menu.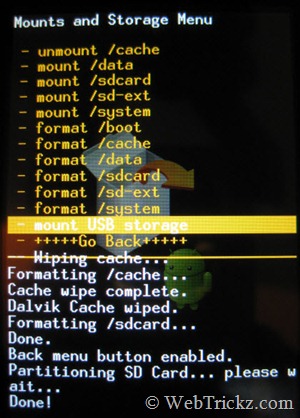 Now Transfer the 63MB Zip file (void- forever_0_2) to your SDcard that you downloaded earlier. Then Unmount the device.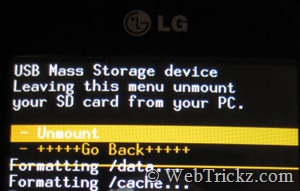 Then select the 5th option "install zip from sdcard" from the main Recovery menu.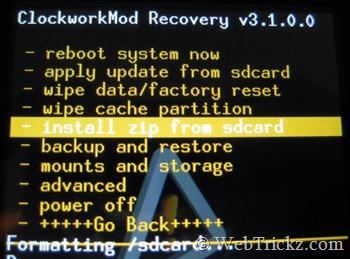 Select "choose zip from sdcard" and then choose the void-forever_0_2.zip file to apply, select 'Yes..' to confirm.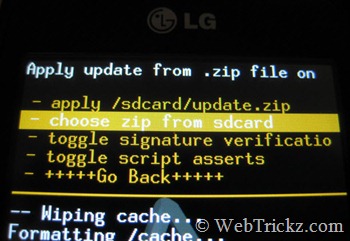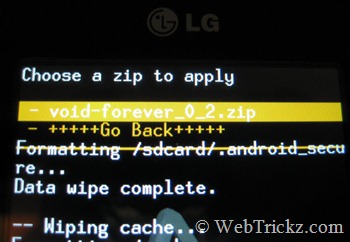 Just wait for few minutes until the installation gets completed. You can breath now! 🙂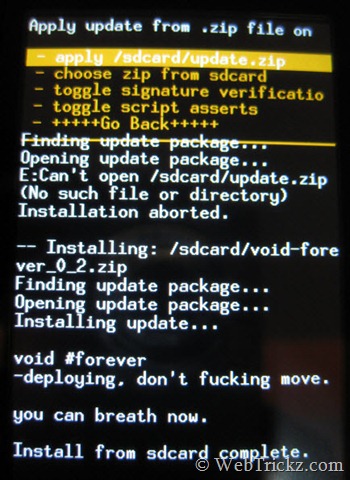 Now go back and Reboot by selecting the 'reboot system now' option from main menu.
Voila! You will now be presented with a whole new OS and that's Android 2.3.4 🙂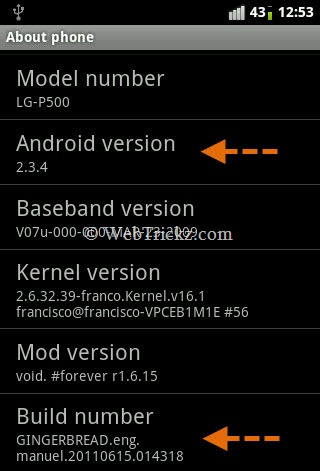 >> Check Page 4 to Flash Add-ons